Was traveling, but finally getting time tonight to post the video of my appearance on the Colbert Report to promote Engaging the Muslim World, which Comedy Central kindly allows bloggers to embed:
I blogged the whole experience.
Comment on the appearance from the blogosphere:
Rackjite.com says: "Our very own Liberal Blogosphere pundit Juan Cole talks about dealing with Muslims without trying to kill them all."
Mark Maynard.com says:
"Local Blogger does Good: University of Michigan professor and popular local blogger Juan Cole appeared on the Colbert Report last night to promote his new book, "Engaging the Muslim World." . . . I find it humorous that the same word – "blogger" – is used to define both of Cole and me. I know that fact must cause him a great deal of pain, but I find some degree of comfort in it… At any rate, I'd like to congratulate him for reaching the summit…. My hat is off to you, Dr. Cole.
Oh, I positively revel in the leveling democratic effect of the blogosphere. And note that Midwestern college professors used to very seldom be able to get their word out to the public; I owe it all to blogging and to the kindness of other bloggers who linked to my site. So I fear you're stuck with me as a colleague, Mark.
Ben Turner says: "Juan Cole on Colbert Report last night. He is a mensch!"
At an unofficial Colbert discussion forum, In Absentia wrote: "I really loved the interview. The author was explaining exactly what I've experienced working for an international organization and visiting Syria. Although the author did say that Dubai is a "dead scene" – I still think Stephen should visit if he gets the chance. Everybody knows about the violence and tragedy in the Persian Gulf. But there's some pretty silly, decadent, and over-top crap there too (even if it's going through a real estate bust). The region is very diverse. But, as much as I loved the interview, the power tools with sparks flying wins hands down!"
I guess we have to add pitchforks to children and dogs as among the things on-screen talent should avoid working with.
At same site, Eloquent Baby wrote: "Blessings and Peace be upon us all! 'Americans don't recognize who the authorities are.' Juan Cole made a valuable observation. Treat the Muslim world as composed of real people. Thank-you, Stephen and Juan Cole for the interview."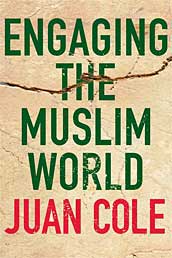 Engaging the Muslim World
End/ (Not Continued)