Rush Limbaugh, Glenn Beck, and other far right-wing demagogues have been quick to defend themselves from the charge of fostering a climate of poisonous political hatred in the United States, in the aftermath of the shooting of Rep. Gabrielle Gifford and the killing of Federal Judge John Roll, along with the injuring or killing of 10 other victims.
Just so we are clear, Glenn Beck playfully spoke on his radio show of murdering Michael Moore with his own hands. Rush Limbaugh suggested that Harry Reid and Nancy Pelosi were worse than Middle Eastern terrorists and that maybe our Pentagon has the wrong people in its sights. Ann Coulter expressed the wish that Timothy McVeigh had bombed the New York Times building rather than the Murrah Federal Building in Oklahoma City. These are major media personalities with millions of followers, who have been made multi-millionaires by corporations precisely because they routinely authorize the intimidation of workers, ordinary people, and thinkers who challenge the political status quo. So let us survey their hate speech, which in a civilized country would make responsible businesses ashamed to employ them and a conscientious public ashamed to listen to them.
Glenn Beck on the radio contemplates murdering Michael Moore (wait for it past the Ron Paul prologue):
BECK: "Hang on, let me just tell you what I'm thinking. I'm thinking about killing Michael Moore, and I'm wondering if I could kill him myself, or if I would need to hire somebody to do it. No, I think I could. I think he could be looking me in the eye, you know, and I could just be choking the life out — is this wrong? I stopped wearing my What Would Jesus — band — Do, and I've lost all sense of right and wrong now. I used to be able to say, "Yeah, I'd kill Michael Moore," and then I'd see the little band: What Would Jesus Do? And then I'd realize, "Oh, you wouldn't kill Michael Moore. Or at least you wouldn't choke him to death." And you know, well, I'm not sure."
Rush Limbaugh calls Senator Harry Reid and Congresswoman Nancy Pelosi "terrorists" and suggests that the Pentagon is "fighting the wrong enemy in the Middle East" (apparently he thinks San Francisco and Las Vegas are somewhere over there):
Transcript:
Limbaugh: "It could well be, ladies and gentlemen, that we're fighting the wrong enemy in the Middle East. Maybe the real terrorists that we face are on Capitol Hill. I mean, really, who's doing as good a job to undermine what this country stands for as the terrorists? 'Dingy' Harry, Nancy Pelosi. I mean, look, if they call us 'hostage takers' and 'gangsters,' then why can't we call them what they are? They are terrorists. They certainly seem suicidal. Look at what they're doing. Look at what they did. They knew they were going to get shellacked in this election and they did it! They knew they were gonna lose. And they want to take us with them."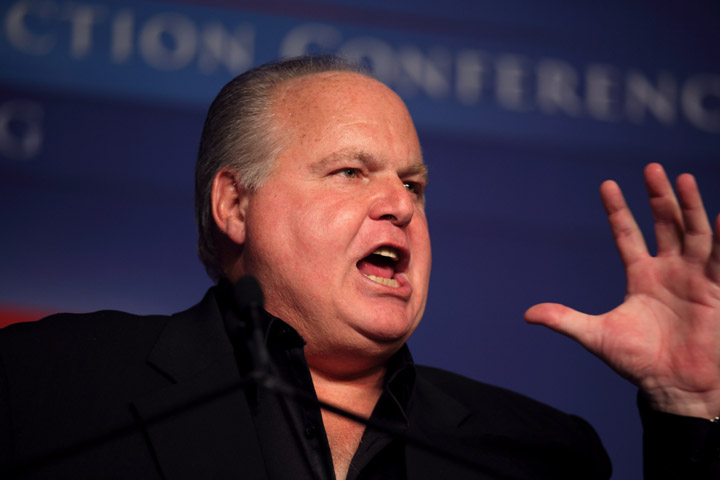 Ann Coulter, in an interview in The New York Observer:
' Then she said: "My only regret with Timothy McVeigh is he did not go to the New York Times Building."

I told her to be careful.

"You're right, after 9/11 I shouldn't say that," she said, spotting a cab and grabbing it.'
Coulter added in an interview with Right Wing News
"RE: McVeigh quote. Of course I regret it. I should have added, "after everyone had left the building except the editors and reporters."
Limbaugh responded to his critics, saying "Do not kid yourself. What this is all about is shutting down conservative media. That's what this is all about. Shutting down any and all political opposition."
Limbaugh is admitting that the only way his version of the Republican Party can succeed politically is to engage in hate speech and whip up dangerous emotions, and he considers any pressure to back off these ugly techniques of demagoguery to be a "shutting down" of conservatism. That is, were he to have to fight fair, he would inevitably lose out to Democratic voices of reason.
No wonder the Right is pushing back so hard for its right to put people in the cross-hairs.