The meeting of the so-called 'Friends of Syria' group of nations in Istanbul on Sunday produced some heated exchanges over a key issue: whether to arm the Syrian rebel forces.
Saudi Foreign Minister Saud al-Faisal gave an impassioned speech in which he said it was "a duty" to provide the Syrian opposition with weapons, and he reaffirmed that necessity of getting arms to the revolutionaries of Syria. In the meantime, he demanded an immediate ceasefire by the regime, which he said has by its severe repression has committed what can only be crimes against humanity.
He prefaced his remarks by saying that the Gulf Cooperation Council countries (the Sunni oil monarchies) are seeking closer relations with the United States. That framing of the speech strongly suggests that Saud al-Faisal wants to arm the Syrian opposition as part of a game being played by the US and the GCC against Iran, which is among Syria's more important supporters.
The Saudis are currently fighting Iran on several fronts, including a plan to flood the oil markets with excess petroleum so as to allow the US to strongarm friends and allies into purchasing petroleum from some other place than Iran.
In contrast, Iraq's prime minister Nouri al-Maliki (Iraq also attended the summit) strongly supported the Syrian regime of Bashar al-Assad and severely condemned the plan to give arms to the rebels.
""We reject any arming (of Syrian rebels) and the process to overthrow the (Assad) regime, because this will leave a greater crisis in the region . . . The stance of these two states [Qatar and Saudi Arabia] is very strange… They are calling for sending arms instead of working on putting out the fire, and they will hear our voice, that we are against arming and against foreign interference . . . We are against the interference of some countries in Syria's internal affairs, and those countries that are interfering in Syria's internal affairs will interfere in the internal affairs of any country… It has been one year and the regime did not fall, and it will not fall, and why should it fall?
Al-Maliki is saying that he doesn't want arms shipped to Syria because he's afraid that they will eventually find their way into Iraq. But he is also implicitly supporting Iran on Syria.
Just to say that Iraq's fears are not without reason. Saud al-Faisal's idea of arming the rebels recalls the similar plan to arm the Afghan opposition, in in the 1980s, which led to a Soviet withdrawal but also created a long-term security nightmare in the form of al-Qaeda.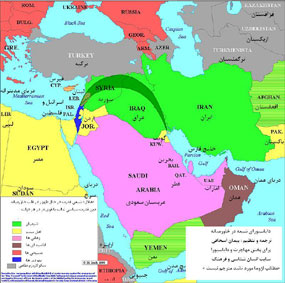 Al-Maliki has long had correct relations with Iran, which intervened to secure for him the prime ministership in fall of 2010. But ever since the Saudis sent troops into Bahrain to put down a Shiite-majority uprising, al-Maliki and the Iraqi Shiites are cozying up to Iran in an unprecedented way. Al-Maliki is said to fear that the overthrow of the Baath Party in Syria would lead to the opposition Sunnis taking power, and in turn he is afraid that triumphant Sunnis in Damascus will support Iraqi militants.