Here is Amy Goodman's
interview with me, which was broadcast on Democracy Now! This morning.
Here is DN's lead-in: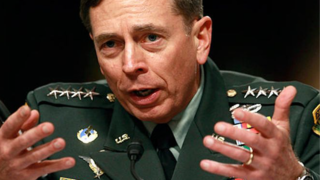 CIA director David Petraeus has resigned following revelations of an extramarital affair with his biographer, Paula Broadwell, a married U.S. Army reservist. "This personal issue that cropped up that ruined his career at the end, I think, is very much a minor thing … compared to his big exploits in Iraq and Afghanistan," says historian Juan Cole, who responds to the surprise departure of the former head of U.S. forces in Afghanistan. Petraeus retired from 37 years in the military to head the CIA last year. Over the weekend, new revelations suggested Broadwell had sent harassing emails to Jill Kelley, a 37-year-old from Florida and a family friend of Petraeus and his wife, Holly. The FBI launched an inquiry after Kelley said she had received vicious emails from the CIA director's biographer. Its investigation revealed the affair and led agents to believe Broadwell or someone close to her had sought access to his email. On Sunday, Democracy Now! spoke to Cole about the significance of Petraeus's resignation and about Malala Yousafzai, the 14-year-old Pakistani activist who was shot in the head by a Taliban militant for demanding the right of girls' education. Cole is professor of history at the University of Michigan, and his most recent book is "Engaging the Muslim World." [includes rush transcript]
The interview took place at the 33rd annual conference of The Coalition for Peace Action in Princeton, NJ, where I headlined with Noam Chomsky and Amy Goodman, and a good time was had by all! Please consider supporting both Democracy Now! and TCPA.