Democracy Now! interviews Sharif Abdel Kouddous on the decision of the Egyptian judges to go on strike against the decrees of fundamentalist president Muhammad Morsi.
Plus: BREAKING NEWS: The most senior Egyptian justices of the Supreme Judicial Council have overruled their colleagues and will assign personnel to oversee the December 15 referendum on the constitution.
The members of the unofficial Judges' Club had earlier announced a strike and said they wouldn't oversee the referendum vote (as is required by law).
This is the DN blurb: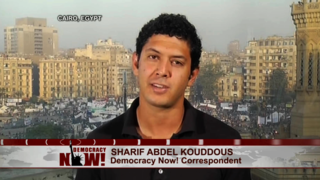 Egypt's judiciary has joined mounting protests in the country against President Mohamed Morsi's decree last month seizing wide-ranging powers and immunity from the courts. The country's judges have refused to oversee the referendum on a draft constitution scheduled in two weeks. Opposition groups had called for protests against the referendum last week. The decision by the Judge's Club follows a confrontation between Egypt's Supreme Constitutional Court and Islamist supporters of President Morsi. On Sunday, the country's highest court suspended its sessions indefinitely after Islamist protesters surrounded the building. We go to Cairo to speak with Democracy Now! correspondent Sharif Abdel Kouddous. [Transcript to come. Check back soon.]