Dozens of progressive Egyptian women cut their hair in Tahrir Square on Tuesday to protest the passage of Egypt's new, fundamentalist constitution.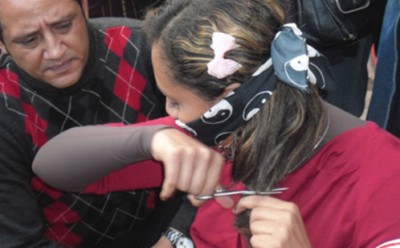 The protesters chanted, "A woman's crown is her liberation!"
Mona Abd al-Radi, the secretary-general of the Union of the Women's Organization of Cairo, and one of eight who cut her hair, said that the action was a reference to the daughter of Pharaoh Akhnaton, who cut her hair in grief that the priests were persecuting her father and had struck him blind with their spells.
It is possible that some of these demonstrators were Coptic Christians and were referring to Corinthians 11:2-15, which says a woman's hair is her crown. They were rejecting this sentiment. They are said to belong to the organization, "Daughters of Egypt."
They were upset by the passage of the new, Muslim Brotherhood constitution, and also by reports that fundamentalists stopped some women from going into polling stations to vote in the referendum on it.
They carried posters saying, "Your constitution is invalid," "Don't you dare try to marginalize the role of women," and "A woman's crown is not her hair, a woman's crown is her liberty."
They gave out literature rejecting the legitimacy of the referendum and demanding that a new, more representative constituent assembly be assembled to re-do the constitution.
They affirmed that they would continue peacefully to demonstrate, rally and camp out until the demands of the revolution were realized.