Jack Serle writes at the Bureau of Investigative Journalism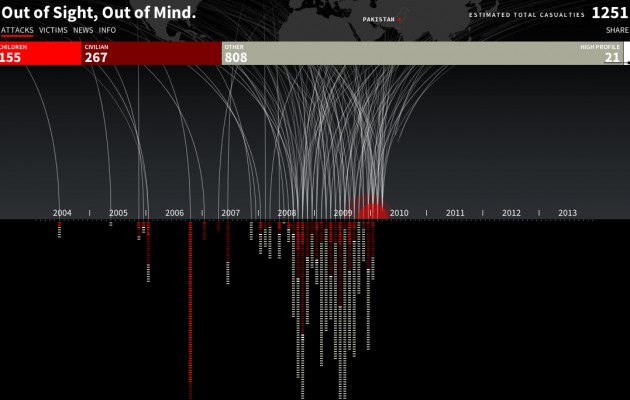 Pitch Interactive have visualised every CIA drone strike and every casualty in Pakistan.
A new interactive graphic, which uses the Bureau's drone data, has brought a fresh perspective to the CIA's nine-year drone campaign in Pakistan.
A team of developers has pulled together every known drone strike and casualty from data provided by the Bureau and New America Foundation. This data has been represented in an interactive timeline which allows the viewer to see how the campaign builds over time, as well as the number of people killed.
Pitch Interactive, a California-based commercial web-development studio, has produced the interactive as part of a pro-bono programme.
The project, Out of Sight, Out of Mind, aims to capture the scale and human cost of the drone war in Pakistan through its visual representation of the CIA's covert Pakistan drone war from the first event in 2004 to the latest strike.
Wesley Grubbs, who leads the team at Pitch Interactive, told the Bureau that the team set out 'to cause people to pause for a moment and say "Wow I've never seen this in that light before".'
The visualisation uses an average of the casualty data collected by the Bureau's Covert Drone War project, combined with data collected by New America Foundation which tallies the number of high value targets reported killed in the strikes.
The CIA drone campaign in Pakistan has received much attention in recent months. The debate intensified after last month's Senate confirmation hearing for new CIA director John Brennan, a leading architect of President Obama's drone strategy.
Earlier this month Ben Emmerson QC, UN special rapporteur on counter-terrorism, added to the debate after stating that Pakistan did not support the drone strikes. His statement was made following a visit to the country as part of a UN investigation into the legal and ethical framework of drone strikes. Emmerson also said CIA drones had killed 2,200 people in the country including at least 400 civilians, according to Pakistan authorities.
But despite the public debate that has played-out over recent months, Grubbs believes the full scope and consequences of the drone war are still obscured. 'We feel that drone strikes are a very hot topic right now but we feel people are being misled,' he said.
Click here for the interactive graphic.
In March and April, support the Bureau's Naming the Dead project identifying those killed in drone strikes, through the Freedom of the Press Foundation. Click here to donate.
___