John Queally writes at Commondreams.org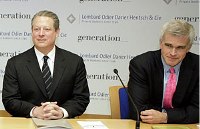 Former U.S. Vice President turned climate campaigner Al Gore and his longtime business partner David Blood, a former Goldman Sachs executive, are out with a bit of financial advice for their wealthy comrades who remain in the habit of investing in the world's high-polluting carbon industry: Don't.
Saying the misguided dependence on the world's fossil fuel reserves is creating the "largest bubble ever" in the investment community, Gore and Blood are telling people to find ways to dump their "high-carbon assets" and start using their money to invest in the clean energy future that the Earth demands. As it turns out, they say, it's not only the morally correct and responsible thing to do in terms of battling climate change, it will ultimately serve their bottom lines.
Gore and Blood, as the Guardian's Fiona Harvey reports,
have brought forward a four-point plan that they say will protect future investors. They are calling on companies, investors and regulators to identify the carbon risks in their portfolios; to demand of company managers and boards that the risks should be publicly disclosed; to diversify their investment portfolios to include low-carbon infrastructure such as renewable energy and electric vehicles; and finally to take their money out of fossil fuels and other high-carbon assets, or turn them into low-carbon assets – for instance, by installing carbon capture and storage units on power stations.
Though critics of the powerful duo may voice concern over some of their underlying assumptions—the unproven and largely derided prospect of carbon storage technology, for instance, or the supremacy of the capitalist experiment in general—the idea that the fossil fuel paradigm is not only an ecological disaster, but a financial one, has steadily come to the center of the debate on climate change.
As Bill McKibben, co-founder of the climate action group 350.org, wrote earlier this, recognizing and dealing with the "carbon bubble" now cited by Gore and Blood is a vital part of turning off the (very profitable) oil and gas burners that are cooking the planet. As McKibben wrote:
The carbon bubble that looms over our world needs to be deflated soon. As with our fiscal crisis, failure to do so will cause enormous pain — pain, in fact, almost beyond imagining. After all, if you think banks are too big to fail, consider the climate as a whole and imagine the nature of the bailout that would face us when that bubble finally bursts.

Unfortunately, it won't burst by itself — not in time, anyway. The fossil-fuel companies, with their heavily funded denialism and their record campaign contributions, have been able to keep at bay even the tamest efforts at reining in carbon emissions. With each passing day, they're leveraging us deeper into an unpayable carbon debt — and with each passing day, they're raking in unimaginable returns. ExxonMobil last week reported its 2011 profits at $41 billion, the second highest of all time. Do you wonder who owns the record? That would be ExxonMobil in 2008 at $45 billion.

Telling the truth about climate change would require pulling away the biggest punchbowl in history, right when the party is in full swing. That's why the fight is so pitched.
It is this thinking that is driving 350.org's nationwide divestment campaign, which is trying to leverage the power of student voices in getting colleges and university endowments to divest their holdings from the world's biggest polluters. The campaign is also beginning to target pension funds, the portfolios of churches and municipalities in the U.S., and 350.org has just launched a similar drive in Europe.
As Gore told the Guardian: "This is potentially the largest bubble ever. If investors look in clear-eyed, traditional risk management way, they can be in time to avoid it."
And Harvey continues:
[Gore] said it was not feasible to wait for a global agreement on climate change, on the lines of the Kyoto protocol which he helped to forge in 1997, but that investors must take action sooner. He urged individual investors to demand that their pension companies or fund managers should seek to evaluate their exposure to carbon risk.

The highest carbon assets such as tar sands and dirty coal represent the highest immediate risk, but other infrastructure such as transport and construction is also involved.

If the risks associated with high-carbon assets are not taken into account, Gore warned, the consequences for other assets – in a decade or more – could be dire. Those assets include "real estate, agricultural land and infrastructure" that is all at risk from the effects of climate change, and the value of which could plummet as the effects are increasingly felt in the form of floods, droughts and storms.
In her most recent essay on the subject, author and journalist Naomi Klein, who also serves as an advisor to 350, makes it clear that the science and crisis of climate will force everyone—the rich and the poor, the commoners and the capitalists—to change the way they do business. Because, she writes:
…the truth is getting out anyway. The fact that the business-as-usual pursuit of profits and growth is destabilizing life on earth is no longer something we need to read about in scientific journals. The early signs are unfolding before our eyes. And increasing numbers of us are responding accordingly: blockading fracking activity in Balcombe; interfering with Arctic drilling preparations in Russian waters (at tremendous personal cost); taking tar sands operators to court for violating indigenous sovereignty; and countless other acts of resistance large and small.
At what pace the world's high-level investors participate in the fight to stop global warming remains to be seen, of course, but Gore and Blood's four-point plan to insulate investors from the perils of the fossil fuel industry dangerous "carbon bubble" is at least an acknowledgement that the reality of the threat is creeping up the ladder of privilege.
As Klein might say, "It's not a revolution, but it's a start."
______________________________________
This work is licensed under a Creative Commons Attribution-Share Alike 3.0 License.
——
Mirrored from Commondreams.org