Libyan Prime Minister Ali Zeidan declared a 48-hour state of emergency in the capital of Tripoli on Saturday as fresh fighting broke out at Tajoura to the east of the capital. On Friday, unarmed civilian protesters had been attacked with heavy military weapons by Misrata militiamen, leaving 43 dead and some 500 wounded.
At Tajoura, known as the gateway of Tripoli, one protester was killed and dozens were injured on Saturday.
The local city council of Tripoli called for a general strike in both the public and private sectors for 3 days in mourning over the victims of the militia. Non-essential shops and services will close. Already on Saturday many shops were closed and the place looked like a ghost town. Clinics, pharmacies, bakeries and gas stations are exempted from the strike.
The Misrata militia, responsible for Friday's violence, had lost control of its HQ in Tripoli. But reinforcements slipped in from Misrata Friday night and early Saturday morning, allowing it to reclaim the HQ. Prime Minister Zeidan has called for all non-Tripoli militias to depart by Monday. Misrata was besieged by Muammar Gaddafi's tanks and artillery for 6 months in 2011, losing many civilian non-combatants to these brutal tactics. Many Libyans on my Twitter feed are asking how the militia could itself now turn heavy weapons on civilians.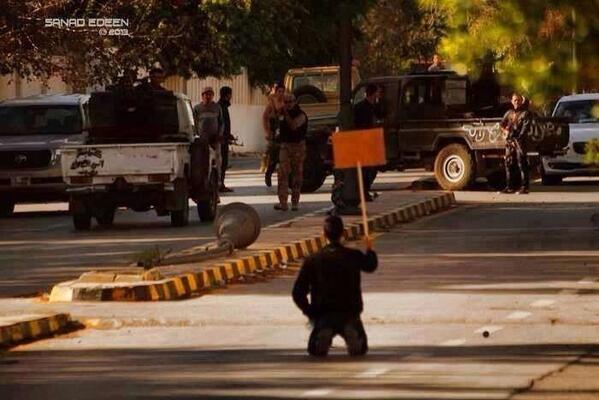 [h/t Mosab on Twitter: Unarmed young protester kneels before armed militiamen
Misrata is a vast arms depot, with tanks, rocket propelled grenades and other arms stockpiled in such numbers as to dwarf the armaments of the central government. Much of the equipment was conquered from Gaddafi's forces, but some was sent during the fighting of 2011 by Qatar.
PM Zeidan said Saturday that Libya is at a crossroads. It seems likely that the transitional government will either lose its nerve or assert itself in the coming week; which it does will be consequential for the future of the country.
France, other NATO countries, and even the US are offering to train Libyan troops and security forces, but so far few such personnel have received practical training abroad.