(By Juan Cole)
Two large explosions at the state security building in downtown Mansoura, Dahqaliya Province, killed at least 14 persons and wounded 130 on Monday, reducing some of the edifice to rubble and damaging its facade. The head of the directorate of security was among the wounded.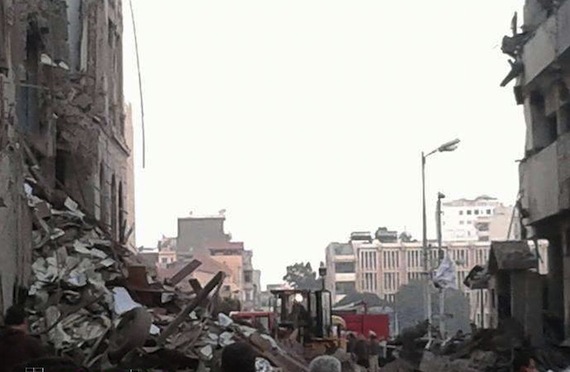 [Photos via Mansouracity.com]
Crowds immediately gathered to blame the Muslim Brotherhood and to demand that they be executed.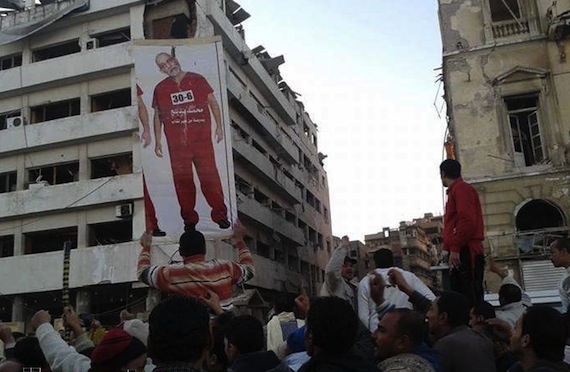 State Security police have been involved in arresting and cracking down on thousands of members of the Muslim Brotherhood, whose leader, Muhammad Morsi, had been the elected president 2012-2013 before being overthrown by a combination popular movement and military coup on July 3, 2013. In the aftermath of Morsi's detention, some 2000 other Brotherhood leaders have been arrested and held without charge, and hundreds have been killed in military actions aimed at clearing out sit-ins in Cairo and Giza. The military junta led by Gen. Abdel Fattah al-Sisi has branded the Muslim Brotherhood a terrorist organization, and seems determined to push the group to take up just that role.
Last week Morsi was charged with, among other things, giving state secrets to the Palestinian party-militia, Hamas and implicitly with aiding and abetting Muslim terrorists.
Muslim Brotherhood members have regularly protested against their marginalization and against the overthrow of Morsi this fall.
Large scale bombings like this have been unknown in Egypt since the 1990s, and Mansoura is likely only the beginning. Radicalized adherents of political Islam were likely behind it, with some of them perhaps being inside the state security police (the upstairs bomb looks like an inside job). By jailing thousands of Muslim Brothers and killing or wounding others with military assaults on demonstrations and sit-ins, and by branding the Brotherhood a terrorist organization, Gen. al-Sisi has pushed some Muslim activists to turn to bombings and violence. If you wish hard enough for terrorists, you get them.
The exclusionary tactics by the nationalist elite against followers of political Islam in Egypt resemble the exclusion by victorious Iraqi Shiites of Sunni Baathists from politics and society in Iraq in 2003. This vindictive policy of social and economic marginalization helped create a civil war that continues to bedevil that country, with some 5,000 killed in political violence this year.
Gen. al-Sisi should look to the Iraqi Shiite elite not as a model for how to marginalize religious Sunnis but as an object lesson in the polarization and radicalization that the exclusion of a large group of citizens from politics produces.
Egypt does not yet have a guerrilla insurgency in the Nile Valley (there is one in the rugged Sinai Peninsula). Once such an insurgency is launched, it typically lasts 15-20 years and is only defeated by force of arms 20% of the time. Egypt's leaders should go out of their way to avoid provoking such an insurgency.
It is a bad sign that the spokesman for the military-appointed interim cabinet suggested that the Egyptian elite's response to the bombing would be a formal legal categorization of the Muslim Brotherhood as a terrorist organization (up until now it has mainly been a matter of name-calling.)
Interim appointed Prime Minister Hazem Biblawi declined to confirm what the spokesman said.
Egypt will vote on a new constitution, slightly more secular than that of 2012 when Morsi was president, in mid-January. It then hopes to go to presidential and parliamentary elections, which the Brotherhood has threatened to boycott. The Sunni Arab boycott of the 2005 Iraqi elections was one step that led to civil war.
Cairo, meet Baghdad. You don't want its fate to be yours.
—-
Related video: