Juan Cole | (Informed Comment)
Le Monde reported on the Charlie Hebdo team at the Paris rally on Sunday, the largest demonstrations in France since the end of World War II. They were emotionally exhausted, having lived through a nightmarish week that saw 10 of their colleagues murdered in cold blood. (One of the staffers killed was a Muslim copy-editor known at the offices for the breadth of his learning).
And, fatigued as they are, they had soon to get back to work on the special edition of their weekly, which will be printed in a million copies rather than the 60,000 usual run.
They said their biggest regret was that they couldn't have paraded caricatures from the past pages of Charlie Hebdo of the various heads of state who joined the rally– Benyamin Netanyahu, King Abdallah II of Jordan, of former French president Nicolas Sarkozy, of Russian Foreign Minister Sergueï Lavrov, of Turkish prime minister Ahmet Davutoglu, and of all the authoritarian heads of state they had lampooned over the years. (Many of the world leaders in the rally would have at the least jailed the Charlie Hebdo staffers if they had been operating in those countries).
Oh, well, said Luz, a cartoonist. You can't think of everything.
The survivors and the family members of the victims came out determined never to stop laughing. They had their chance for merriment when French President Francois Hollande came over at Léon Blum Place to shake their hands, and a pigeon crapped on his shoulder. Luz's companion, Camille Delalande, rendered homage to the president on twitter, saying it was nice of Hollande to give them a good laugh.
Patrick Pelloux, a staffer who had not been there that morning and who came in to find the bodies, said, "The warmth of of these people, these people calmly united for freedom of expression– it is the first day of something. It has an air of unreality, all the world with us. It is beautiful and strange." The companion of a deceased artist who isn't coming back remarked, "Who united so many heads of state around a symbol? Mandela . . . and Charlie."
So here are some relevant Charlie Hebdo caricatures just for the politicians in attendance, for many of whom the victims had only contempt:
For Marine LePen, leader of the far right National Front, whom the mainstream parties quite rightly refused to invite to the rally in Paris, and who therefore marched in the south:
On the Gaza War, for Prime Minister Netanyahu: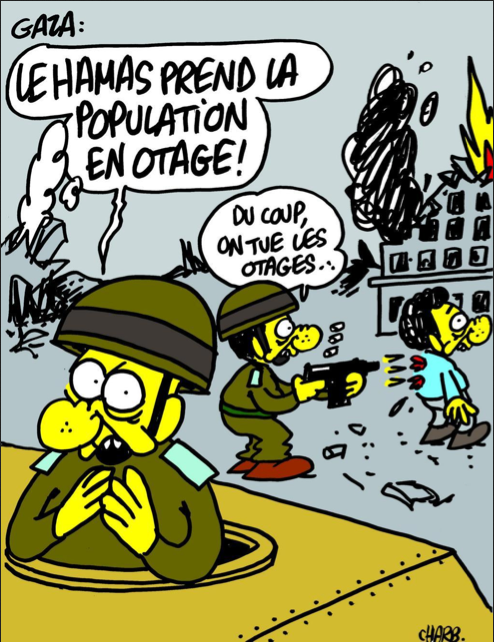 "Hamas has taken the population hostage!" – "Quickly, we'll kill the hostages!"
On Israel's and the West's treatment of the Palestinians:


Palestinian President contemplates a seat for Palestine at the UN. "It is the only one left," he is told.
For Sergei Lavrov and Vladimir Putin:

"Putin sends Gerard Depardieu to Ukraine. No to chemical weapons."