By Juan Cole | (Informed Comment) —
Analysts have been understandably cautious about the nature of the attacks on the Charlie Hebdo staff and a Jewish deli in Paris. On the one hand, they appear to be the work of a small cell. On the other, members of the cell have long and clear links to al-Qaeda and al-Qaeda affiliates.
So the question is whether there was a command structure here. Did al-Qaeda leader Ayman al-Zawahiri, who took over after Usama Bin Laden was killed by Navy Seals, order Sharif and Said Kaouashi to hit the magazine? Or did the order come from al-Qaeda in the Arabian Peninsula, based in Yemen? Or did the terrorists come up with the plot on their own, as the work of their little cell?
The circumstantial evidence for a formal al-Qaeda operation is strong. Sharif Kouashi, the younger brother, had been a recruiter for al-Qaeda in Mesopotamia (i.e. Iraq) in 2003-2005 and was convicted in 2008 and served 18 months of a 3-year sentence for this activity. (The French really need to punish terrorism more severely. Two of the perpetrators had been in jail and were released after relatively short periods; why not life in prison?) One of his associates in the terrorist-smuggling ring was Amedy Coulibaly, a French-born militant of West African heritage. (He must be a convert. Coulibaly is a Bambara name, so his family was likely from Mali; Amedy is a Christian name, so at some point he converted to a form of Muslim fundamentalism).
A recruiter for al-Qaeda in Iraq has to be considered a member of the organization and it has to be considered that he continued to be in touch with them. Sharif Kouashi was also involved with Amedy Coulibaly in a 2010 scheme to break an Algerian member of the Armed Islamic Group (an al-Qaeda affiliate) out of jail. Coulibaly did time for the failed plot, but the police were not able to gather enough evidence against Sharif to charge him.
In 2011, the Kouashi brothers appear to have gone off to Yemen. The youth revolution broke out that year, and the government was busy dealing with it. Al-Qaeda in the Arabian Peninsula (AQAP) tried to take and hold territory in the southern Abyan province, taking advantage of the country's internal turmoil.
In a phone call to a French radio station, Sharif Kouashi maintained that he was in Yemen with AQAP bigwig Anwar al-Awlaqi, who, he said, "funded" him. US counter-terrorism officials also place Said Kouashi in Yemen in 2011.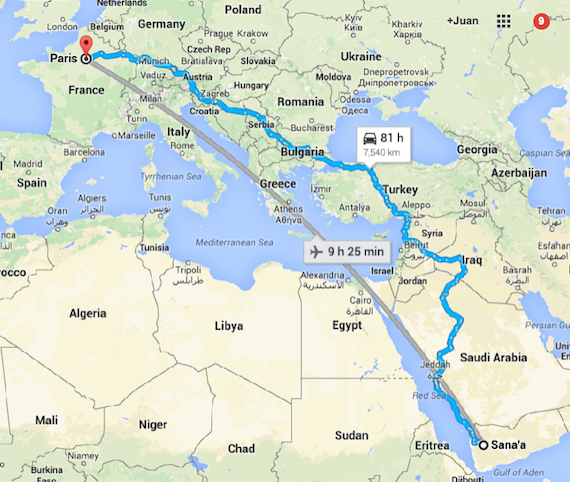 The thinking is that the brothers were expelled from Yemen in a 2012 crackdown by President Abed Rabbo Mansour Hadi, who won a popular referendum in February of 2012 after his predecessor, Ali Abdallah Saleh, had been forced to step down by the youth revolution. After his election, Mansour Hadi gave an interview in which he was asked about al-Qaeda (AQAP). He replied:
"You know that Yemen was among the first countries that suffered from the shameful and criminal deeds of terrorism. Yemen has an important asset in combating this terrorist scourge that crosses borders and continents. You can review the various instances of confrontation of this organization over the past year and the beginning of this year in all the regions and provinces, especially in Abyan Province. The Al-Qa'ida organization exploited the political and security conditions and many of its leaders and elements from Arab and Islamic countries infiltrated Yemen. Perhaps you followed up on reports that many of its commanders holding various nationalities in the world were killed since Al-Qa'ida's elements come from different countries and regions. Some members of the organization in Yemen come from Chechnya, Pakistan, Afghanistan, Egypt, Algeria, Libya, and other countries. Numerous elements that belong to this organization have come with their various titles and codenames. However, we affirm that we are partners in the international efforts in the war on terrorism. There will be no leniency at all in the relentless and firm confrontation of the various forms, colors, and nationalities of terrorism and extremism. In this regard, we call on the international community not to show any leniency to this dangerous phenomenon that has spread and struck roots because Al-Qa'ida exploited the political, security, and living conditions."
Mansour Hadi in May-June 2012 launched a major military campaign in the southern Abyan Province against al-Qaeda, which had taken territory there. He maintained that 75% of AQAP fighters there were foreigners. The Yemeni army won out in Abyan, and about 400 foreigners were expelled in the aftermath. Likely the Kouashi brothers were among them. Over 500 guerrillas were killed and the government took back Zinjibar and other cities in Abyan.
Where the Kouashis were from summer of 2012 until now is not clear. There is a report that they went to fight in Syria but came back to France last summer.
The Associated Press reports that the senior cleric of AQAP in Yemen praised the attacks but did not admit having ordered them. AP says:
"The member told the AP that the group as delaying its official declaration of responsibility for "security reasons."

"The leadership of AQAP directed the operations and they have chosen their target carefully as revenge for the honor of the prophet," the al-Qaida member said. He said France was targeted "because of its obvious role in the war on Islam and oppressed nations."

He warned that "touching Muslims' sanctity and protecting those who make blasphemy have a dear price and the punishment will be severe" and that "the crimes of the Western countries, above them America, Britain and France will backfire deep in their home."
So although Paris is a long way from Sanaa (Yemen's capital), in the contemporary world it is very near. So near that people born in France can get munitions training in Yemen and return to be a menace to their society. This is one reason it is unwise for the West to let a third of Yemenis go to be hungry every night.
AQAP may be reinvigorated nowadays because of the take-over of the north of the country by the Shiite Zaidi Houthi movement, which strongly denounces the Salafi form of Islam out of which al-Qaeda grows. The Shiite Zaidis have extended their rule to Sunni cities such as Ta'izz, and a Sunni backlash is building from which al-Qaeda benefits. At around the same time AQAP-linked terrorists were striking Charlie Hebdo in Paris, al-Qaeda set off a massive car bomb in Sanaa, killing dozens, which rather attracted less interest in the West than the horrific murders in Paris:
Middle East Eye: "Blood on the walls: Yemen bomb attack kills dozens"
So Said Kouashi boasted of being AQAP at the scene of the murders. It turns out that both brothers had been in Abyan Province. Sharif Kouashi maintains that the late AQAP leader Anwar al-Awlaqi bankrolled his terrorist actions. AQAP claimed responsibility for the attacks.
So I'm going to go out on a limb and say that this was not a lone wolf attack. Very likely, either al-Qaeda in the Arabian peninsula or some affiliate went for it aggressively!
Was there a command structure such that an order was given? We can't know right now. But that question misses the point. Al-Qaeda cells and franchises are often informal, and people do as they please within limits. AQAP had ways of suggesting operations to operatives looking to make their bones. Whether the attacks were inspired or commanded doesn't make much difference. They certainly have a strong al-Qaeda linkage.
The connection underlines how unwise it is for the international community to just turn its back on Yemen, or deal with it with an occasional drone strike.
Related video: