By Mel Frykberg | —
RAMALLAH, West Bank, May 24 2015 (IPS) – A decision by the Israel Defence Forces (IDF) to segregate buses in the occupied West Bank has backfired after causing an uproar in Israel's Knesset, or parliament, and political damage on the international stage.
This came as Israel faces mounting international criticism over its land expropriation and settlement building in the West Bank, and other forms of discrimination levelled against Palestinians.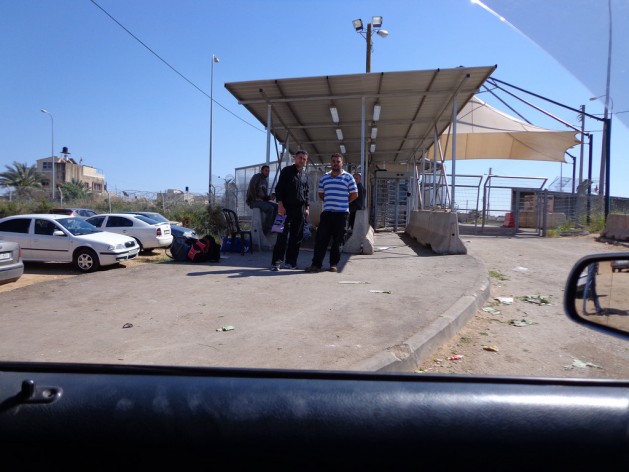 Azzum Atme checkpoint border crossing from the West Bank into Israel, where hundreds of Palestinian labourers cross into Israel each day using Israeli buses. These labourers already face long delays at the checkpoint and if they are banned from Israeli buses their trips will take even longer. Credit: Mel Frykberg/IPS
Israel's new extreme right-wing government is also being attacked on the domestic front with liberal Israelis, and Israeli NGOs involved in human rights, accusing the government of damaging Israel's image and values.
"The EU is Israel's biggest trading partner and the threat of economic sanctions on Israel is a language the Israeli government understands far more than empty threats from the Americans who never followed any criticism of the Israeli government with any action" – Prof Samir Awad, political scientist at Birzeit University
Israeli settlers in the West Bank have been waging a campaign to prohibit Palestinians, particularly labourers who work in Israel, from using their buses in the occupied West Bank for over a year, saying that they represented a security threat, refused to give up their seats for Israelis and expressed sexual interest in Israeli women.
Last week, approval was given for buses to be segregated but after the backlash the plan was quickly scrapped.
However, Israeli Defence Minister Moshe Ya'alon quickly denied that segregation or racism had anything to do with the issue and that the decision to ban Palestinians from Israeli buses had only been based on "security" needs.
Neither has Ya'alon given up on the plan. He intends to instruct the IDF to come up with a new plan to cover all 13 crossing points from the West Bank into Israel.
This development came simultaneously as European Union foreign policy head Federica Mogherini paid a 24-hour visit May 20-21 to Jerusalem and Ramallah in an effort to push the Israeli-Palestinian peace process forward, stating that Europe wanted to play a more prominent role in the process.
But behind Mogherini's visit was growing approval within the European Union for more pressure to be exerted on Israel to stop expropriating land from the Palestinians to build more illegal Israeli settlements and enlarge current ones.
Israel's Foreign Ministry was on the defensive following its perception of bias from the European Union.
"The Israeli government will not be pressured by the European Union into making any concessions with the Palestinians in regards to the peace process," said a spokesman from Israel's Foreign Ministry – who insisted on remaining anonymous due to "ongoing problems at the ministry".
"If the EU exerts one-sided pressure on Israel, without putting any pressure on the Palestinians, the situation will backfire because it will allow the Palestinians to avoid direct negotiations with us at the negotiating table," the spokesman told IPS.
"Any future peace negotiations will have to involve face to face talks between the Palestinians and us. We will accept nothing less."
Israel's Deputy Foreign Minister Tzipi Hotovely, quoting a mediaeval biblical scholar, instructed all Israeli diplomats not to apologise for Israel's occupation, stating that "all of the land (meaning East Jerusalem and the Palestinian territories) belonged to Israel.
As Israel finds itself painted into a corner politically, Palestinian and Israeli analysts have been debating whether there would be any European pressure on Israel and whether that pressure would have any effect.
Political scientist Prof Samir Awad from Birzeit University, near Ramallah, believes that the European Union will be able to successfully pressure the Israeli government, despite its extremism.
"The EU is Israel's biggest trading partner and the threat of economic sanctions on Israel is a language the Israeli government understands far more than empty threats from the Americans who never followed any criticism of the Israeli government with any action," Awad told IPS.
"EU pressure on Israel will also be buoyed by the fact that a number of EU countries have officially recognised a Palestinian state while others have recognised a state in principle and are critical of Israel's continued occupation and land expropriation in the West Bank," added Awad.
However, political analyst Benedetta Berti, a research fellow at Israel's Institute for National Security Studies (INSS) in Tel Aviv, is not convinced that the European Union will succeed in pushing Israel to any negotiating table.
"If we look at their record so far there has been a lot of rhetoric but not much actual action. So far, 16 out of the 28 EU ministers have told Mogherini to go ahead with labelling settlement goods exported to Europe," Berti told IPS.
"It hasn't happened yet as they have to get 20 of the 28 EU ministers on board for that and due to the divisions in the EU over Israel I'm not sure that it will happen in the near future," explained Berti.
Meanwhile, an Israeli rights group has accused the Israeli authorities of being indifferent to attacks on Palestinians by Israeli settlers and security forces.
"Most cases of violent crimes against Palestinians not only go unpunished – but often are completely ignored by the authorities. Even when criminal investigations against soldiers accused of such offences are opened, they almost always fail," said Yesh Din, a volunteer organisation working to defend the human rights of Palestinian civilians under Israeli occupation.
The groups said that approximately 94 percent of criminal investigations launched by the IDF against soldiers suspected of criminal violent activity against Palestinians, and their property, are closed without any indictments. In the rare cases that indictments are served, conviction leads to very light sentencing.
"Moreover, Palestinians who attempt to file complaints about crimes committed against them face staggering obstacles in their way. The complete absence of military police stations open to the Palestinian public in the West Bank, for example, makes it literally impossible for Palestinians to file complaints directly with the military police," stated Yesh Din.
Edited by Phil Harris
Licensed from IPS