By Juan Cole | (Informed Comment) | –
Journalists such as the intrepid Liz Sly covering the Syrian Civil War were struck with the victories of the Army of Conquest coalition in northern Syria, which in recent weeks first took Idlib city (they had already taken most of Idlib province) and then Jisr al-Shughur, a key town that is the gateway to the port of Latakia and its largely Alawite Shiite hinterland. What accounted for sudden breakthrough of the extremist coalition of the al-Qaeda affiliate, the Support Front ( Jabhat al-Nusra), of Syrian Freedom Fighters (Ahrar al-Sham), and other smaller groups devoted to holy war?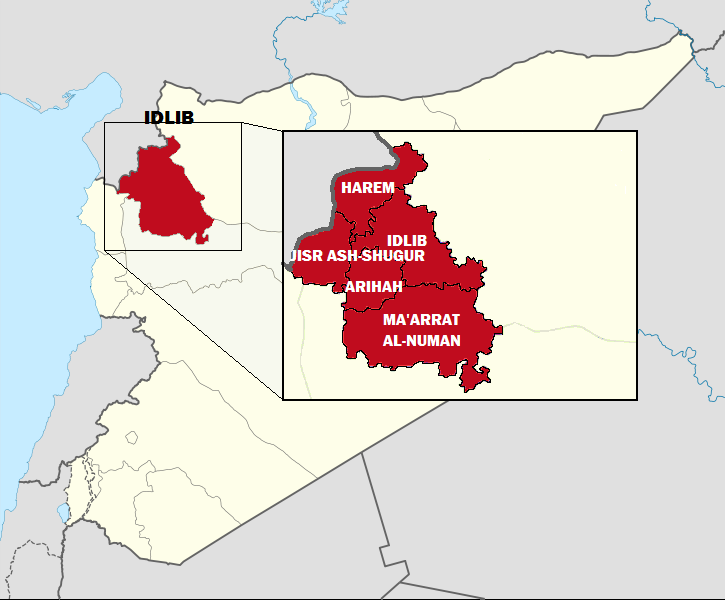 Idlib Governorate via Wikimedia
One explanation: These groups were better funded all of a sudden and receiving coordinated outside help from Turkey and Saudi Arabia.
Under the late King Abdallah, Saudi policy in Syria was a mess. He hated the Muslim Brotherhood, from which many Syrian rebels hail, and wanted to create alternatives such as the Army of Islam (the Syrian Freedom Fighters are part of this coalition). But the Army of Islam did not do very well. The Saudis, having themselves been targeted by al-Qaeda, saw the Support Front as poison, and were reluctant to help the groups in the north who were willing to ally with the Support Front.
Turkey under President Tayyip Erdogan has no such compunctions and is convince Desmond Butler of AP reports, that the Support Front cannot be all that influential in a post-Assad Syria.
The Turkish calculation is way too unimaginative and insouciant. Those Sunni countries that supported the Sunni Arab insurgency against the new American and Shiite establishment in Iraq after 2003 also appear not to have counted on an extremist group like Daesh (ISIL, ISIS) taking over 42% of Iraqi territory.
The new Saudi king, Salman, is said to be less harsh toward the Muslim Brotherhood and willing to use them both in Yemen and in Syria in his struggle with what he perceives as Iranian hegemony in the region. (Iran supports the Baathist government of Bashar al-Assad. While Iran is Shiite and al-Assad is from the Alawite Shiite sect, it is not the case that Iran is supporting Damascus because of Shiism; the Alawites are heterodox and the Baathist regime is miiitantly secular. But King Salman sees it that way).
Salman is thus on the same page with Erdogan, and this new Saudi-Turkish bloc is able to funnel substantially more funds to the Army of Conquest coalition, which includes but subsumes al-Qaeda and the Army of Islam (including the Freedom Fighters of Syria).
The United States is appalled at the idea of supporting groups that a) are themselves religious extremists, b) often have their own links to al-Qaeda, and c) are openly allying with al-Qaeda in Syria, i.e. the Support Front.
Some Syria observers have written me complaining that you cannot put the Turkey-backed Freedom Fighters of Syria (Ahrar al-Sham) in the same category with al-Qaeda, although they are Salafi hardliners. An Ahrar leader, Hassan Aboud, with strong al-Qaeda links has since been killed, but I doubt he was the only one in the group with al-Qaeda connections; and it tells you something that he rose among them to become a leader! Not to mention that they are actively allied with al-Qaeda in Syria
The first thing Ahrar did on taking Idlib was to http://aranews.org/2015/03/%D8%A3%D8%AD%D8%B1%D8%A7%D8%B1-%D8%A7%D9%84%D8%B4%D8%A7%D9%85-%D8%AA%D9%82%D8%AA%D9%84-%D8%B4%D8%AE%D8%B5%D9%8A%D9%86-%D9%85%D8%B3%D9%8A%D8%AD%D9%8A%D9%8A%D9%86-%D9%88%D8%AC%D8%A8%D9%87%D8%A9-%D8%A7/execute a couple of Christians.
We have seen this movie before. Syria is a multicultural society, with 14% Alawite Shiite, 5% Christian, other groups like Druze and Twelver Shiite and Ismaili, then 10% mostly Marxist Kurds, and a majority of the Sunnis are strong secularists. A Taliban-like group taking over the country would be just another huge catastrophe like 1996 in Afghanistan. Moreover, you can't count out the Support Front rising to the top in that post-Assad government; nor, indeed, has Daesh been defeated, and it could make territorial gains.
One caveat: The fall of a couple of towns in Idlib is not necessarily a game changer in the war; the regime has lost more important cities, like Homs, and managed to come back. Things are likely to seesaw for a long time, and if the Army of Conquest has Saudi money, al-Assad has Russian and Iranian money.
The current Obama administration compromise with Turkey and Syria is to try to train and fund 5,000 "moderate" Syrian fighters a year in hopes that they over time will displace both the extremists and the al-Assad regime. But this program in Afghanistan saw substantial defections to the Taliban, and many of these 'moderates' could end up in al-Qaeda and Daesh with US weapons and training (as has already happened).
Pretty much anything that happens in Syria for the next 10 or 15 years is likely to be horrible. A victory for the Turkish-Saudi plan is only one of the potential horrors. But it would be a horror.