By Thalif Deen | (Inter Press Service) | – –
UNITED NATIONS (IPS) – The world at large is apparently divided over what constitutes the biggest single threat to human kind: the devastation caused by climate change or the unbridled terror unleashed by the Islamic State of Iraq and Syria (ISIS)?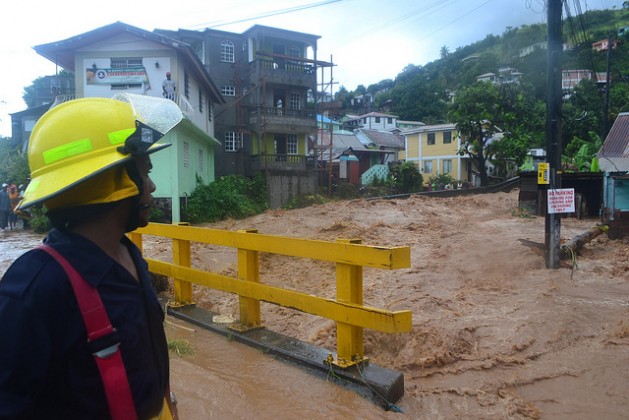 Severe flooding is one of many devastating effects of climate change, as the Caribbean island nation Dominica experienced in 2011. Credit: Desmond Brown/IPS
According to a new Pew Research Center survey designed to measure perceptions of international threats, climate change is viewed as the "top concern" by people around the world.
"However, Americans, Europeans and Middle Easterners most frequently cite ISIS as the top threat among international issues," says the survey.
"It's those on the front lines of climate change, and its catastrophic results, who are often the first to recognise the real threat it presents." — Patricia Lerner of Greenpeace
People in 19 of 40 nations surveyed cite climate change as their biggest worry, making it the most widespread concern of any issue in the survey.
A median of 61 percent of Latin Americans say they are very concerned about climate change, the highest share of any region.
These are among some of the findings of the survey by Pew Research Center, which describes itself as a non-partisan "fact tank," conducted in 40 countries among 45,435 respondents from March 25 to May 27, 2015
Dr. Michael Dorsey, a member of the Club of Rome and an expert on global governance and sustainability, told IPS: "If publics fear climate change more than terrorism, we might have to re-think collective and regulatory approaches for entities responsible for carbon pollution.
"If we accept the fact that carbon pollution drives both human mortality and morbidity, compromises ecosystems, and threatens society, then institutions and firms that produce carbon pollution, as well as those who opt to finance carbon polluters are akin to those who work with entities engaged in and financing terrorism," he said.
It should come as no surprise that in some jurisdictions, elected officials are considering laws usually used to fight organised crime against those that deny the unfolding climate crisis, said Dr Dorsey, a visiting professor and lecturer at several universities in Africa and Europe and interim director of energy and environment at the Joint Centre for Political and Economic Studies.
He also said "a U.S. Senator [Sheldon Whitehouse from Rhode Island] has suggested that we use the Racketeer Influenced and Corrupt Organizations Act, or RICO Act, against the fossil fuel industry, its trade associations and the conservative policy institutes who openly deny climate change and exacerbate it."
The survey points out that global economic instability also figures prominently as the top concern in several countries, and it is the second biggest concern in half of those surveyed.
"In contrast, concerns about Iran's nuclear programme as well as cyberattacks on governments, banks or corporations are limited to a few nations. Tensions between Russia and its neighbours and territorial disputes in Asia largely remain regional concerns," the survey added.
Patricia Lerner, senior political adviser at Greenpeace International, told IPS it is not surprising that nearly half of the nations surveyed cite climate change as their biggest worry.
"It's those on the front lines of climate change, and its catastrophic results, who are often the first to recognise the real threat it presents," she said.
For others, it can seem an invisible threat and they don't yet recognise it as an existential one that will exacerbate all their other fears, such as over terrorism, international tensions and economic instability, as people are driven from their homes by drought, flood or rising sea levels, she pointed out.
Lerner also said "the deadly cycle of drilling in the Arctic for oil which is burned, creating CO2, which then further melts the Arctic, raising sea-levels and displacing people living on small islands is a clear illustration of the myopia of governments and businesses which are failing to recognise climate change is an issue that threatens all of us – wherever we live."
Dr. Doreen Stabinsky, professor of global environmental politics at the College of the Atlantic, Maine, told IPS that "noteworthy to me is the heightened concern of Latin American and African countries."
These regions are on the frontlines of climate change, and the risks there are turning into grim realities of more extreme storms, droughts and falling crop yields, she added.
"One hopes that this heightened concern of the public translates into political resolve on the part of their governments in Paris in December, where those rich countries responsible for these impacts must be convinced to seriously curtail emissions and provide necessary financial support to developing countries to do the same," said Dr Stabinsky, who is visiting professor of climate change leadership at the Uppsala University in Sweden.
The survey also revealed that people in 14 countries expressed the greatest concern about ISIS.
In Europe, a median of 70 percent expressed serious concerns about the threat ISIS poses, while a majority of Americans (68 percent), Canadians (58 percent) and Lebanese (84 percent) were also very concerned.
Israelis were the only public surveyed to rate Iran as their top concern among the international issues tested. Americans also see Iran's nuclear programme as a major issue.
Roughly six-in-10 Americans (62 percent) said they are very concerned, making Iran the second-highest-ranked threat of those included in the poll.
Economic instability was a top concern in five countries and the second highest concern in 20 countries. In Russia, 43 percent said they are very concerned about the economy, the highest-ranking concern of any issue tested there.
The threat of cyberattacks on governments, banks or corporations does not resonate as a top-tier worry globally, though there are pockets of anxiety, including the U.S. (59 percent) and South Korea (55 percent).
Edited by Kitty Stapp
The writer can be contacted at thalifdeen a_t_ aol d o t com
Licensed from Inter Press Service