By Kitty Stapp | (Inter Press Service) | – –
NEW YORK (IPS) – Up to 96 percent of the emissions reductions needed by 2030 to keep global warming below a critical threshold of two degrees C [3.6 degrees F.] could be achieved through a series of 10 steps, says a new report released by the Global Commission on the Economy and the Climate.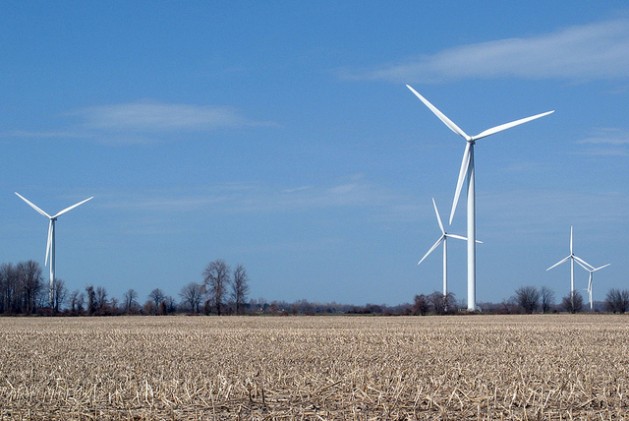 Canada's Erie Shores Wind Farm includes 66 turbines with a total capacity of 99 MW. Credit: Denise Morazé/IPS
"The low carbon economy is already emerging," said former President of Mexico Felipe Calderón, Chair of the Commission.
"Africa can 'leapfrog' the fossil-fuel based growth strategies of developed countries and become a leader in low-carbon development." — Former Finance Minister Trevor Manuel
"But governments, cities, businesses and investors need to work much more closely together and take advantage of recent developments if the opportunities are to be seized. We cannot let these opportunities slip through our fingers."
Scheduled for Nov. 30 to Dec. 11, the upcoming Paris Climate Conference (known as COP21) will, for the first time in over 20 years of U.N. negotiations, aim to achieve a legally binding and universal agreement on climate, with the goal of keeping global warming below two degrees C.
It is expected to attract close to 50,000 participants, including 25,000 official delegates from government, intergovernmental organisations, U.N. agencies, NGOs and civil society.
Ahead of the meeting, governments have been submitting their Intended Nationally Determined Contributions (INDCs) to the U.N. which lay out how they plan to cut emissions and transition to a greener economy.
Last week, China – both the world's largest emitter and biggest investor in clean energy – vowed to peak its emissions around the year 2030, reduce carbon intensity 60 to 65 percent from 2005 levels, and increase the share of non-fossil fuels in its energy mix by about 20 percent by 2030.
But other industrialised countries and/or major emitters are lagging behind in their pledges.
"We know that the current INDC pledges are not likely to get us to the two degree C world we need. But this report shows there is significant room for stronger action that is in countries' economic self-interest," said Michael Jacobs, Report Director, New Climate Economy.
Jacobs told IPS that the best case scenario at COP21 would be "an agreement with universal participation – all countries- which includes a long-term goal to reduce GHG [greenhouse gas] emissions to zero or near-zero in the second half of the century."
He also hoped to see "a regular five-yearly cycle of commitments in which countries strengthen their mitigation and adaptation targets, with this year's INDCs being seen as 'floors not ceilings' to national ambition, able to be raised later."
In addition, a successful agreement would include a strong package of financial and technology support for developing countries, for both adaptation and mitigation, a requirement on all countries to produce national adaptation plans, and a robust system of measurement, reporting and verification (MRV).
"A worst-case scenario?" Jacobs said. "No agreement. This could still happen."
​The commission urges that at least 1.0 trillion dollars goal be invested in renewable energy by 2030.
This could be achieved if governments put in place strong policy and regulatory frameworks to incentivise clean energy (such as feed-in tariffs and robust power purchase agreements), and eliminate fossil fuel subsidies and introduce carbon pricing.
It says that international and national development banks should work closely with governments and the private sector to reduce the cost of capital through risk mitigation instruments and to develop pipelines of bankable projects, and institutional investors, international banks and sovereign wealth funds should commit to increasing financing of renewables and to reduce coal financing.
"The findings of this report, combined with those of the recent Africa Progress Report, prove that there are immense opportunities in the emerging low-carbon economy," said Trevor Manuel, Former Minister and Chairperson of the South African Planning Commission.
"Africa can 'leapfrog' the fossil-fuel based growth strategies of developed countries and become a leader in low-carbon development, exploiting its abundant – and currently under-utilised – renewable energy resources."
The Commission's recommendations include:
Scaling up partnerships between cities, like the Compact of Mayors, to drive low-carbon urban development. Key aspects are investment in public transport, building efficiency, and better waste management. It says such measures could save around 17 trillion dollars globally by 2050.
Enhancing partnerships such as the deforestation programme REDD+, the 20×20 Initiative in Latin America, and the Africa Climate-Smart Agriculture Alliance to bring together forest countries, developed economies and the private sector to halt deforestation by 2030 and restore degraded farmland. The report says this would boost agricultural productivity and resilience, strengthen food security, and improve livelihoods for agrarian and forest communities.
The G20 should raise energy efficiency standards in the world's leading economies for goods such as appliances, lighting, and vehicles. Investment in energy efficiency could boost cumulative economic output globally by 18 trillion dollars by 2035.
Cutting emissions from aviation and shipping and from hydrofluorocarbons (HFCs) under the Montreal Protocol to protect the ozone could cut emissions by as much as 2.6 gigatonnes in 2030. In shipping alone, higher efficiency standards could save an average of 200 billion dollars in annual fuel costs by 2030.
"2015 is a moment of opportunity to accelerate growth-enhancing climate action. Landmark conferences on development financing, the SDGs [Sustainable Development Goals], and climate change have the potential to usher in a new era of international cooperation," said Kristin Skogen Lund, Director-General, Confederation of Norwegian Enterprise.
The New Climate Economy is the flagship project of the Global Commission on the Economy and Climate. It was established by seven countries: Colombia, Ethiopia, Indonesia, Norway, South Korea, Sweden and the United Kingdom, as an independent initiative to examine how countries can achieve economic growth while dealing with the risks posed by climate change.
Chaired by former Mexican President Felipe Calderón, and co-chaired by renowned economist Lord Nicholas Stern, the Commission has 28 leaders from 20 countries, including former heads of government and finance ministers, leading business people, investors, city mayors and economists.
Edited by Kanya D'Almeida
Licensed from Inter Press Service