BETHLEHEM (Ma'an) — Several foreign activists stripped bare near the Israeli separation wall in the city of Bethlehem in the occupied West Bank in refusal of ongoing Israeli policies against Palestinians under military occupation.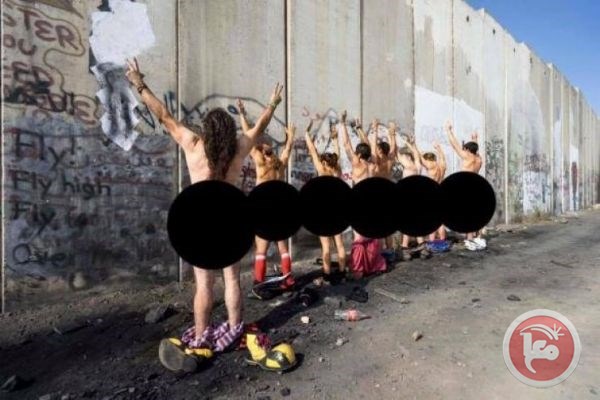 Photo taken from the Facebook page of Pallasos en Rebeldia
Photos of the activists went viral Wednesday among Palestinians on social media who refused such support, while social media activists pointed out that the group of Spanish activists work as clowns.
The organization through which the activists traveled, Pallasos en Rebeldia, said that the activity was in support of Palestinian freedom and against the separation wall.
The organization added that similar activities had been organized in different Palestinian cities and areas.
"The clown loses his dignity at this moment to remind us that all of humanity has lost its dignity by allowing the existence of walls and the existence of this concrete wall," Pallasos en Rebeldia wrote on its Facebook wall.
"The 21st century is time to break down walls, not to build new walls," it added.
Pallasos en Rebeldia — Clowns in Rebellion — is a group that aims to improve the lives of those living under military conflict and unjust systems by building solidarity through laughter.
The group is currently travelling throughout the occupied Palestinian territories in support against the Israeli occupation.
The group apologized on social media to any Palestinian who felt injured by the clowns' activities Wednesday, saying: "It is not an attack against Islam. It is our way of denouncing the wall's existence."