Ma'an News Agency | – –
JERUSALEM (Ma'an) — The European Union on Saturday called on Israel to stop demolishing Palestinian homes in the occupied West Bank, and reiterated "the EU's firm opposition to Israel's settlement policy."
In a statement, the EU said Israel's most recent moves in the occupied West Bank — from settlement expansion to Palestinian home demolitions — undermine "the viability of a future Palestinian state" and only continue to "driv(e) the parties yet further apart."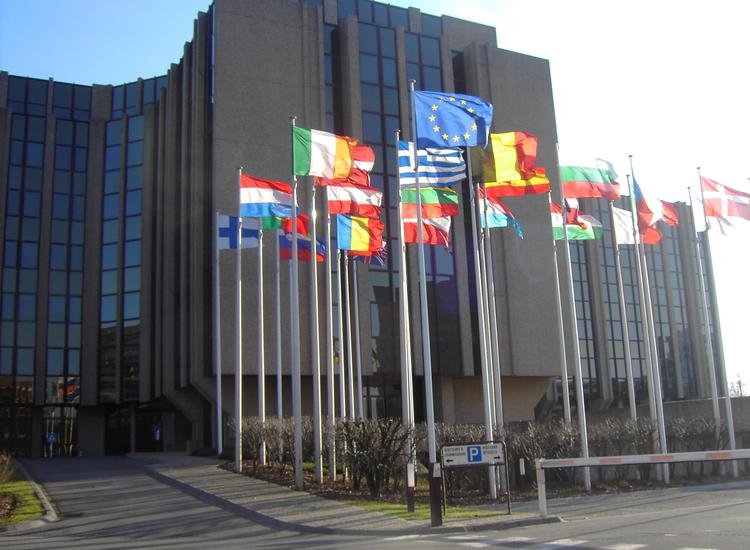 EU HQ h/t wikipedia
The EU specifically mentioned Israel's actions on Feb. 3, when Israeli forces demolished a number of Palestinian structures in the south Hebron hills.
Israeli watchdog B'Tselem estimated at the time that around 40 structures in the area had been marked by Israel's civil administration to be demolished.
The EU said news of the demolitions were "particularly concerning both because of the extent of the demolitions and also the number of vulnerable individuals affected, including children who need support," adding that a number of the "demolitions included EU-funded structures."
"EU humanitarian activities are carried out in full accordance with international humanitarian law, with the sole aim of providing humanitarian support to most vulnerable people. We call on the Israeli authorities to reverse the decisions taken and to halt further demolitions."
While demolitions in the occupied West Bank decreased by 10 percent in 2015 from the previous year, the UN Office for the Coordination of Humanitarian Affairs (OCHA) reported that 539 Palestinian-owned structures were still demolished, leaving many Palestinians homeless.
The majority were demolished in Area C, on the grounds of lacking building permits, around 20 percent of which were built using humanitarian assistance from international organizations.
In order for Palestinians to build in Area C, which is under full Israeli control, land owners must obtain building permits from Israeli authorities.
OCHA found that between 2010 and 2014, only 1.5 percent of 2,020 building permit requests submitted were approved.
"Official data released by the Israeli authorities indicate that over 11,000 demolition orders — affecting an estimated 17,000 Palestinian owned structures, including homes — are currently 'outstanding' in Area C of the West Bank," OCHA said in a statement last year.
At least 77 percent of demolition orders against structures are located on private Palestinian land.