By Golnaz Esfandiari | ( RFE/RL ) | – –
The succession question in Iran has come to the fore recently with the election of a new Assembly of Experts, the 88-member chamber of (male) theologians who pick and nominally oversee the work of the country's supreme leader. Speculation mounted about potential successors to Supreme Leader Ali Khamenei after the 76-year-old ayatollah underwent prostate surgery in 2014, and rumors about his health continue to circulate.
But ex-President Ali Akbar Hashemi Rafsanjani put the topic front and center when he spoke publicly in December about succession. Rafsanjani, an influential former confidant of the Islamic republic's iconic founder Ruhollah Khomeini whose name has come up as a potential successor to Khamenei, said a group of clerics was examining qualified potential prospects who could become Iran's next supreme leader.
Most analysts agree that it's difficult to predict political developments in Iran if Khamenei dies or becomes incapacitated. Some suggest Iran might experience a period of political turmoil and increased factional infighting, while others, such as analyst and former State Department official Ray Takeyh, believe that Iranian authorities would quickly name a replacement "to project the impression of continuity and strength."
There are also differing views about the actual role the Assembly of Experts is likely to play in choosing Iran's third supreme leader (after Khomeini and Khamenei).
Amid the debates, a number of Iranian political figures have been touted as possible Khamenei successors.
Here are some of them:
Mahmud Hashemi Shahrudi
This former head of Iran's powerful judiciary and current Guardians Council and Assembly of Experts member is a senior conservative cleric who teaches Islamic jurisprudence in the Shi'ite holy city of Qom. He's been tipped as a top contender for supreme leader due in part to his strong religious credentials and the perception that he hasn't particularly antagonized any factions within the Islamic republic.
Shahrudi, 67, was born in the Iraqi city of Najaf to an Iranian family. His website claims he was jailed by then-Iraqi President Saddam Hussein's regime in 1974 and tortured. He moved to Iran after the 1979 revolution that ended the Pahlavi monarchy and led to the creation of the Islamic republic.
After Shahrudi took up the leadership of the judiciary, he spoke of the need for judicial reforms — and he implicitly criticized his predecessor in the post, current Assembly of Experts Chairman Mohammad Yazdi* — but critics say Shahrudi failed to bring substantial changes to the powerful institution, which has been a tool of state repression. During his 1999-2009 tenure as judiciary chief, scores of journalists and activists were jailed and publications were shut down. Shahrudi reportedly ordered a moratorium on executions by stoning in 2002, but a number of stoning sentences were said to have been issued and carried out despite the order.
Ali Akbar Hashemi Rafsanjani
This pragmatic 82-year-old cleric is among the founding figures of Iran's Islamic republic. Rafsanjani, who is nicknamed "The Shark" for his lack of a beard and perceived political shrewdness, was Iran's president from 1989 to 1997. His presidency was marked by attempts to move Iran toward greater pragmatism on foreign policy and ease social and cultural restrictions slightly at home.
During his presidency, a number of dissidents and intellectuals inside and outside Iran were either killed or disappeared. Rafsanjani was accused of being among state officials who ordered those and other killings. Those who made the accusations included journalist Akbar Ganji, another former postrevolutionary Iranian president at a German terrorism trial, and an Argentine investigator into the deadly bombing of a Jewish center in Buenos Aires in 1994. He has never publicly commented on the slayings or the accusations against him.
Rafsanjani is regarded by some as a rival to current Supreme Leader Khamenei, who was appointed as the country's top authority in 1989 by Rafsanjani and a number of other clerics.
Hard-liners have occasionally sought to marginalize Rafsanjani, who publicly expressed support for the opposition movement in 2009. In 2011, Rafsanjani lost his post as chairman in a vote by the Assembly of Experts to Yazdi (see above). Rafsanjani has appeared to be ascendant since self-styled moderate Hassan Rohani's rise to the presidency in 2013.
Sadegh Larijani
The current head of Iran's powerful judiciary is believed to be close to Supreme Leader Khamenei, who appointed him to that post in 2009. Nearly a decade earlier, in 2001, Khamenei had made Larijani one of the youngest jurists in the powerful Guardians Council that has consistently opposed reforms. According to Washington-based Iran analyst (and former RFE/RL Radio Farda broadcaster) Mehdi Khalaji, Larijani has close ties to Iran's military and intelligence agencies.
Larijani was born in the Iraqi city of Najaf and moved to Iran after the 1979 revolution. Two of his brothers, including current parliamentary speaker Ali Larijani, hold important political posts.
Under Larijani's watch atop the judiciary, the number of executions, including public hangings, has significantly increased. Larijani has repeatedly dismissed international criticism of Iran's human rights record as baseless interference. Larijani has claimed that "many of the issues raised on the pretext of human rights, including opposing the death penalty, are in fact in opposition to Islam, because qisas" — or retaliatory law — "is clearly stipulated in the Quran."
Hassan Rohani
Iran's self-styled moderate president appeared to enjoy soaring popularity after he engineered a nuclear deal with world powers to lift international sanctions in July.
The 67-year-old theologian is regarded as a skillful maneuverer and lobbyist of different centers of powers in the Islamic republic and the international arena, earning him the nickname "Diplomatic Sheikh." He has served in a number of key posts over the past 37 years, including secretary of Iran's Supreme National Security Council from 1989 to 2005.
Rohani was elected as Iran's president in June 2013 with the slogan "moderation and prudence." Many people are thought to have voted for him to block hard-line candidates favored by Supreme Leader Khamenei.
Rohani has so far failed to fulfill campaign promises to give Iranians more rights, but supporters argue that since his election, state repression has slightly eased and cultural freedom increased. Rohani's pledge to release opposition figures who have been under house arrest since February 2011 has also not materialized.
Hassan Khomeini
This 43-year-old cleric and grandson of the founder of Iran's Islamic republic, Ayatollah Ruhollah Khomeini, is a mid-ranking, relative moderate who teaches theology in his birthplace of Qom. He has come under pressure by hard-liners over his ties to the reformists.
Khomeini recently made headlines by announcing his decision to run for the Assembly of Experts amid speculation that former Presidents Rafsanjani and Mohammad Khatami had encouraged him to stand. But vetters at the Guardians Council torpedoed his candidacy. Saying there was no justification for his disqualification, Khomeini said he had decided to run "out of duty and concern for the future of the revolution and the Islamic establishment."
Fazel Meybodi, a reformist cleric in Qom, has described Khomeini as "a moderate person, handsome, charismatic, articulate, and open-minded."
Mojtaba Khamenei
This 46-year-old cleric is one of Supreme Leader Khamenei's six children. Rumors about him as a possible successor to his father made him a target of chants by opposition activists protesting the 2009 reelection of President Mahmud Ahmadinejad.
Little is known about the younger Khamenei, although he was rumored to have been orchestrating the brutal crackdown that followed the disputed 2009 vote. He makes rare appearances at his father's speeches and at state demonstrations marking anniversaries of the 1979 revolution.
The younger Khamenei's father-in-law, former parliamentary speaker Gholamali Haddad Adel, once called him a pious and modest man whose views are fully in line with his father's and who "fulfills his duty" when asked by the supreme leader. Haddad Adel also said "rumors" swirling around Mojtaba Khamenei reflect efforts to create distance between the supreme leader and the people.

Mohammad Taghi Mesbah Yazdi
​This 82-year-old ayatollah and current Assembly of Experts* member, nicknamed "Ayatollah Crocodile" by detractors, is arguably one of Iran's most radical clerics. He was an ardent supporter of former hard-line President Ahmadinejad, calling his election "a miracle." But after Ahmadinejad appeared to fall out of official favor, Mesbah turned critic. He has been a fierce opponent of reforms, suggesting in a 1998 speech that "accepting Islam is not compatible with democracy."
More recently, Mesbah Yazdi said that "cultural infiltration" is the biggest threat Iran will face. In the run-up to these elections, he was quoted as saying that "the enemies want to influence our thinking and weaken our beliefs."
*Both Mohammad Yazdi and Mohammad Taghi Mesbah Yazdi are seeking re-election to the Assembly of Experts. Latest preliminary results indicate that both men have lost their seats.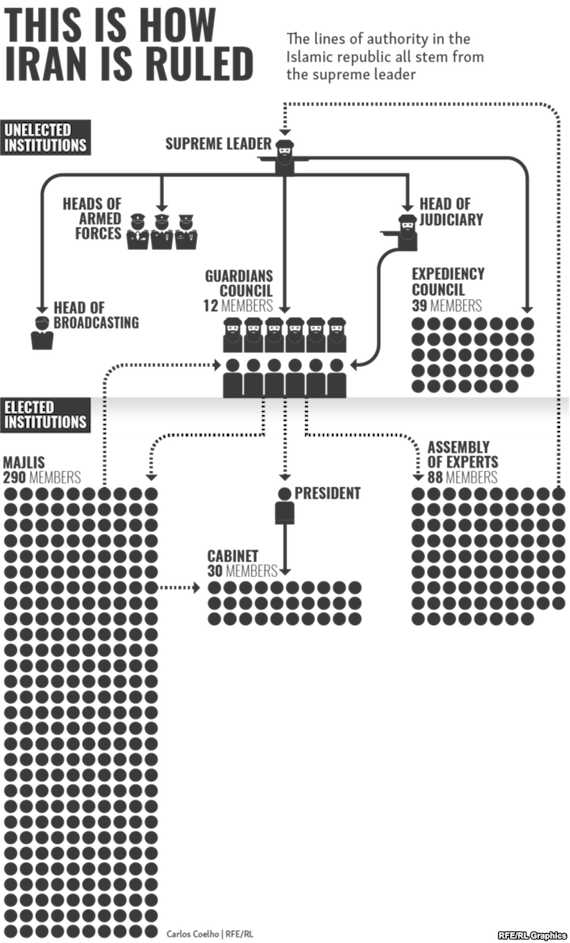 Via RFE/RL
Copyright (c) 2015. RFE/RL, Inc. Reprinted with the permission of Radio Free Europe/Radio Liberty, 1201 Connecticut Ave NW, Ste 400, Washington DC 20036.