Ma'an News Agency | – –
TUBAS (Ma'an) — Israeli forces on Thursday destroyed over 40 Palestinian homes and structures in the Tubas district of the occupied West Bank as ongoing Israeli policies in the Jordan Valley continue to drive Palestinians out of their homes.
A Palestinian official from the governor's office in Tubas, Mutaz Bsharat, told Ma'an that Israeli forces and bulldozers stormed the Palestinian communities of al-Farisiya and Khallet al-Khader and demolished seven homes, displacing seven families.
Forces also demolished 35 structures in the Bardala and Ein al-Baida communities, Bsharat added.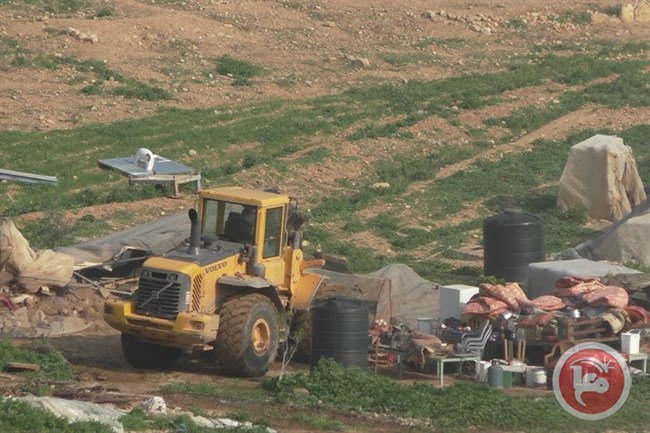 Courtesy Ma'an Images
Tubas Mayor Rabih Khandaqji told Ma'an that local and international organizations were carrying out efforts to aid Palestinians displaced during the demolitions and to rebuild destroyed structures.
A spokesperson for Israel's Coordination of Government Activities in the Territories (COGAT) did not have immediate information on the demolitions.
Israel has carried out near-daily demolitions in the occupied Palestinian territory since the start of this month and destroyed 42 Palestinian-owned structures in the last week of January alone, displacing 168 people, including 94 children.
The communities targeted in Thursday's demolitions are all located in Area C, the over 60 percent of the West Bank under full Israeli military control where building permits are near-impossible for Palestinians to obtain from Israel.
As a result, Palestinian communities are forced to build illegally and face the constant threat of demolition and displacement.
Threats of displacement for the thousands of Palestinian Bedouins living in the Jordan Valley in particular have reportedly increased dramatically since 2012.
Rights groups argue that Israel aims to fully annex the strategic area of land and is unlikely to return the occupied area to Palestinians.
In addition to demolition, Israeli rights group B'Tselem earlier this month pointed to the use of Israeli military training exercises as a means of forcible displacement of Palestinians from the Jordan Valley.
Palestinians are frequently ordered to evacuate their villages during military trainings, and B'Tselem reported that military exercises carried out last month caused severe damage to crops belonging to Palestinian communities.
The group said that while no Israeli official has ever issued statement regarding how military training grounds are chosen, "the apparent selectiveness uncovers the motivation behind it — dispossession."