By Juan Cole | (Informed Comment) | – –
I once heard Hillary Clinton give her AIPAC speech at a university. It doesn't change much, just as US policy toward the Mideast doesn't change much. She was still a senator then. Much of the audience was Middle East experts, who could barely keep themselves from gagging.
Clinton used her speech to the American Israel Public Affairs Committee meeting, the gathering of some of the most powerful lobbyists in Washington, to lambaste Donald Trump for saying he'd try to be neutral in heading up negotiations between Israel and the Palestinians. Donald Trump should be lambasted. He is wrong on everything most of every day. But, like a clock, he is right twice a day and this a point on which he is correct. The US cannot be an honest broker in the Mideast conflict if it is more Israeli than the Israelis, which it typically is. Palestinian negotiators over the years complained that they'd get an Israeli proposal, then go to the US to tweak it, and get back the same proposal from Dennis Ross or some other American partisan of Israel who had been put in a position to shape negotiations on the American side.
For Clinton to imply that Trump, by saying he wanted to be neutral in negotiations, was indicating that he would compromise on Israeli security is just dishonest. I'm not sure what conventional security threats Israel has. Lebanon is weak and a mess. Syria is in complete disarray. Jordan and Egypt have peace treaties with Israel. Those are the immediate neighbors. Libya has fallen apart. Tunisia doesn't care and anyway is also small and weak. Turkey and Israel have their tensions, but do a great deal of business, including military business, with each other. Iraq is in disarray. Iran is so distant as to pose no conventional threat, and does not have nuclear weapons, which Israel does. So what is the threat to Israeli security Clinton is talking about? It is that Palestinian children might not have to live under Occupation.
Clinton perpetuates the Israeli propaganda talking point that they are the ones who are being oppressed, and that even-handed moves toward peace threaten their security, which is alleged to be precarious.
This propaganda is so successful that most Americans probably do not know that Israel, a country of 8 million, is occupying 4.5 million stateless Palestinians.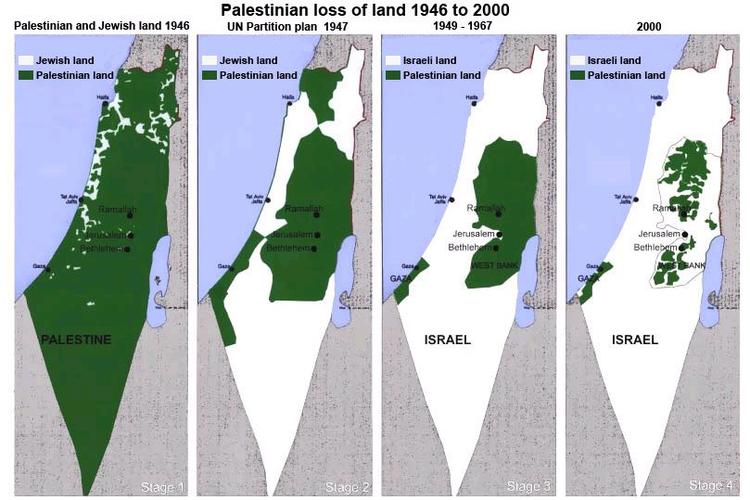 The collapse of the peace process and the current Apartheid in a Palestine wholly occupied by the foreign Israeli military is not the fault of the Palestinians, who are weak, and stateless and powerless. No written-down deal has ever been offered them but Oslo, and current PM Netanyahu publicly and openly vowed to destroy Oslo, which he has. By now he has reneged on every single provision of the commitments Israel made in the 1990s. The US has actively enabled the continued imprisonment of the Palestinian people in the iron cage of statelessness. As [Earl Warren] observed, citizenship is the right to have rights. Palestinians have been actively prevented from being citizens of a state, and so they have no right to have rights. Any accord conducted with them can be broken at will by the powerful, nuclear-armed Israeli state, and has been. The only brake on this oppression of a whole people would be the UN Security Council, which is keenly aware of this historic and interminable set of wrongs. But the US vetoes all the resolutions passed by the UNSC (including ones championed by our allies, Britain and France).
Now that Sec. Clinton has so forcefully rejected the whole idea that the US could ever be even-handed toward the Palestinians, shouldn't she at least recuse herself at the UN Security Council on this issue?
Another plank of her platform was combating people's right to decline to buy Israeli-made goods, to decline to have their stocks in companies that enable the Occupation, and to seek sanctions on Israel for breaking the Geneva Conventions by illegally flooding its own citizens onto Palestinian lands. It is extremely ominous to have someone who is likely the next POTUS declare against Americans' rights as enumerated in the Bill of Rights. I myself don't agree with boycotting Israel proper, but I would have in good conscience to boycott squatter institutions on the West Bank. But it is absurd to interfere with other peoples' decisions on whether to buy, e.g., wine made by Israeli squatters in Syria's Golan.
She went on to say:
"As we gather here, three evolving threats — Iran's continued aggression, a rising tide of extremism across a wide arc of instability, and the growing effort to de-legitimize Israel on the world stage — are converging to make the U.S.-Israel alliance more indispensable than ever."
Well, Iran is stronger in the region because it picked up Iraq as an ally after Clinton voted to overthrow the Sunni government there. It is kind of rich for her to go around invading other countries illegally and then accuse Iran of aggression. (Iran's 2500 spec ops personnel in Syria were there at the behest of a long-standing government in control of 75% of the country, so that can't be equated with sending in 120,000 troops to overthrow a foreign government. I don't like either regime, but I reject this inevitable comeback as apples and oranges).
Clinton has just joined the Republican field in pledging to squander and throw away the diplomatic opening President Obama made with Tehran (she denies, in fact, that there even is a diplomatic opening). She does support the UNSC nuclear deal, but says relations with Iran go no further than that. Since Trump says he just wants to tweak that deal, her position on Iran is probably more hawkish than his.
Likewise, much of the rising tide of extremism comes from the overthrow of the Iraqi state and the dissolution of the Iraqi army. As for Syria, it was in part undermined by the US economic boycott on it via the 2003 Syria accountability act. This bill was co-sponsored by . . . Hillary Clinton. And, it is never clear with the inside-the-beltway crowd who the extremists are. It is still not clear that she repudiates hard line Salafi Jihadi groups in Syria allied de facto with al-Qaeda. You can't get stability by overthrowing governments, squeezing governments, and continuing to support groups that go extremist after they go extremist.
That is, many of the things Clinton is complaining about in the Middle East are the result of her policies (mostly the same as AIPAC policies). And when the West Bank explodes in hot civil war, that will be a result of her policies, too.
And of course among the most deadly extremists are the Israeli squatters on Palestinian land in the Palestinian West Bank. They are armed and dangerous, routinely shoot at innocent Palestinians in a low-intensity civil war, and routinely invade and usurp Palestinian property. They are building vast colonies from which Palestinian residents are excluded, in a mindless replication of the policies of White South Africa in the 1980s. And every time they shoot a Palestinian or steal her home, it is front page news in the Muslim world, and sentiments like those of Sec. Clinton are remembered, fanning hatred against the US. If the Israeli squatters were admirable people doing something admirable, then it would be worthwhile standing up for them even if it increased anti-US terrorism. But they are just criminals, openly breaking every tenet of international law. So standing up for them is morally wrong as well as, policy-wise, completely wrong-headed. In the US, the Israel lobbies do what they can to have anyone who is critical of the squatters blackballed, smeared and marginalized, using techniques redolent of those of cults.
Clinton has just announced a diction and a set of policies toward the Middle East that differ in no particular from those of far right Israeli prime minister Binyamin Netanyahu.
—-
Related video: