By Killian Redden | (Ma'an News Agency) | – –
BETHLEHEM (Ma'an) — Palestinian and international leaders joined a growing chorus of criticism this week over Israel's recent seizure of hundreds of acres of land in the southern occupied West Bank, saying it was proof Israel is "not interested in peace."
In the latest condemnation, Palestinian Prime Minister Rami Hamdallah said Thursday that the "systematic land grab" constituted "a flagrant violation of international law."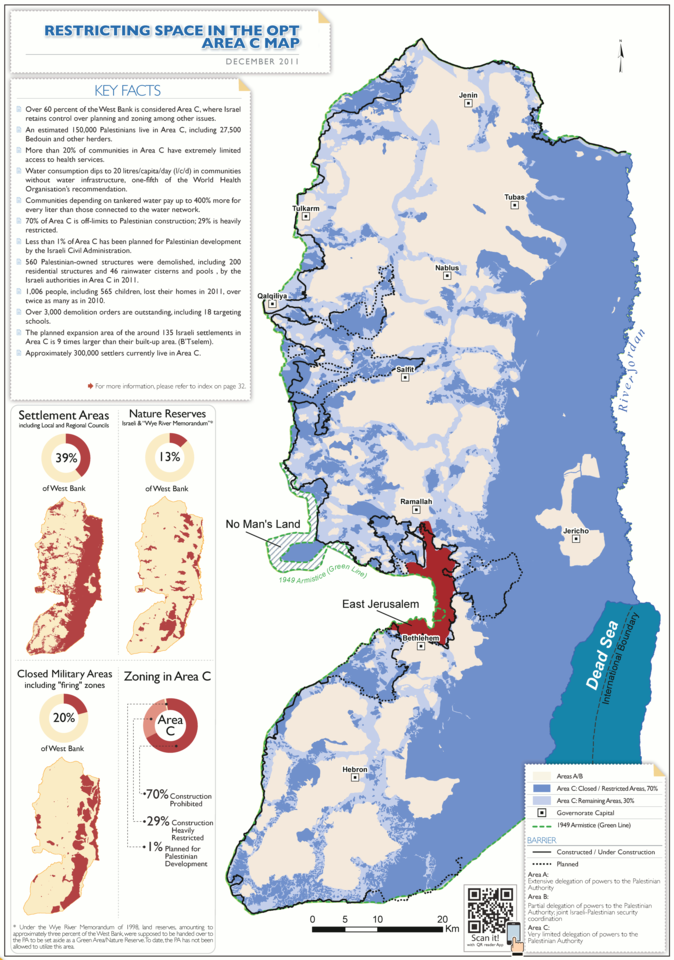 h/t Wikipedia
"The Israeli government is not interested in peace," Hamdallah said, according to a statement issued by his office. "It rather implement(s) a policy designed to prevent the formation of a contiguous Palestinian state."
The land in question — 2,342 dunams (580 acres) of land to the south of Jericho — was declared "state land" by Israel earlier this month, in a decision that far surpassed the 1,500 dunams (370 acres) initially approved for takeover by Israel's Minister of Defense in January.
Israeli settlement watchdog Peace Now said that the land confiscation would pave the way for the construction of 358 housing units in the illegal settlement of Almog.
Jamal Dajani, Hamdallah's official spokesperson, said: "Israel's decision to appropriate a large tract of fertile land in the occupied West Bank, in the Jordan Valley near Jericho sends a very strong message to the international community that the current far-right Israeli government led by PM Benjamin Netanyahu does not abide by previous agreements, and does not support a two-state solution to the conflict."
Hamdallah's comments were matched by earlier condemnations from senior PLO officials Saeb Erekat and Hanan Ashrawi, with Ashrawi telling a delegation of students from Harvard University on Wednesday that she "strongly denounce(s)" the decision.
"Israel is yet again demonstrating its willful efforts to single-handedly destroy the chances for peace and stability and to create a situation where the two-state solution is impossible," she was quoted as saying in a statement issued by her office.
A growing number of international states have also slammed the decision, with French officials saying they were "extremely concerned" by the move, and the German foreign ministry reportedly saying the timing was particularly bad, coming amid efforts to restart peace talks.
On Thursday, Japan also said it "deplored" the decision, which it said "clearly contradicts the ongoing efforts by the international community toward a two-state solution."
This followed yet another condemnation by the US State Department, with spokesperson John Kirby telling reporters on Tuesday that Israel's land expropriations, settlement expansions, and the legalization of settlement outposts were "fundamentally undermining the prospects for a two-state solution."
Kirby said: "We strongly oppose any steps that accelerate settlement expansion, which raises serious questions about Israel's long-term intentions."
Reporters asked him whether Israel had announced the decision "as a sort of slight" to the US at a time when US Vice President Joe Biden was visiting Israel, although Kirby only said: "I would let the Israeli authorities speak to the timing."
He accepted that despite public and private statements, Israel's actions throughout the Obama administration had routinely contradicted a two-state solution, but insisted the White House still backed and believed in the viability of a two-state solution.
One journalist responded: "You can still believe in unicorns if you want to, but that doesn't mean that they exist."
Peace Now said the land confiscation south of Jericho followed that of around 5,000 dunams (1,240 acres) of Palestinian land in Bethlehem district in 2014.
The group said Israel has not confiscated such large swathes of land for the purpose of settlement expansion since the pre-Oslo period in the 1980s, with recent moves indicating a clear change of policy.
Israel's growing settlements in that earlier period played a significant role in triggering the First Intifada, or uprising.
Peace Now said: "Instead of trying to calm the situation, the government is adding fuel to the fire and sending a clear message to Palestinians, as well as to Israelis, that it has no intention to work towards peace and two states."