By Allan Christelow | (Informed Comment) | – –
On December 12-13, 2015 Nigerian security forces carried out an attack against the Islamic Movement in Nigeria (IMN) in the city of Zaria. The movement's leader, Ibrahim al-Zakzaky, and his wife, Zeenah were both seriously injured by shooting, and then kept in detention. The incident occurred some 14 months after a previous attack in which three of Zakzaky's sons were killed. The IMN has claimed that in this latest incident over 700 of its members were killed or detained.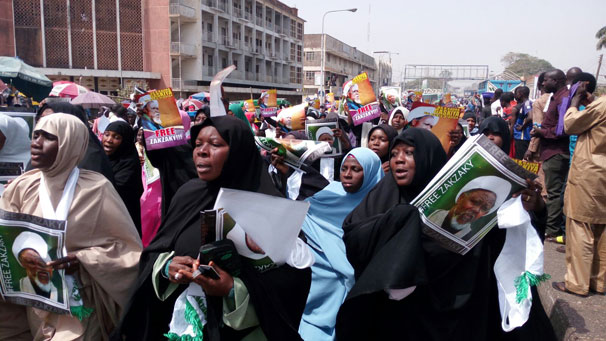 Sisters of the Islamic Movement was held in Kaduna by Sisters of the Islamic Movement on Monday the 15th of Feb, 2016. h/t Islamic Movement
The IMN is often referred to in the media as "Shi'ite", but it presents itself as including all kinds of Muslims. The incident occurred just a few days before the announcement of the formation of a Saudi led Islamic coalition of Islamic states to fight "terrorism." It excluded states where Shi'ites are dominant, and also Algeria, which opposes any cross border intervention. The announcement stirred up much opposition in Nigeria stopping the government from joining the coalition.
The timing of the attack on the IMN could lead one to guess that the Saudi government played a role in pushing for it. Such speculation fits with the fact that wealthy Saudis had given financial support to the presidential campaign of Muhammadu Buhari in March 2015 when it was running out of money, helping him to win. But it can also be argued that the main factor behind the attack was provocation of the security forces by the IMN, whose ritual procession had blocked traffic, including a military convoy. Zakzaky had been imprisoned for 9 years under military rule, from 1983 to 1999, so clearly his relationship with the military was not a comfortable one.
Without access to a wide range of reliable information about the incident it is difficult to come up with any clear conclusion. The most useful efforts to understand the incident now may be to put it into historical perspective.
Zakzaky emerged as a student leader at Ahmadu Bello University in Zaria in the late 1970s, a time of great turbulence in the Muslim world. One striking event of this time was the disappearance in Libya, on August 31, 1978, of Lebanese Sh'ite leader Musa al-Sadr, who has come to be known as the "vanished imam." He had been invited to meet with Mu'ammar Gaddafi. It is widely presumed that Gaddafi ordered his killing after being angered by their discussion. Most speculation about what provoked Gaddafi's anger has focused on Middle East issues.
But it can be useful to look at the African dimension of their encounter. Musa al-Sadr had been working to improve the conditions of Shi'ites in Lebanon, who had been a largely rural and impoverished group up until the 1960s. He realized that a key step for his project could be to make connections with Lebanese Shi'ites in West Africa. Along with Lebanese Maronite Christians and Sunni Muslims, they had been working as traders in West Africa since it came under British and French colonial rule, starting in the 1890s. As African states gained their independence the position of Lebanese traders became less secure, and it made sense for them to invest savings in their homeland and prepare to return.
In 1967, al-Sadr spent some five months in Nigeria, Ghana, Sierra Leone, and Senegal. After returning to Lebanon he sent a colleague to set up a Shi'a Islamic Center in Senegal which would reach out to Senegalese Muslims who were seeking a new vision of Islam that would better fit the demands of modern, urban society.
Discussions of Zakzaky usually focus on his being galvanized by the Iranian revolution as it unfolded in 1978-79. Yet the project that he developed, which focused on drawing young Muslims into modern education and providing basic services such as medical care, bears a strong resemblance to al-Sadr's Amal movement in Lebanon, suggesting that he may well have been influenced by the Shi'a center in Senegal. While Zakzaky often lauded Khomeini, he has emphasized building cordial relations with other Muslim groups and with Christians, just as al-Sadr did in Lebanon.
Gaddafi also had a strong interest in Africa. But while al-Sadr emphasized building voluntary organizations from the ground up, Gaddafi had an Arab nationalist vision of imposing his views from the top down. At the time of al-Sadr's disappearance, Gaddafi was planning to move Libyan forces into Chad, just to the south of Libya. But hi's strident authoritarian style was poorly adapted to the social and cultural diversity of sub-Saharan Africa. So, too, was the Wahhabi vision supported by Saudi Arabia, embodied in the establishment of the Izala movement in Nigeria in 1978. They condemned Sufi orders, which were widespread among Muslims of Nigeria. But Zakzaky was glad to accept Sufi orders, and the IMN's emphasis on public rituals bears a strong resemblance to Sufi practices.
Zakzaky also drew inspiration from within Nigeria, especially from `Uthman Dan Fodio, who led a jihad to build an Islamic state in what is now northwest and north-cental Nigeria in the early 1800s. One of Zakzaky's ancestors had moved from Mali to join this jihad. He became the religious adviser for the local ruler of Zaria province. Schools run by the IMN are known as "Fudiyyah" schools, named after Dan Fodio.
One of Dan Fodio's greatest challenges was to draw Hausa women into Islamic activities, pulling them away from their long established traditions, which included bori, a spirit healing cult. He inspired his daughter Nana Asma`u to form a movement that would help women to develop a thorough understanding of Islamic texts and practices. The IMN has followed in this tradition establishing a Sisters' Forum, and having Zakzaky's wife Zeenah play an important public role.
Women take part in the movement's public rituals, wearing traditional Islamic dress, but with lively movement and facial expressions. If a Wahhabi cleric were to look at their pictures displayed on the
IMN website he might well be terrified.
Allan Christelow is a retired professor of history at Idaho State University. He taught at Bayero University in Kano from 1978 to 1983, living part of that time in the Lebanese cloth market district.