By Muslih al-Din "Saadi" Mushrif ibn Abdullah Shirazi | Trans. Reynold A. Nicholson | – –
The heart that loves with patience — a stone 'tis, not a heart;
Nay, love and patience dwell of old a thousand leagues apart.
O brethren of the mystic path, leave blame and me alone!
Repentance in the way of Love is glass against a stone.
No more in secret need I drink, in secret dance and sing:
For us that love religiously, good name's a shameful thing.
What right and justice should I see or what instruction hear?
Mine eye is to the Saki(1) turned, and to the lute mine ear.
– Translations of Eastern Poetry and Prose
—-
1 Wine server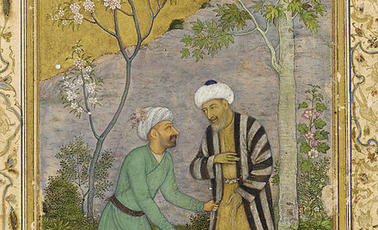 Saadi in a Rose garden, from a Mughal manuscript of his work Gulistan, c. 1645 h/t Wikipedia
Saadi of Shiraz died in 1291/2