By Victoria Brittain | (OpenDemocracy) | – –
The village of Nabi Saleh is a story of resistance in the face of theft and violence. Rawabi encapsulates the vision of a neo-liberal pacified Palestine. And then there is Gaza…
On a warm spring evening in the occupied West Bank Bassem Tamimi was looking over his collection of new plants — fruit trees, oleanders, climbing roses, jasmine, mandevillea — and planning exactly where he would put each one in the freshly dug earth next to the old olive and fig trees beside his house. Such quiet forward-looking domestic pleasure is an everyday scene anywhere else, but in the village of Nabi Salah it is a story of resistance in the face of theft and violence. Village gardens here are typically marked with decorations strung between trees from hundreds or thousands of spent tear gas canisters from the Israeli military's weekly attempts to stop the regular Friday protest marches through the village which have gone on for six years.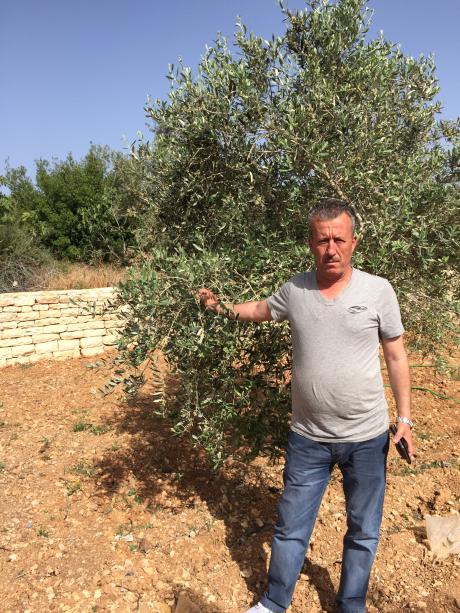 Bassem Tammimi in his garden. Author's photograph.
Every week sees the protest against the loss of the village's water and land to the nearby settlement. Bassem's own children's confrontations with masked and armed Israeli soldiers have gone viral on YouTube, and one of his nieces is Palestine's youngest journalist, blogging about each week's violent clashes and frequent arrests of youths. Late last year 22 were arrested, with seven still in prison while others paid a fine of 2,000 shekels (£400) and were released.
In one home we met a silent 20 year old released that day from prison. It was not his first time to have that harsh experience, his father, a polymath speaking four or five languages, explained. He went on to say that he could not forecast his son's future: "It is his choice – he is not a child any more." Lawyers who work on these cases say that few young people, including children, go through these chilling experiences without being asked to become an informer for the Israelis, and emerge having to cope with the fear of their friends who think that they may have agreed.
Nabi Saleh village
Nabi Saleh is a village of 600 people named after the ancient Arab prophet Salih whose shrine Bassem showed us, looking out across the valley at the box-like houses of the Halamish settlement, erected in 1977 on what was once a British army base.
Generations of Tamimis have lived in this hilltop stone village with its central square meeting benches under a white mulberry tree. Bassem himself was born, grew up and went to school here. His house, built more than half a century ago, had a demolition order put on it in 2010, as have 13 others in the village, he said. The Oslo Accords of 1993 set the framework for the West Bank's fracturing and Palestinians' further dispossession. Nabi Saleh exemplifies what this has meant. "My house is in Area C, the village is in Area B, my nephew's house is half in C and half in B…I can't use my land for my children." Bassem pointed across the road at the settlement with its stone-cutting factory, chicken farm, and olive trees so much thicker and taller than those on the village side because it has annexed the Tamimi family's Ein al Qaws water spring, as well as land. "Some of those olive trees were planted in 2003…Roman olive trees were cut down in the village," he said quietly. Last year, after a successful lecture tour in the US, he had his multiple entry visa to America revoked.
In the evening, after a typical Palestinian generous meal for visitors, Bassem sat smoking a shisha in his moonlit garden, drinking coffee and talking as cousins, nephews and nieces joined his wife and family. Too many from the family were missing. One of his sons, Wael, is in prison since last year; Bassem's cousin, Mustafa was killed in 2011 by a tear gas canister fired at close range at his head; his brother-in-law, Rushdi, was killed by the army in 2012; his sister died after she was pushed down stairs at the military court where she was visiting Bassem. He himself has been arrested a dozen times, was tortured, had to have 36 stitches in his head, was held under Administrative Detention for three years, has been an Amnesty prisoner of Conscience and is recognised as a Human Rights Defender by the European Union. Last year, after a successful lecture tour in the US, he had his multiple entry visa to America revoked. Tomorrow will be Friday protest time again: but Bassem was still thinking about how beautiful his new roses will look.
Rawabi
A new city is visible from Nabi Saleh on the hills south beyond Halamish and another big illegal settlement Ateret. Rawabi is the first planned Palestinian city – a $1 billion scheme financed by Qatari investors and the American/Palestinian multi-millionaire businessman Bashar Masri, and built with Israeli cooperation. The tower blocks, with their views of the Mediterranean, which no Palestinian from the West Bank can visit, its well-watered lawns, flower beds, replanted olive trees, modern statues and a Greek amphitheatre seating 12,000 people, look utterly incongruous in the occupied West Bank. The day we visited, children were being tested for their level of English, and well-dressed young couples were looking at the show flats.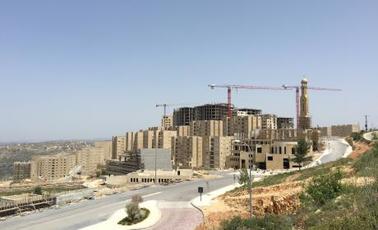 Rawabi, the $1 billion first planned Palestinian city. Author's photograph.
The six year old project is bitterly criticised as "normalisation of the occupation." Rawabi encapsulates the vision of a neo-liberal pacified Palestine. This is already visible in the rapid new building and modernisation which has made neighbouring Ramallah seem like a bubble of international donors and business, cut off from the harsh realities of villages of farmers like Nabi Saleh, or communities in the Hebron hills and Jordan Valley, struggling to survive the violence of settlers' encroachment and military house demolitions.
Rawabi will have homes for 40,000 people, hotels, cinemas, a convention centre, shops, a high-speed fibre optic network, and a school teaching the British Cambridge curriculum. "This education we are offering is a first, probably in the whole Middle East," said one of the enthusiastic staff. The day we visited, children were being tested for their level of English, and well-dressed young couples were looking at the show flats — just 8 kilometres from their work in Ramallah or Bir Zeit university. One Ramallah resident commented, "They know exactly what they doing, educating a new elite in English, outside their community, outside the reality of the Occupation, and the result will be that these privileged people leave for careers in the Gulf or the west and a life in a place just like Rawabi."
Gaza
No place in Palestine is less like Rawabi than Gaza. Two years after the last of the three wars in six years whole districts lie in ruins, skeletons of tower blocks stand in the middle of Gaza City, while in ruined Shuja'iyya to the east families are living in homes missing large sections of walls and roofs. Boys with donkey carts collect up rubble for sale. In these desolate streets there is neither electricity nor water and families say bitterly they are forgotten. The war displaced 500,00 people and 90,000 are displaced today, and 1.3 million people need aid, according to the UN.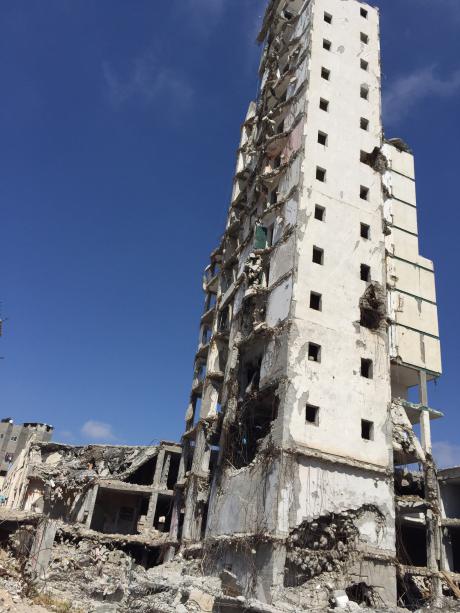 Two years on, tower bock in the centre of Gaza City. Author's photograph.
Only 40% of the $3.5 billion pledged for reconstruction after the 2014 war has been delivered. The most basic infrastructure is in tatters, only kept functioning at all by resourceful engineers and administrators. In districts where there is electricity the cuts are sometimes 18 hours at a time. Ninety per cent of the water is contaminated. Stinking lakes of untreated sewage lie right by where people live and a visitor must cover the nose to bear driving close. UN technical reports have said that by 2020 Gaza will be unliveable – mainly because of the water crisis. One teacher said simply, "our life is already hell." During our visit to his office patients twice burst in, and only agreed to wait because he was seeing "foreigners".
In addition Israeli airstrikes still hit the Strip – as recently as last week (Thursday, 5 May) there were ten raids in two days. Even worse is the eight year blockade of the 1.8 million people — internationally recognised as collective punishment breaching international law. It is difficult to bring in much needed supplies, including medical, and almost impossible to get permission from the Israeli authorities to leave Gaza, even for those with invitations to professional conferences or with scholarships to study in the US or Europe. As one such deeply disappointed student told me, "patience is my strongest suit".
Last month the Gaza Community Mental Health Programme held a rare conference in Gaza City, supported by the Norwegian, Swedish and Swiss governments, and thanks to the efforts of the German government was able to bring in a dozen or more foreign visitors from the US and Europe — mainly professionals who have links with the programme going back to its inception 26 years ago.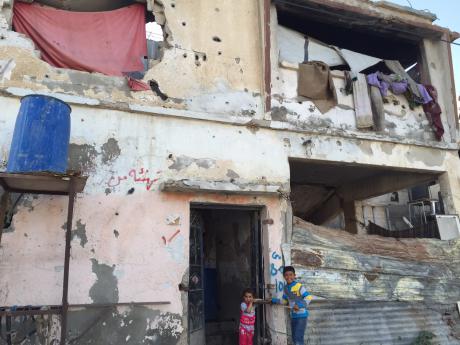 Living in Shuja'yya two years on. Author's photograph.
Researchers and practitioners spoke movingly of the collective trauma which has engendered anxiety, depression, anger and bitterness bringing desperate patients, or their families, for treatment, and is seeing suicides rise sharply. "People just lose hope," said one young man describing a friend's suicide attempt. "Everyday pressures are so intense, inevitably people become very aggressive – in a way we never saw before," said one doctor. (And during our visit to his office patients twice burst in, and only agreed to wait because he was seeing "foreigners".) Another doctor spoke of believing that Israel's plan for Gaza is "that we should forget freedom and think only of daily living."
But such forgetting has not happened, despite continuing living conditions of such desperation, and most people having no hope that the outside world will force an end to the siege any time soon, or that a united Gaza and the West Bank will be a future Palestine. Hopelessness is easy to find in Gaza, but extraordinary resilience keeps hope of freedom alive.
Among the youth in Gaza today you can find not just hope, but vitality, creativity, and a passionate attachment to what they believe Gaza could be. There are those who work for almost nothing among traumatised kindergarten children, with story-telling, listening, dancing, and relaxation exercise for sleeping; university students who run a weekly radio programme in French called "Gaza la vie", and who also work with farmers, or with school children. There are student researchers working for the respected Geneva-based human rights organisation Euro-Mediteranean Observer for Human Rights, and a brilliant young woman architect who gave up the chance of a good job abroad in order to work in a modest woman's human rights programme. Skype (when electricity permits) is these people's lifeline to an outside world where they have, despite everything, built identities and earned respect.
Professor Suleiman Baraka, a top scientist, chose to return to Gaza last month from a prestige job at NASA, and other professors like Zaid Medoukh, a prize-winning poet and head of the French department at Al Aqsa university, and top doctors and surgeons, could have had good lives abroad, but choose instead to be examples of an educated, cultivated Gaza with a respected place in the outside world. This is non-violent resistance to Occupation and blockade continuing in Gaza as in Nabi Saleh, and across the West Bank and East Jerusalem, with the new generation, as in all those generations since the British mandate in 1922.
Via OpenDemocracy
This article is published under a Creative Commons Attribution-NonCommercial 4.0 International licence.