IMEMC News | – –
The Israeli Planning and Construction Committee, on Sunday, announced that Israel intends to build thousands of new settlement units in the occupied West Bank, now that Donald Trump has been elected to the United States presidential office, saying that the settlement project was "frozen for years, for fear of angering Obama."
Israel intends to approve the construction of 1,400 new homes in Ramat Shlomo, a Jewish settlement neighborhood in East Jerusalem that lies beyond the so-called "Green Line," Israel's Channel Two News reported on Sunday, according to the PNN.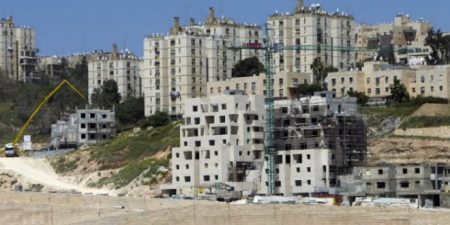 h/t PNN
Before his election, Trump stated that he supported settlement expansion, and that he will move the US embassy from Tel Aviv to Jerusalem, making it "the undivided capital of Israel."
After the election, Israeli minister of education Naftali Bennett said it was "an opportunity for Israel to immediately retract the notion of a Palestinian state in the center of the country", and that it signaled that the "era of a Palestinian state is over."
According to i24 news, Jason Greenblatt, an executive at the Trump Organization and an adviser on Israel to Trump, said that "Mr Trump does not view the settlements as an obstacle for peace. I think he would show Gaza as proof of that."
"The two sides are going to have to decide what to do with that region, but it's certainly not Mr Trump's view that settlement activity should be condemned and that it is an obstacle for peace," Greenblatt said during the interview.
Israeli settlements in the occupied territories are illegal in international law.
Via IMEMC