Ma'an News Agency | – –
BETHLEHEM (Ma'an) — Amid a storm of postulations surrounding what the American President-elect Donald Trump's policies would look like in relation to the Israeli-Palestinian conflict, Israeli Defense Minister Avigdor Lieberman on Thursday called again on Trump to coordinate with the Israeli government in order to "enable the development of settlements."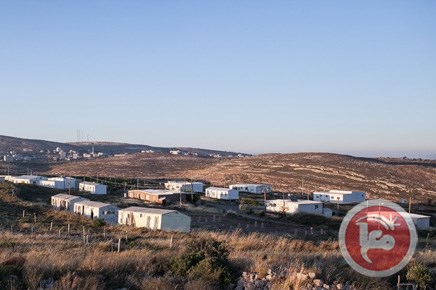 According to Israeli media outlet Ynet, Lieberman called on Trump's new administration to work with the Israeli government to form a relationship that "will enable development in the settlements."
"I ask myself why we didn't succeed in developing the settlement enterprise as we wanted. The fundamental reason is simple: it is the failure to coordinate with the United States, the failure to create a coordinated policy with the American administration," Lieberman was quoted as saying in Ynet.
He also added that the Israeli government needed to wait to see what Trump's policies would look like under his new administration, and to "establish policies with them together."
"We have to make agreements with them. No one is in our pockets," he reportedly said.
Last week, the Washington Post reported that one of Trump's top advisers Jason Greenblatt said during an interview with Israeli army radio that Trump did not believe settlements were an obstacle to peace, breaking off from his American predecessors and the entirety of the international community.
During his campaign back in May, Trump told the UK's Daily Mail that he would support the continued expansion of illegal Israeli settlements in Palestinian territory, saying that the practice should "keep moving forward."
"Look: Missiles were launched into Israel, and Israel, I think, never was properly treated by our country. I mean, do you know what that is, how devastating that is?" Trump was quoted as saying by the Daily Mail, adding that "with all of that being said, I would love to see if peace could be negotiated. A lot of people say that's not a deal that's possible. But I mean lasting peace, not a peace that lasts for two weeks and they start launching missiles again. So we'll see what happens."
Despite Trump's wishes to position himself as a peace broker between Palestinian and Israeli leaders, the freezing of illegal Israeli settlements has been a central and unmoving demand of Palestinian negotiators and the international community. However, Israel's construction of settlements on occupied Palestinian territory has continued unabated, despite routine international condemnation.
Lieberman's comments came amid heightened tensions between right-wing Israeli politicians and the Supreme Court in recent days, as the Supreme Court dismissed a petition by the Israeli government to postpone evacuating the illegal Amona settler outpost on Sunday, ruling that the evacuation be carried out by Dec. 25 as previously ordered by the court.
The illegal Amona outpost, where at least 40 Israeli families reside, in the central occupied West Bank was slated for demolition in 2008 after the Israeli Supreme Court ruled in favor of Palestinians whose private land the settlement outpost was built on.
On Wednesday, the Israeli parliament — also known as the Knesset — approved a preliminary reading of a controversial "formalization bill" which would notably retroactively legalize hundreds of Israeli settler outposts constructed on private Palestinian land, considered illegal under Israeli domestic law. The bill has been pushed forward by right-wing Israeli politicians to prevent the displacement of Amona settlers.
The bill has garnered large amounts of criticism, as Israel's attorney general said that the bill contravened international law and that there was no legal precedent for the expropriation of privately owned land.
While the settler outposts constructed in Palestinian territory are considered illegal by the Israeli government — despite authorities commonly retroactively legalizing the outposts — each of the some 196 government-approved Israeli settlements scattered across the West Bank are also constructed in direct violation of international law.
Meanwhile, mass protests have continued in the United States in response to Trump's victory in the US elections. The new administration has continued to spark fears in the American public, as hate crimes have skyrocketed since the elections, while tensions were also heightened following the appointment of Stephen Bannon, a notable white nationalist and influential figure in the extremist right-wing, as Trump's chief White House strategist and senior counselor.