By Matthew Tempest | ( EurActiv.com ) | – –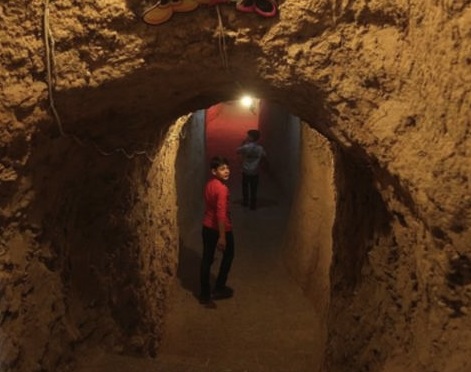 Syria: Abdulaziz (in red), 10, whose father was killed in the continuing conflict, spends time with his friends at the 'Land of Childhood' – two basements linked with a tunnel to create an underground playground that gives children a relatively safe place to have fun in their besieged area.
From Aleppo to South Sudan or Yemen, UNICEF banged the drum for education in emergencies at a European Parliament event this week, highlighting the plight of tens of millions of children in conflict and emergency situations going without schooling.
EurActiv's development correspondent Matthew Tempest spoke with Justin Forsyth, the deputy Executive Director of UNICEF on the sidelines of an event at the European Parliament on Tuesday (6 December).
Forsyth is formerly chief executive of Save the Children and a former advisor to UK Prime Minister Tony Blair.
What was today's event hoping to achieve?
It was about putting the spotlight on education in emergencies. We've made a lot of progress in the world in terms of getting children into school in general – but in emergency situations many children fall out of school, and they don't need to.
Or they stop learning. And very little humanitarian aid is spent on that. So Commissioner Stylianides and all these children were all here today to bang the drum for education in emergencies.
Whether it's in Aleppo or South Sudan or Yemen, the question is how do we keep children learning amidst humanitarian emergencies? We heard some great stories about how that's possible.
UNICEF's figures are that 462 million children are in 'emergency situations' and some 75 million children are not able to attend schools. Now, nobody can be in favour of 75 million children not attending school, so what is it you're wanting concretely, or in financial terms, to help that situation?
One example is that in the past, the European Union – one of the biggest aid donors in the world – spent less than 2%, or only a few %, of its humanitarian budget on emergencies. Then Commissioner Stylianides came in, saying we spent 4%, now it's going to be 6%, and now it's going to be even more than that. So one thing is to mobilise a lot of money.
And it's not just the EU – the World Bank, bilaterally the British government, the Norwegians, the Americans, a lot more money is going towards this, and that leads to practical results.
In Aleppo at the moment, even in the midst of all this conflict, there are underground schools, where children are learning. And that's with European Union money. In the refugee camps in Jordan and Turkey, there were huge numbers of children out of school – and now nearly all the children in Jordan, for example, are in school. There's still a lot more to go in Turkey, but in Jordan there's been a huge amount of progress, so we don't have this 'lost generation' of children that miss out on education, because we know it damages those children.
But it also has very negative impacts on those communities and societies. And in places like the Middle East, it leaves them vulnerable to being recruited by extremists.
You mentioned Syria and Aleppo. Obviously, that is on everyone's minds at the moment, but speaking to a lot of NGOs over the past few months, Syria 'crowds out' a lot of other forgotten conflicts. There's also Yemen, the Lake Chad situation in Africa…
Completely. I've just been in South Sudan over the summer, and 50% of the children in South Sudan don't go to school. And that's a tragedy. We were beginning to make progress in South Sudan, but the two leaders there opening up that conflict again in July has led to mass displacement and huge amounts of children being malnourished, but it's also displaced more children out of school, and armed groups have not only been committing human rights abuses generally, but recruiting children as child soldiers.
I went to one very remote part of South Sudan, a place called Bentu where thousands of people are displaced by the war. In the refugee camp they've begun to put schools together, children are learning again, and they were really eager and enthusiastic – because it creates some normalcy for them in the midst of conflict, as well as making sure they don't miss out on learning.
So I completely agree. South Sudan, also northern Nigeria, where Boko Haram deliberately targeted I think 3,000 schools were destroyed. As they've been pushed back, more children were able to start education again in those areas.
It's not just Syria, where children are on the move.
UNICEF Deputy Director Justin Forsyth believes people have almost given up hope on Syria, and that 2016 was one of the worst years in history for children worldwide.
[Twitter]
I guess part of the importance of education is that – horrible as the situation children find themselves in now – if they have an education of some sort, they are equipped with tools for later life, whereas if you miss out entirely, it's hard to get a second chance.
No. Although you can catch up later, and some of the programmes which we run with slightly older children are 'catch up' programmes. But it's much better that you don't miss out – because also those children are also vulnerable to abuse, or working in factories, like they are in Turkey at the moment. So schools are a place of safety, as well. So keeping children learning has a double benefit.
And it might not be formal schools. In South Sudan, I went to 'outdoor' schools, tents in one of the refugee camps, and in Aleppo as I mentioned there are 'underground' schools. We have to make do in these very difficult situations, but the point is you have a place of safety for children.
Since it's December, how do you see 2016 in retrospect from the development/humanitarian perspective? We've had the London Syria donors conference, the World Humanitarian Summit in Istanbul, the EU's new Consensus on Development. And yet, on the other hand, there's no end in sight to the Syrian conflict, there are millions of refugees in neighbouring countries, let alone Europe. Do you have any glimmer of hope for 2017?
I think 2016 was probably one of the worst years in history for children. If you add up not just Syria, but Yemen, South Sudan, northern Nigeria, children on the move around the world, fleeing gang violence in central America, or crossing the Mediterranean from Libya, there can't be many years that children suffered so much from violence, let alone missing out on education.
In Syria, I think it looks very bleak at the moment. In many of these besieged areas where we work and try to have access, yes, some aid has got in, more than in eastern Aleppo, but very little, and much less than in previous years. And we're not about to reach the sixth anniversary of this conflict, and the level of suffering is appalling.
One of our staff was telling me that in eastern Aleppo doctors that we fund and work with have run out of medicines. So they're having to literally decide which children live or die.
And there are hundreds of injured children we've not been able to evacuate.
You can't imagine a more horrific situation. People are beginning to give up hope. We had a story of one mother, who lost her husband and two sons, and then tried to stab her baby to death and kill herself.
At the beginning of this conflict, people had hope about returning, and hope about the future. I think people are now in despair.
Via EurActiv.com