Ma'an News Agency | – –
BETHLEHEM (Ma'an) — United States Secretary of State John Kerry delivered harsh criticism of the Israeli government's settlement expansion policies at the Saban Forum in Washington D.C. on Sunday, saying "things are moving in the wrong direction" regarding Israeli-Palestinian peace.
An annual dialogue between American and Israeli leaders from across the political and social spectrum, the Saban Forum is organized by the Center for Middle East Policy — formerly the Saban Center — at the Brookings Institution in the US capitol.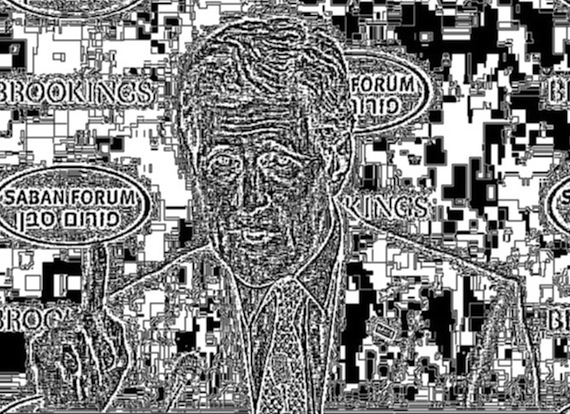 The Saban Center launched in 2002 and was named after multi-billionaire American-Israeli film and television producer Haim Saban, who donated $13 million for the establishment of the center.
During a question and answer style talk, Kerry began by expressing his "genuine passion" for the state of Israel as a place where "people could be protected" and "an example to the world of democracy and freedom and rights and rule of law."
However, Kerry harshly criticized Israel's controversial "formalization" bill — that would see dozens of illegal Israeli outposts in the occupied West Bank retroactively legalized and thousands of dunams of privately-owned Palestinian land seized. The bill was scheduled to be voted on by Israel's parliament, the Knesset, later on Monday.
During the Saban Forum on Friday, Israeli Defense Minister Avigdor Lieberman suggested that the bill should be postponed until US President Barack Obama leaves office, expressing his hopes that President-Elect Donald Trump would play an "active role" in Middle Eastern politics.
Kerry continued in his talk to say that Israel "is ignoring all our warnings regarding settlements," adding that "things were moving in the wrong direction."
He said Israel's right-wing government and ministers did not want and were not working towards a two-state solution, which the United States and other foreign peace brokers have been regarding for decades as the ideal solution to the Israeli-Palestinian conflict.
Kerry called statement's like that of Israeli Education Minister Naftali Bennett, the leader of the right-wing Jewish Home party, who said the "era of the Palestinian state is over" following the election of US President-Elect Donald Trump, "profoundly disturbing."
"More than 50 percent of the ministers in the current (Israeli) government have publicly stated they are opposed to a Palestinian state and there will be no Palestinian state. So this is the predicament. This is where we find ourselves," Kerry said.
Kerry highlighted that every sitting American president, both Democrat and Republican, has been opposed to settlement building.
"We issue a warning today when we see a new settlement announced. Nothing happens. It's ignored (by the Israeli government), a new settlement goes up. New units, new sales."
The continued expansion of Israeli settlements, which are illegal under international law, has caused an "erosion" in the peace process in the past, and continues to "narrow and narrow the capacity for peace," according to Kerry.
Kerry went on to highlight the destructive nature of settlement expansion on Palestinian livelihood, saying "there are currently about 11,000 demolition orders for Palestinian homes through the West Bank," and that in 2014 and 2015, Israel issued only one permit to Palestinians to build in Area C, the area of the West Bank under full Israeli military and civilian control.
Prior to Kerry's talk at the forum, Israeli Prime Minister Benjamin Netanyahu spoke to the audience, saying he still believe that a two-state solution can be reached, but that Palestinians must first recognize Israel as the Jewish nation-state.
Though Netanyahu suggested that a peace agreement with Palestinians could be advanced through regional talks with Arab nations, Kerry vehemently opposed such a proposition, saying that regional peace with Israel is contingent upon Palestinian peace, not the other way around.
Human rights groups and international leaders have strongly condemned Israel's settlement construction, claiming it is a strategic maneuver to prevent the establishment of a contiguous, independent Palestinian state by changing the facts on the ground.
While members of the international community have rested the solution to the Israeli-Palestinian conflict on the discontinuation of illegal Israeli settlements and the establishment of a two-state solution, Israeli leaders have instead shifted further to the right as many Knesset members have called for an escalation of settlement building in the occupied West Bank, and with some having advocated for its complete annexation.
A number of Palestinian activists have criticized the two-state solution as unsustainable and unlikely to bring durable peace, proposing instead a binational state with equal rights for Israelis and Palestinians.