Ma'an News Agency | – –
BETHLEHEM (Ma'an) — The past year has been one of the deadliest and most violent in recent years for Palestinians living in the occupied West Bank and besieged Gaza Strip. In 2016 alone, more than 100 Palestinians were killed, the majority shot dead by Israeli forces.
The wave of violence, termed by some as the "Jerusalem Intifada," began in October 2015 and to date has seen 246 Palestinians killed by Israelis, with 135 Palestinians killed between the months of October and December 2015 alone.
Since the violence began, Ma'an has collected data regarding every person who has died as part of this latest chapter in the Israeli-Palestinian conflict.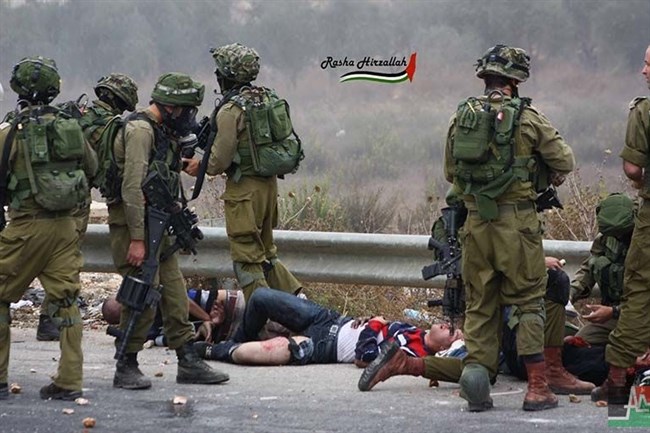 Palestinian youth shot in the knee by Israeli forces (Photo: BADIL)
In 2016, Ma'an recorded the deaths of a total of 129 individuals from Jan. 1 to Dec. 31, 2016. Of these dead, 111 were Palestinian (86 percent of deaths), 15 were Israeli (11.6 percent of deaths), and three were foreign nationals (2.3 percent of deaths)– one American, one Sudanese, and one Jordanian.
The violence has largely been characterized by small scale attacks and attempted attacks on Israeli armed forces, with 55 (49.5 percent) of the Palestinians killed by Israelis killed during stabbing and alleged attempted stabbing attacks.
Drawing from statistics, a general portrait emerges of the average Palestinian to have died during this time: a young man in his late teens or early twenties from the West Bank district of Hebron, killed by Israeli security forces. Out of all Palestinians killed, 34 (30.6 percent) were from the Hebron district.
Geographically speaking, the majority of Palestinian deaths — 82 to be exact — took place in the West Bank, while 17 occurred in the city of Jerusalem, seven in the besieged Gaza Strip, and five in Israel. Among those killed in Gaza were two Palestinian children, aged nine and six-years-old, who were killed by an Israeli airstrike.
While 12 Palestinian women and girls were killed — 10 of whom while allegedly or actually carrying out attacks — the vast majority killed were Palestinian men and boys. Of the 111 Palestinians killed, 99 were male.
According to Ma'an's records, the average age of slain Palestinians was 23. However, the most frequent age of death was 17 years old, with 14 Palestinian youth of that age losing their lives in the past year.
According to a report from Defense for Children International – Palestine (DCIP),
2016 was the deadliest year for Palestinian children in the occupied West Bank in a decade
.
Ma'an documented that 33 Palestinian minors, aged 17 and younger, were killed since January.
DCIP also documented 81 Palestinian child injuries in 2016, "the vast majority of which were at the hands of Israeli forces," adding that in several child injury and fatality cases, Israeli forces prevented paramedics from approaching and treating children suffering from gunshot wounds.
Out of the 15 Israelis killed in 2016, one minor was killed — 13-year-old Hallel Yafa Ariel, who was stabbed to death in her home in the illegal Israeli Kiryat Arba settlement by 17-year-old Muhammad Nasser Tarayra, who was shot dead at the scene.
In instances when the official Israeli version of events of Israelis killing Palestinians was strongly contested — such as when
eyewitnesses maintained that the Palestinian did not constitute a threat at the time of their death, that Israeli forces planted knives or otherwise manipulated the scene of the crime, or when
no injuries to Israelis were reported and no
witnesses to contest the Israeli version of events
—
Ma'an has classified these attacks as "alleged."
There were 13 Palestinians ( 11.7 percent of deaths) killed by Israelis during shooting and alleged attempted shooting attacks, while six (5.4 percent of deaths) were killed while carrying out or allegedly attempting to carry out vehicular attacks.
Israeli police and soldiers have come under heavy criticism over the past year for what rights groups have referred to as "extrajudicial executions" and excessive use of force against Palestinians — especially youth and children — who did not pose an immediate threat or who could have been disarmed through non-lethal means, particularly during clashes.
In at least three cases in 2016, Israeli authorities admitted to killing Palestinians "by mistake," confirming that soldiers used excessive force against Palestinians who did not post immediate threats to Israeli forces at the time of their killings. In two of the cases, the victims were 15-year-old boys.
The Israeli government has continued to hold the bodies of many of the slain Palestinians who were killed over the past year, as
part of a policy
under which Israeli authorities have
claimed that funerals of Palestinians had provided grounds for "incitement" against the Israeli state.
Israeli authorities have continued to hold at least nine Palestinian bodies for between eight and three months.
When Israeli authorities have decided to return slain bodies and allow funerals in the occupied Palestinian territory, the ceremonies have been typically restricted by a long list of conditions imposed by Israeli authorities, including limiting the number of attendees and the deployment of Israeli soldiers throughout the event.
A joint statement released by Addameer and Israeli minority rights group Adalah in March condemned Israel's practice of withholding bodies as "a severe violation of international humanitarian law as well as international human rights law, including violations of the right to dignity, freedom of religion, and the right to practice culture."
The statement said it appeared "many" of the Palestinians whose bodies Israel was holding had been "extrajudicially executed by Israeli forces during alleged attacks against Israelis, despite posing no danger."