Ma'an News Agency | – –
GAZA CITY (Ma'an) — In the wake of multiple airstrikes launched by the Israeli army inside the Gaza Strip on Monday, the Gaza-based al-Mezan Center for Human Rights expressed concern that Israel could be leading up to a wide-scale military offensive.
Meanwhile on Wednesday, four Israeli bulldozers raided the northern Gaza Strip and leveled Palestinians lands near Israel's Erez border crossing, according to local sources. An Israeli army spokesperson told Ma'an that were looking into the case.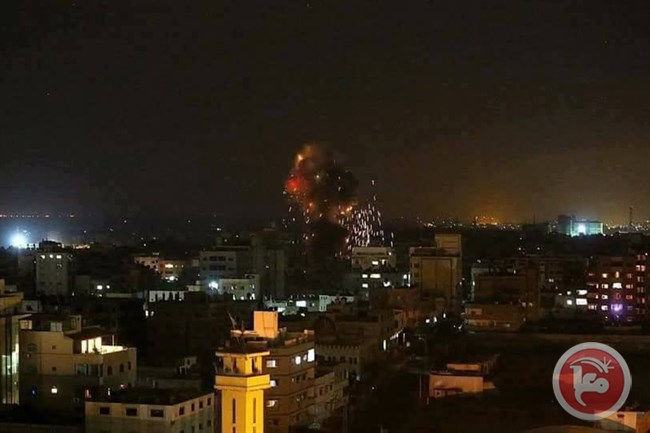 File.
In a statement released Tuesday night, al-Mezan said Monday's artillery shelling and airstrikes targeted "resistance factions' training sites, agricultural lands, and open areas, and impacted nearby civilian properties and spread fear and panic among residents, especially children."
The center said the escalation was reminiscent of the incidents that lead up to Israel's wide-scale military assaults on Gaza like the so-called Operation Protective Edge in 2014, a devastating 51-day assault that resulted in the death of at least 1,462 Palestinian civilians.
Between 9 a.m. and evening time on Monday, Israeli forces opened fire on fishing boats, carried out at least four rounds of shelling and five rounds of airstrikes, opened fire at shepherds, and opened machine gun fire that damaged a civilian home.
Over the course of the day, at least three people were injured, while one poultry farm was damaged and another poultry farm was completely destroyed, according to the center.
Al-Mezan condemned the military escalation and said it viewed the attacks as a possible prelude to wide-scale aggression on Gaza.
"As witnessed in the last three Israeli military campaigns, women, children, and the elderly bear the brunt of Israel's lack of respect to the rules of international law, including targeting of the civilian population and civilian properties," the statement said.
The rights group called on the international community to "act promptly against Israel's military escalation, to fulfill their obligations to protect civilians, and ensure respect for the rules of international law," stressing that "acting before a full-scale military bombardment is launched is crucial to ensuring the protection of Palestinian civilians in the Gaza Strip."
Al-Mezan noted the "failure" of the international community to hold Israel accountable for its ongoing violations of international law and war crimes committed in the Gaza Strip.