Ma'an News Agency | – –
BETHLEHEM (Ma'an) — The recently dismantled illegal settlement outpost of Amona was funded through a million-dollar loan from the Israeli government, a report by Israeli newspaper Haaretz revealed on Monday, further blurring the distinction between settlements recognized and unrecognized by Israel.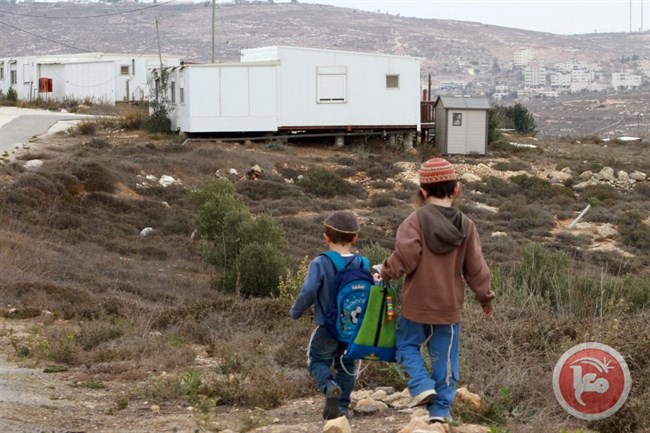 Israeli children at the now dismantled illegal settlement outpost of Amona. (File)
According to Haaretz, settlement building organization Amana obtained a $1.05 million loan in 2002 to build in the outposts of Amona and Migron by mortgaging private Palestinian lands to which it falsely claimed rights, and upon which it built the outposts.
Both Migron and Amona have since been evacuated upon orders by the Israeli Supreme Court, with residents from the latter outpost putting up serious resistance during its dismantlement earlier this month.
While the loan was officially obtained through Bank Tefahot, Haaretz said that the banking institution served a "merely the conduit" for funds supplied by the Israeli government for this loan.
Haaretz added that despite claims by Tefahot, Amana still owed nearly 90,000 shekels ($23,985) for construction in Amona, and more than 24,600 shekels ($6,555) for Migron construction.
The revelations come shortly after the passage of the "Regularization law," which will grant official Israeli governmental recognition to more than a dozen illegal settlement outposts in the occupied West Bank established on private Palestinian lands.
While neither Amona nor Migron were included in the new legislation, the "Regularization law" states that any settlements built in the occupied West Bank "in good faith" — without knowledge that the land upon which it was built was privately owned by Palestinians — could be officially recognized by Israel pending minimal proof of governmental support in its establishment and some form of compensation to the Palestinian landowners.
As it stands, the law would affect the status of 16 outposts, although Israeli media reports indicated that more could be included in the future.
It remains unclear whether the allocation of loans through banking proxies, such as was the case with the two outposts, could constitute such proof of governmental support should it have occurred in other instances.
Israeli Attorney General Avichai Mandelblit has repeatedly stated that the bill contravenes both Israeli and international law and that the Israeli Supreme Court would likely strike it down.
Several Palestinian municipalities have already petitioned the Supreme Court to dismantle the law.
While settler outposts constructed in occupied Palestinian territory were considered illegal by the Israeli government, each of the some 196 government-approved Israeli settlements scattered across the occupied West Bank, including East Jerusalem, have also been established in direct violation of international law.