Ma'an News Agency | – –
BETHLEHEM (Ma'an) — A general strike was held across the occupied West Bank and East Jerusalem on Thursday, as thousands of Palestinians shut down their shops and businesses in solidarity with some 1,500 Palestinian prisoners on hunger strike as part of the "Freedom and Dignity" strike, organized by imprisoned Fatah leader Marwan Barghouthi.
Graffiti reading "Salt and Water," in reference to the only nutrition consumed by imprisoned Palestinian hunger strikers.
The strike was held on the 11th day of the mass hunger strike, and precedes the Fatah movement's
calls for a Day of Rage
on April 28, during which Palestinians are expected to clash with Israeli forces in order to show their solidarity with the Palestinian prisoners' movement.
The usually bustling streets of cities, towns, villages, and refugee camps across the West Bank were nearly empty on Thursday, in a scene that several local Palestinians told Ma'an were reminiscent of the First Intifada, which started in 1987, when Palestinians held general strikes as part of a civil disobedience campaign against Israeli forces.
Shops, institutions, banks, and schools all closed in support of the hunger strikers.
Hundreds of Palestinians imprisoned by Israel have been participating in the hunger strike since April 17 to protest the torture, ill treatment, and medical neglect of prisoners at the hands of Israeli authorities, as well as Israel's widespread use of administrative detention — internment without trial or charges.
On Tuesday
, the National Committee to Support Hunger-Striking Prisoners called on Palestinians to boycott Israeli products in solidarity with the hundreds of detainees currently forgoing food.
The committee, which is affiliated with the Palestinian Committee of Prisoner's Affairs and the Palestinian Prisoner's Society (
PPS), called on Palestinian merchants to stop selling Israeli products and to empty their stocks of all goods manufactured in Israel.
"As the Freedom and Dignity battle continues, the (Israeli) occupation escalates its discourse and oppressive measures against our children and our heroes who are fighting this saga," the support committee said in a statement. "To help them remain firm, it has been decided to completely boycott Israeli goods in Palestinian markets."
Meanwhile, solidarity demonstrations for the hunger-striking prisoners have continued to be organized daily amid calls to escalate solidarity events across the Palestinian territory.
Head of the Palestinian Committee for Prisoners' Affairs Issa Qaraqe released a statement on Wednesday saying that IPS forces had "continued to escalate punitive measures" against prisoners, which started on the first day of the strike, with IPS forces transferring prisoners and leaders of the strike to solitary confinement, and preventing lawyers from visiting prisoners, particularly sick prisoners.
According to Qaraqe, IPS officials have continued preventing prisoners — many of whom are refusing all forms of nutrition except salt and water — from accessing commissaries to purchase salt, provided prisoners with dirty sheets and covers, and carried out provocative search raids of prisoners rooms, and arbitrary transfers of prisoners.
A number of Palestinian hunger strikers also announced that they would
begin refusing water.
Bethlehem district
In the southern West Bank city of Bethlehem, several entrances were blocked off with rocks and tires, while masked Palestinian men traveled throughout the city speaking with locals of the importance of committing to the strike.
In the Ramallah district, a group of Palestinian youths closed all roads leading to the cities of Ramallah and al-Bireh by placing rocks and burning tires in the streets, preventing Palestinians from entering the cities.
Tulkarem district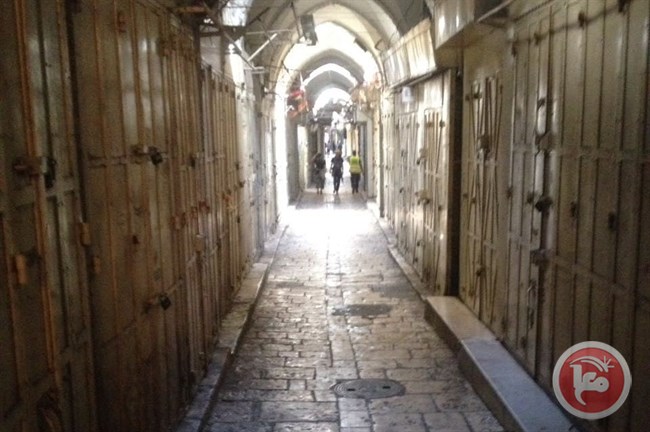 The occupied East Jerusalem neighborhood of Beit Hanina:
In the city of Jerusalem: