Netizen Report | (Global Voices Online) | – –
On 19 October, Egypt's highest court of appeal postponed the trial of prominent activist and blogger Alaa Abd El Fattah to 8 November. The 36-year-old father and husband was a leading voice in the 2011 protests that helped to overthrow former president Hosni Mubarak.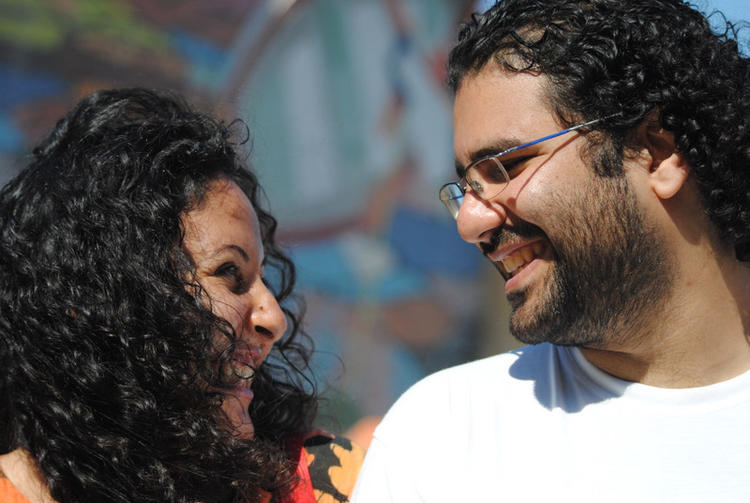 Abd El Fattah is currently serving a five-year jail term for violating Egypt's protest law, which prohibits public demonstrations without prior authorization by police. He has already served 3.5 years of his sentence. In Thursday's hearing, the judge withdrew from Alaa's case and referred it to another circuit. As the reason, he cited "embarrassment" without providing any further clarifications.
Abd El Fattah is being prosecuted for taking part in a protest denouncing military trials of civilians in November 2013. Although several people were arrested for participating in the demonstration, all of them — apart from Abd El Fattah — have since been released or pardoned.
In a separate case, Abd El Fattah faces an additional jail term for "insulting" the judiciary over a tweet that criticized Egypt's justice system for its lack of independence. This charge stems from comments he made during a controversial 2013 trial in which 43 NGO workers were sentenced to prison after they were found guilty of defaming the Egyptian judiciary.
In 2016, the UN Working Group on Arbitrary Detention has concluded that Alaa's detention is "arbitrary" and identified several irregularities in his trial. "Mr. Abd El Fattah has not been guaranteed the international norms of due process and guarantees to a fair trial," the group said.
Since Egypt's 2013 military coup which ended the rule of elected president Mohamed Morsi, and brought to power general Abdel Fattah al-Sisi, thousands of activists, journalists and protesters have been imprisoned. Rights groups say 60,000 political prisoners are languishing in jail under Egypt's flawed justice system. Violations under the system include ill-treatment, arrests without warrants, lengthy pretrial detentions, mass trials, military trials, and a disturbing rise in death sentences.
In another prominent case in Egypt, the trial of photographer Mahmoud Abu Zeid (known as Shawkan) was once again postponed. Shawkan, who has been in pretrial detention for five years, will appear before court again on 24 October. He was arrested in August 2013, while photographing Egyptian security officers using undue force against protesters who opposed the ousting of Mohamed Morsi.
While the Egyptian government has taken a harsh approach towards public protest, their tactics for monitoring the activities of human rights and democracy activists extend deeply into the digital realm. Since the protests of 2011, there has been significant evidence that Egyptian state actors have used technical surveillance in order to target activists.
The German government reportedly canceled a security training for Egyptian police in monitoring cyber crimes and extremist content. According to Associated Press, the German government decided to cancel the training for fear that the police would use acquired skills to monitor citizens who have no connection to organized crime.
Via Globalvoices.org