IMEMC | – –
As U.S. Vice President and Christian Zionist Mike Pence visited Jerusalem Tuesday, Palestinian stores and businesses across the city and across the West Bank were shuttered to protest the Vice President's visit. They joined a general strike that began a day earlier in the Gaza Strip to bring attention to the ongoing siege that has devastated the Gazan economy for the past 12 years.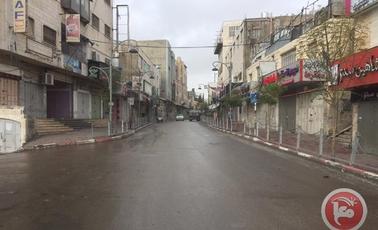 Photo via Ma'an News Agency
The strike was called by the Fateh party, which currently runs the Palestinian Authority in the West Bank, and was observed by Palestinians from all political factions and parties. In addition to stores and businesses, public transportation was shit down, along with schools, banks and government offices.
Hospitals and clinics were excluded from the call for general strike.
The reason for the strike was to challenge the U.S. government's recent claim that Jerusalem is the capital of Israel. Mike Pence, as a representative of the U.S. administration, came to Israel to praise the current right-wing Israeli government's policies of exclusion and discrimination against the Palestinian people. He spoke in the Israeli Knesset (Parliament) on Monday, where he was protested by all of the Arab members of Parliament, who were forcibly removed from the session for protesting his talk.
Pence is a Christian Zionist, and has stated his support for Israel because of biblical prophecy on multiple occasions. The Christian Zionist tradition holds that Israel must be in the hands of the Jewish people in order for the Second Coming of the Messiah to come about. They believe that when the Second Coming happens, all Jewish people must convert to Christianity or they will be killed. Oddly, despite the implications for Jewish Israelis of this Christian Zionist belief system, many Israelis are happy to accept the support of Christian Zionists like Pence.
Palestinians have protested Pence's visit at every stage, causing him to cancel a planned visit to Bethlehem. Despite a claim that his trip was about protecting Christians in the Middle East, Pence has failed to meet with any Christian leaders in the countries he has visited. The Christian leadership in the Middle East has stood united against Pence and the U.S. statement on Jerusalem, and all Christian leaders have refused to meet with him.
Via IMEMC
———
Related video added by Informed Comment:
Al Jazeera English: "?? Palestinians boycott Mike Pence's visit to Israel"