Beirut (AFP) – Syria's regime Wednesday moved towards sealing its grip on the capital as it retook a new region outside Damascus from rebels and pounded its southern districts to oust jihadists.
Seven years into Syria's civil war, President Bashar al-Assad's regime has ramped up its efforts in recent weeks towards securing the capital with backing from its ally Russia.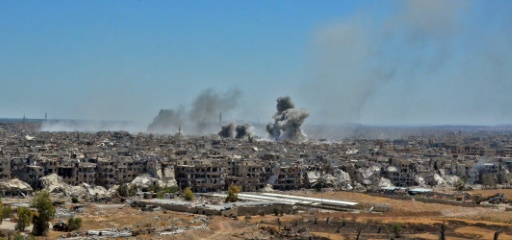 AFP / Maher AL MOUNES. A picture taken during a government guided tour shows smoke rising from buildings in Yarmuk, a Palestinian refugee camp on the edge of the capital, during regime shelling targeting Islamic State (IS) group positions on April 24, 2018.
The regime took control of Eastern Qalamun northeast of the capital on Wednesday, state media said, after buses ferried out the last rebels under an evacuation deal.
At the same time, regime air strikes and rocket fire pounded southern areas of the capital held by the Islamic State jihadist group after regime raids there killed six civilians overnight.
The retaking of Eastern Qalamun follows a deal between opposition fighters and the Russia-backed regime that is the latest to see rebels withdraw from regions near the capital.
"The operation to bring terrorists with their families out of the areas of Eastern Qalamun has ended and the region is free of terrorism," state television said, using its usual term for rebels.
Government security forces entered the region's town of Al-Ruhayba, some 60 kilometres (35 miles) northeast of Damascus, after the last rebels departed, it said.
State television broadcast images of Syrians waving the country's red, black and white flag in celebration, some on motorbikes as they paraded through the town.
Assad's forces have pressed forward with efforts to cement their control of the capital since they announced their reconquest of a key rebel bastion earlier this month.
– Second 'trauma of displacement' –
Eastern Ghouta fell to regime forces after a blistering air and ground offensive and several evacuation deals that saw thousands of people transferred out and up to northern Syria
In the south of the capital, regime air strikes killed six civilians in the Palestinian camp of Yarmuk late Tuesday, a Britain-based monitor said.
The latest deaths bring to 19 the total of civilians killed in regime bombardment on the capital's southern neighbourhoods since Thursday last week, the Observatory says.
Yarmuk, which is now IS's last urban redoubt in Syria or Iraq, was once Syria's biggest Palestinian refugee camp, home to around 160,000 people.
But the United Nations' agency for Palestinian refugees UNRWA says most of the 6,000 refugees still living in the camp last week have since fled.
"Today only just a few hundred remain in that camp," UNRWA commissioner-general Pierre Krahenbuhl told reporters on Wednesday.
He said Palestinian refugees in Syria were living for the second time in their history as a community "the trauma of displacement".
Yarmuk was set up in 1957 less than a decade after the founding of the Jewish state of Israel sent hundreds of thousands of Palestinians fleeing from their homes.
Since April 19, at least 61 pro-regime fighters have been killed in fighting to expel IS from the capital's southern suburbs, the Observatory says.
Syrian officials do not usually disclose losses within army ranks.
The monitor has said at least 49 jihadist fighters were also killed during the same period.
– 'Population replacement' –
There are an estimated 1,000 IS fighters left inside Yarmuk and the adjacent districts of Hajar al-Aswad and Qadam.
The jihadist group has lost much of the land it once held since sweeping across large parts of Syria and neighbouring Iraq in 2014 and declaring a pseudo-state there.
But IS has managed to stay on in Yarmuk since it entrenched itself in large parts of it in 2015.
In northern Syria, a final convoy carrying hundreds of fighters and civilians from Eastern Qalamun entered rebel territory on Wednesday morning, the Observatory and a rebel commander said.
They were to continue their journey to the region of Afrin held by pro-Turkey rebels, both said.
Last month, Turkish forces and their Syrian proxies seized Afrin from Kurdish fighters after an almost two-month assault that led tens of thousands of civilians to flee their homes.
Turkey considers the Kurdish militia who once held Afrin to be "terrorists".
The Observatory says three of the convoys that have left East Qalamun since Saturday went to the Afrin region.
Syria expert Fabrice Balanche said the new arrivals are tantamount to "population replacement" — albeit without the regime's agreement.
"Turkey is ousting the Kurds from the region and settling people it considers to be more reliable" there, he told AFP.
More than 350,000 people have been killed and millions displaced by fighting since Syria's civil war started in 2011 with the brutal repression of anti-government protests.
As the latest violence raged on the ground, international donors gathered for a meeting in Brussels that was expected to see them pledge billions of dollars for Syria.
The UN's aid agency says some $8 billion is needed from the gathering of ministers and aid organisations for work both inside Syria and with refugees in neighbouring countries.