Otay Mesa (United States) (AFP) – "Where are the children?" several women shout together from behind the detention center wall. "We want the children free!"
"Do you hear us?" supporters ask from outside. "What do you need?"
This was the short interplay Saturday between hundreds of protesters and people being held at a US detention center for undocumented migrants in Otay Mesa, on the border with Mexico.
A group of people held at the center had been separated from their children as part of President Donald Trump's "zero tolerance" policy.
The president on Wednesday signed an order ending the practice of splitting migrant families, but 2,300 children have already been separated from their parents.
"Shame," "Abolish ICE (Immigration and Customs Enforcement)," and "You're not alone," shouted the estimated 500 protesters rallied by religious leaders.
"I know those families are suffering and it is very hard to see that children have to go through the trauma of a detention center when they are 10, five years old," Erica Leyva, 24, who traveled from Los Angeles to join the protest, told AFP.
Though she was born in the United States, she was briefly detained with her undocumented parents when she was four years old.
"I remember how it felt to be behind bars," she said.
Otay Mesa detention center — managed by a private company — has the capacity for some 1,500 people, though in January it announced an expansion of 30 percent, according to local media.
ICE did not respond to AFP's calls about the detention center.
On Friday, Democratic Senator Kamala Harris visited several undocumented women at the center who were separated from their children.
"The stories they shared with me paint a picture of human rights abuses being committed by our government. We are so much better this," she said.
– 'Concentration camp' –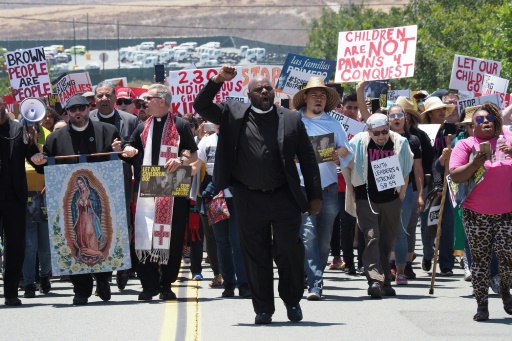 AFP / Robyn Beck. Pastor and activist Ben McBride, pictured leading protestors outside the Otay Mesa Detention Center, requested a prayer for "our immigrant relatives".
Demonstrators covered the name of the detention center with a white sheet that read "concentration camp" in black letters and placed toys and stuffed animals around in protest.
Pastor and activist Ben McBride requested a prayer for "our immigrant relatives" before moving with a group to the fence, despite a "private property" sign and the warning of two guards armed with pepper spray.
At the gate, topped with barbed wire, they tied children's shoes and keys to demand the release and reunification with family of those detained.
"Release them!" they shouted. "Without justice there is no peace!"
"This is indecent, it is immoral," the pastor exclaimed to officials.
Apolonia Gregorio Jeronimo, 33, and two of her three children were visiting her detained husband at the center.
Her was arrested six months ago and can be deported in August.
"I thank you very much for your support," said the woman, who told how her husband arrived in the United States fleeing gang violence in Guatemala.
"He is desperate; he is sure that they kill him," explained Apolonia, who is a beneficiary of DACA, the program that protects undocumented immigrants who arrived in the United States as children.
Earlier in San Diego, 40 kilometers (25 miles) from the detention center, some 1,500 people also protested against Trump's immigration policy.
"Families must be together," "No to the wall," and "Seeking asylum is still legal," were among the slogans on signs they carried.
And in response to the jacket First Lady Melania Trump wore on a trip to Texas to visit a detention center for undocumented children — which bore the text "I really don't care. Do U?" — many people wore clothes with the opposite message: "I really care, do you?"
Featured Photo: AFP / Robyn Beck. Protestors link arms after tying children's shoes and keys on the fence outside the Otay Mesa Detention Center during a demonstration against US immigration policy that separates children from their parents.