London (Informed Comment) – The escalating American trade war with China has sent third-party nations scrambling for cover as the two largest global economies trade tariffs worth billions. The Trump administration has also levied global tariffs on metal imports from Mexico, Canada and Europe, and threatened to exit the North American Free Trade Agreement; but it is the dispute with China which has roiled global markets in particular.
The outbreak of tit-for-tat tariffs means the US-Sino confrontation now embraces both the military sphere (in the South China Sea and over Taiwan, which Trump has occasionally threatened to use as a bargaining chip) and the economic one. It is difficult at present to see how either side could back down in the short term, and things are probably going to get worse before they get better.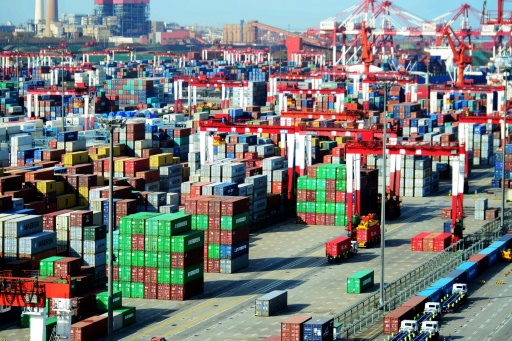 AFP/File / – Beijing has warned that new US tariffs on its products 'threaten China's economic interests and security'.
Many third party countries risk getting roped into the escalating US-Sino trade dispute; in particular this includes Pakistan. With decades-long security alliances with both powers dating back to the Cold War era, it was always in for a stormy ride during a time when both Beijing and Washington are led by prickly nationalists. The influential Pakistani military is heavily dependent on the US for its equipment and arms, while Pakistan's wobbly economy may soon need a loan from the US-led International Monetary Fund (IMF).
However Pakistan also owes China a lot of money, and in truth America and it have been drifting apart at least since the Obama administration. Therefore the growing quarrel between its two patrons puts Islamabad in a tricky geopolitical position. For all the advantages of being able to play each off against the other in the short term, Islamabad will be hoping it can avoid having to choose between them.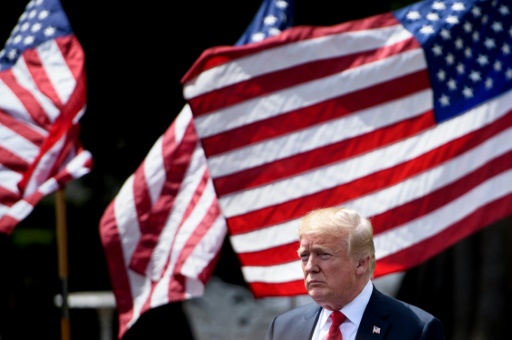 AFP/File / Brendan Smialowski. China has targeted soybeans, which are grown in states that supported Donald Trump in the 2016 US presidential election.
Things have become more tense between the US and Pakistan under the Trump administration, whose erratic approach towards Islamabad has rattled some observers. The US president caught many off guard when his very first tweet of 2018 accused Pakistan of cheating America, by accepting billions of dollars in US aid but giving Washington little back except "lies and deceit". A few days later President Trump suspended $2 billion in military aid to Pakistan. Caught between Islamist militant groups and its angry ally, some analysts say Islamabad has been put in an impossible position.
On the other hand at least some parts of the Pakistani security establishment are known to have kept up 'secret' ties to the Afghan Taliban and other insurgents fighting the US and NATO in Afghanistan. America still needs Pakistan to help deliver an end to the Afghan civil war which has been raging since 2001, and under Trump it seems intent on twisting arms until it gets a firm commitment from Pakistan, to either deliver the groups it is backing to the peace table or to cut all ties with them. How realistic a policy goal this is remains to be seen, but the ultimate outcome probably depends upon the health of the Pakistani economy.
However economically (even before Trump arrived in the White House) Pakistan has increasingly been turning towards China, another country with a frequently fraught relationship with the United States. Of course, the two Asian states have been close military allies for decades, bound together by mutual territorial disputes with neighbouring India. But Beijing has become increasingly economically influential in Pakistan as well, and has recently promised Islamabad "$57 billion in economic investment through China's [Belt and Road Initiative]" to quote a report from the National Interest.
Of particular concern to the US and India has been deep Chinese involvement in the development of the strategic port of Gwadar (located near Iran and the Persian Gulf), all as part of Beijing's ambitious China Pakistan Economic Corridor (CPEC) project. The benefits of CPEC are disputed, but the Pakistani security establishment has certainly found the Pakistani component of China's Belt and Road Initiative a lucrative opportunity; CEPEC's budget is equivalent to roughly 20 percent of Pakistan's entire GDP, according to the Financial Times newspaper.
How tactfully China will act in geopolitical terrain as sensitive as Pakistan, with which it shares a short border, still remains to be seen. One thing for certain is that, at the time of writing, in the battle for influence there it is China, not America, which has the bigger economic stick. However, should there be a sudden economic or social crisis in the volatile South Asian country, which is beset by multiple insurgencies beyond the Pakistani Taliban's, it is not clear how Beijing would react.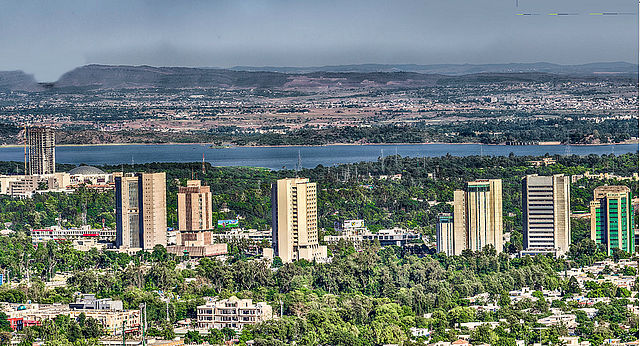 Islamabad Skyline by Kamranmangrio via WikiMedia Commons
China has a terrible relationship with its minority Muslim populations, particularly the Uighur community living in its vast western province of Xinjiang. China's treatment of this community has brought it the unwanted attention of international Islamist extremist movements in the South and Central Asian regions, and caused it tensions with Pakistan and other Muslim allies, who are embarrassed at their partner's domestic behaviour towards their co-religionists.
Of course, this hasn't stopped countries which pride themselves on their strong Muslim identity seeking closer relations with Beijing. For example, last October the Austin World Affairs Council reported that the "…Chinese and Saudi militaries are currently holding joint counter-terrorism exercises in western China". China is simply too economically important now to be ignored; meanwhile its authoritarian system of rule at home is far more palatable to the autocratic rulers of many Arab and Muslim states than the American system, whose periodic public lectures on human rights annoy its Middle Eastern allies and make them fear its reliability in a crisis (though China's has also to be tested).
But, whatever authoritarian regimes in the Arab and Islamic parts of the world may decree officially, globally-speaking China's popular reputation is on thinner ice than it used to be in the Muslim community. In the somewhat unlikely event of a sudden Islamist takeover of Pakistan for example, the relationship between the two states would almost certainly cool dramatically.
All these factors leave the relationships between Pakistan, China and America in a tangled mess, particularly if it is the brewing US-China trade war which finally torpedoes Pakistani efforts to manage the country's outstanding debts. At present Islamabad has a cool relationship with Washington at best, and a fairly warm one with Beijing. Any economic crisis would bring Pakistan cap in hand to the IMF, and could spark a diplomatic crisis if Washington uses this as leverage to force concessions from Islamabad.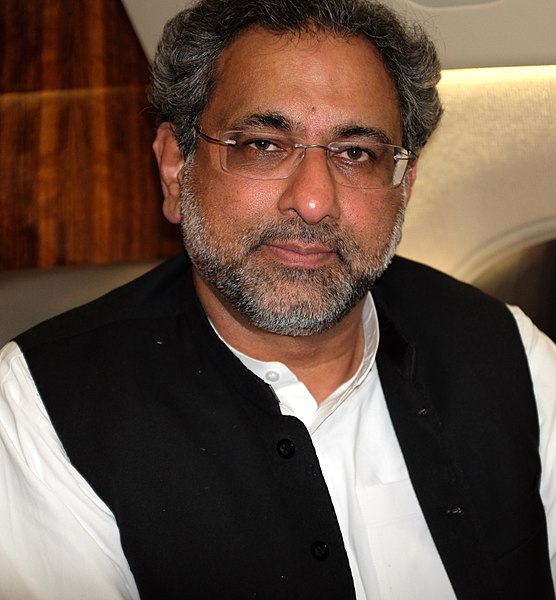 Pakistani PM Shahid Khaqan Abbasi, 2017, by Drazen Jorgic via WikiMedia Commons.
Alternatively, a failure to repay Beijing could bring about a chance for a US-Pakistani reconciliation, particularly if China acts as clumsily as it has in its foreign relationships in the past. But a hostile Trump administration and a global economic crisis brought on by Washington's attempt to wrest concessions from international rivals and allies alike could also see the break between the two countries become permanent. Pakistan would then move firmly into China's camp in the growing economic and military competition between the US and China during Trump's current term.
This makes the escalating multi-front trade war the Trump administration has begun (with friend and foe alike) take on a particular strategic significance in the South Asian context. There is growing speculation that Pakistan will shortly need to seek a loan from the US-dominated IMF, for the second time in five years. Even worse, Pakistan's public debt stands at 70 percent of its GDP and there are fears that the country cannot pay back a series of Chinese loans it has taken out.
This isn't totally certain in the case of Pakistan, whose economy is still on course to grow by 5.6 percent in real terms for the fiscal year of 2017-18 according to IMF estimates. Inflation has also remained relatively low at 5.4 percent, and strong consumption growth, agricultural recovery, better power supplies, and investments from parts of the CPEC programme have all helped keep GDP rising. Unfortunately these positive trends look set to run out of steam somewhat in 2019, with the fund predicting a slump in growth according to Pakistan's Dawn newspaper, down from the current 5.6 percent to 4.7 percent.
A downturn would leave Pakistan needing help from either Washington or Beijing; and while America has been accused of using its financial system and economic muscle to bully foreign countries, so has China. In particular, Beijing has been accused in the past of using its loans as a way of extorting further political and financial concessions from those dangerously economically weak countries participating in its Belt and Road Initiative. Many writers sympathetic to India have already accused China of using sharp financial tactics to turn Pakistan's fellow South Asian nation Sri Lanka into a "semi-colony".
The same columnists are now predicting that Pakistan will soon be forced permanently away from America and into a form of debt-induced dependency on China. In truth, the situation is so fluid and multi-faceted that it is difficult to predict what will happen next. Only two things are certain; firstly that at present the US has less influence in Pakistan than Trump thinks it does, and secondly that Pakistan is increasingly treading a wavering tightrope in its relations between Washington and Beijing. The geopolitical picture of the South Asian region could look very different in a few years time if Pakistan's wavering economy cannot hold up in the face of the squabbling economic giants to either side of it.
Featured Photo: Gwadar Port via WikiMedia Commons.
—–
Video added by Informed Comment:
New China TV: "CPEC lays solid infrastructure foundation for Pakistan's economy"