Newcastle-upon-Tyne (The Conversation) – More than 81% of the US's protestant evangelicals voted for Donald Trump in the 2016 election. A year and a half into his presidency, they seem as dedicated to him as ever – and just as ready to make excuses for his decidedly un-Christian misdeeds.
Many Christian rightists, among them "family values" foghorn James Dobson, consider Trump a "baby Christian". His lewd and predatory comments about women are simply the mark of a very imperfect man. Any of his actions, no matter how debased or inhumane, are dismissed or approved by the faithful.
On June 14 the attorney general, Jeff Sessions, used scripture to back up Trump's cruel policies on refugees, which are currently tearing families apart along the southern border. Now, through the alchemy of political tribalism, the former casino owner, who once starred in a softcore porn film and who confessed on the radio to multiple affairs, is a Man of God who speaks his mind with confidence, however deep his ignorance.
But today's evangelical leaders should be wary of hitching their wagon to an amoral, corrupt president. They could learn a thing or two from their predecessors, who aligned themselves closely with another troublesome president: Richard Nixon, whose malfeasance eventually became too much for the Christian right to tolerate. When the depth of Trump's misconduct is established, will his prayer warrior enthusiasts have to rethink their allegiance?
For now, the love affair continues. In May 2018, First Baptist Dallas pastor, Robert Jeffress,, proclaimed on Fox News that the vast majority of his fellow believers hoped their candidate would win again in 2020. Trump has reciprocated by waxing pious at prayer breakfasts about the glories and mercies of God. His staunchly evangelical vice president, Mike Pence, assures Americans that "there's prayer going on on a regular basis in this White House". Pence recently delivered a Trumpian, campaign-style address at a meeting of the Southern Baptist Convention, America's largest Protestant denomination.
Trump hagiographies are rolling off the presses: The Faith of Donald J. Trump, God and Donald Trump, The Trump Prophecies. The latter is being adapted into a film with the help of fundamentalist bastion Liberty University.
Trump iconographer and right-wing Mormon Jon McNaughton, who once depicted a resolute Barack Obama with the Constitution under his foot, has created a series of kitsch classics rendering Trump as a cross between prophet, priest and king. Perhaps one day in the not-so-distant future the artist will paint The Apotheosis of The Donald for the capitol rotunda.
What about the president's habitual lying? His sordid past? His bragging and bullying? His demonising of refugees? His lawer's payment of US$130,000 in alleged hush money to a porn star? Influential evangelist Franklin Graham recently said that Trump's alleged affair with Stormy Daniels happened many years ago. It didn't matter now.
In March 2018, the Pew Research Center reported that white evangelical support for Trump stood at 78%, a figure that had actually grown since news about Daniels broke. Democrats, progressive Christians, and the media hated Trump. That was reason enough for many others to support him.
Anyhow, said Graham: "I don't think that he came to be president by mistake or by happenstance. I think somehow God put him in this position." And Graham was even more assured when Trump told him that his father, Fred Trump, had taken him to an evangelistic crusade held by Graham's own father, Billy.
Common cause
Perhaps the most famous and influential revivalist of the 20th century, Billy Graham preached a simple message of repentance and salvation. Though he claimed to stay away from politics, he was in fact deeply political, and a close confidant of presidents Eisenhower, Johnson, Nixon and Reagan.
During the 1960 presidential campaign, Graham and his fellow travellers were faced with the possibility that John F. Kennedy, a Catholic and a Democrat, would be the next president. They rallied behind Richard Nixon – and stayed behind him for years.
Like Graham, many white evangelicals in the late 1960s and early 1970s found in Nixon a strong, powerful man who boldly stood up to liberal politicians, civil rights agitators and amoral student activists. When the president championed the "silent majority" on national television, they were heartened that such a Christian leader would speak for them. Nixon signalled that they were the true victims in the heated political and cultural battles of the age.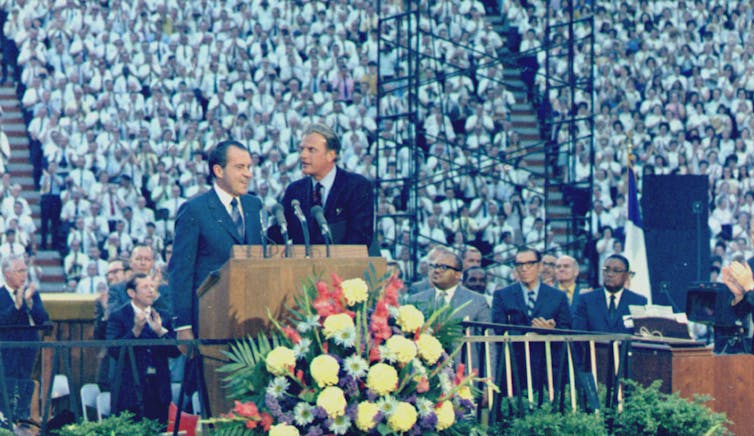 Nixon won 69% of the evangelical vote in his successful 1968 bid, and he instituted regular White House religious services at the start of his presidency. The president's call for "law and order" also inspired the faithful. The head of the National Association of Evangelicals endorsed the Republican president in 1972, praising Nixon's Cold War policies. 84% of evangelicals cast their votes for Nixon that year.
Their affinity lasted for most of Nixon's doomed presidency. Graham's private conversations with Nixon, recorded by a secret White House taping system, revealed the extent of the preacher's partisanship and his willingness to encourage the president's many prejudices and burning grudges. On February 10, 1972, Graham listened intently as the commander-in-chief railed against Jews and their overpowering influence. America's pastor replied that "this stranglehold has got to be broken or the country's going down the drain". Nixon sympathised: "I can't ever say that, but I believe it."
Keeping the faith
But the following year, the scandal over the Watergate break-in and subsequent cover-up dominated headlines and nightly TV news. Like other right-wing partisans, conservative Christians tried to brush it aside, but they could only ignore the obvious for so long – when it came down to it, their political hero was a squalid criminal. When Graham finally heard the profanity-laced Watergate tapes, he reportedly vomited.
Quite a few evangelicals, though disillusioned, didn't really come to grips with the deeper meaning of it all, responding with a kind of born-again dodge.
Graham reckoned that Watergate was a symptom of a deeper, national moral problem. He wondered if Americans should have prayed more for their president. "There's a little bit of Watergate in all of us," Graham cautioned. Some – like the fundamentalist minister and Christian right political broker Jerry Falwell – continued to revere the disgraced former president. In the years after Nixon's 1974 resignation, evangelicals voted Republican in growing numbers.

Will Trump's solid, evangelical base ever come to terms with the kind of person they voted into office? Will there be a reckoning in the coming months and years that will open their eyes to his cynical manipulations, his divisive, culture-war grandstanding, his philandering, or repeated lying? It's difficult to say. But if the past is any guide, the answer is a resounding no.
Randall J. Stephens, Associate Professor and Reader in History and American Studies, Northumbria University, Newcastle
This article was originally published on The Conversation. Read the original article.
Featured Photo: "Donald Trump delivers remarks at the Liberty University," Whitehouse.gov