Khan al-Ahmar (Palestinian Territories) (AFP) – Scuffles broke out on Wednesday between Israeli authorities and protesters who feared preparations were underway to raze a Bedouin village in a strategic part of the occupied West Bank, despite international calls for a reprieve.
Protesters, including some waving Palestinian flags, tried to block a bulldozer and scuffled with police at Khan al-Ahmar on the eastern outskirts of Jerusalem. Some climbed onto the bulldozer in protest.
Israeli rights group B'Tselem said nine people were arrested — five from the village and four others, including the organisation's own head of field research.
The Palestinian Red Crescent reported 35 people injured, with four taken to hospital.
Police reported two arrests and said stones were thrown at officers.
The incident came after activists said the Israeli military had issued a warrant to the 173 residents of Khan al-Ahmar on Tuesday, authorising itself to seize access roads to the village.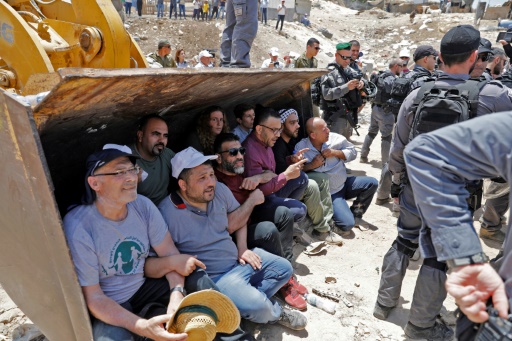 AFP / Ahmad GHARABLI. Demonstrators try to halt a digger in the Palestinian Bedouin village of Khan al-Ahmar in the occupied West Bank on July 4, 2018.
Heavy equipment was seen around the village on Wednesday, prompting speculation a road was being prepared to facilitate its evacuation and demolition.
"Today they are proceeding with infrastructure work to facilitate the demolition and forcible transfer of residents," Amit Gilutz, spokesman for B'Tselem, told AFP.
Israeli authorities say the village and its school were built illegally, and in May the supreme court rejected a final appeal against its demolition.
But activists say the villagers had little alternative but to build without Israeli construction permits, as the documents are almost never issued to Palestinians for building in parts of the West Bank where Israel has full control over civilian affairs.
Israel authorities say they have offered villagers an alternative site.
The village is made up mainly of makeshift structures of tin and wood, as is traditionally the case with Bedouin villages.
Britain's minister of state for the Middle East, Alistair Burt, visited the village in May and called on the Israeli government to show restraint.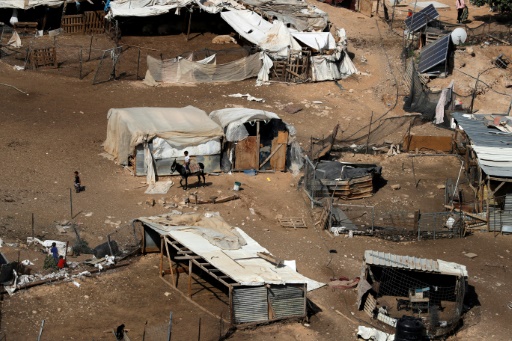 AFP / Ahmad GHARABLI. Residents of the Palestinian Bedouin village of Khan al-Ahmar, in the Israeli-occupied West Bank, go about their daily life on July 4, 2018 as the Israeli military begins preparations to demolish it ignoring international calls for a reprieve.
He warned that any forced relocation "could constitute forcible transfer of people as far as the United Nations is concerned."
Such an action would be considered a violation of the Geneva Conventions.
Khan al-Ahmar is located east of Jerusalem near several major Israeli settlement blocs and close to a highway leading to the Dead Sea.
Activists are concerned continued Israeli settlement construction in the area could effectively divide the West Bank in two.
In another Bedouin village in the same region, Abu Nuwar, Israel carried out a series of demolitions Wednesday on what it described as illegally built structures.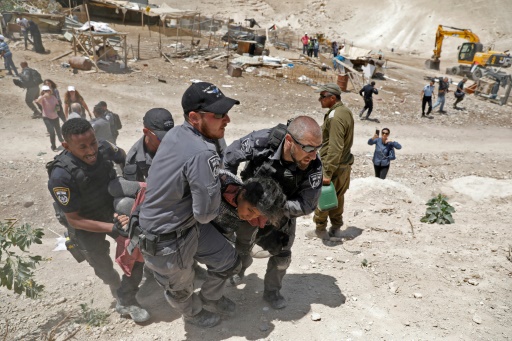 AFP / Ahmad GHARABLI. Israeli security forces arrest a young demonstrator in the Palestinian Bedouin village of Khan al-Ahmar in the occupied West Bank on July 4, 2018.
B'Tselem said nine residential structures and three agricultural ones were demolished, leaving 62 people homeless.
The Israeli defence ministry's COGAT unit for civilian affairs in the occupied Palestinian territories said the demolitions had taken place after the "owners of the buildings failed to utilise the planning procedures to their fullest extent".
"This despite the fact that they were given the opportunity to enquire in the matter and were told that if they did not, the illegal construction would be demolished," it said in a statement.
AFP / Ahmad GHARABLI. Israeli police scuffle with demonstrators in the Palestinian Bedouin village of Khan al-Ahmar in the occupied West Bank on July 4, 2018.