Daraa (Syria) (AFP) – A string of rebel-held locations in southern Syria passed into regime control Sunday as the government regained more ground under Russian-brokered deals, a war monitor said.
Talks involving rebels, local officials and regime ally Russia saw agreements struck for four villages and a strategic town near the border with Jordan, extending government control to some 60 percent of the southern Daraa province, the Syrian Observatory for Human Rights said.
Since June 19, Russia-backed regime forces have ramped up bombardment against opposition fighters in southern Syria as Damascus pushes to retake the area.
A ceasefire deal meant that a tentative calm reigned over most fronts in the region from Saturday evening, but clashes in one area took the lives of at least 17 rebels and regime fighters, Observatory chief Rami Abdel Rahman said.
The Daraa region borders Jordan and the Israeli-occupied Golan Heights and is considered to be the cradle of the uprising against President Bashar al-Assad seven years ago that sparked the civil war.
The regime has chipped away at rebel-held territory in Daraa since ratcheting up the violence almost two weeks ago, with Russia stepping in to oversee a string of deals to retake towns from the embattled rebels.
The agreements Sunday covered four villages and the town of Bosra al-Sham, meaning that regime forces were now within 7 kilometres (4 miles) of the Jordanian border, the Britain-based Observatory said.
An AFP correspondent outside Daraa city — part of which is held by rebels — said Saturday night had been quiet, with only intermittent bombing.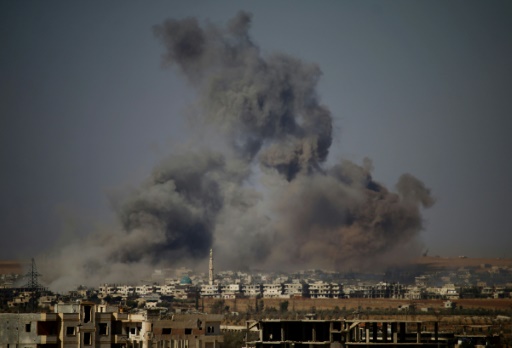 AFP / Mohamad ABAZEED. Smoke rises above a rebel-held town east of the city of Daraa during airstrikes by Syrian regime forces on June 30, 2018.
Fighting had died down on most fronts Sunday with the exception of areas near Tafas in Daraa's northwest which was hit by regime air strikes, according to the monitor.
Clashes between rebels and regime forces and 22 air raids killed 10 opposition fighters and seven government troops, it said.
So far 132 civilians, including 25 children, have been killed in the latest surge in fighting in Daraa, according to the Observatory.
Damascus and Moscow are pushing for a deal that would see regime forces take over the Nasib border crossing with Jordan and deploy along the frontier with the Golan Heights, monitor head Abdel Rahman said.
Russia is seeking the rebel handover of heavy and medium-sized weapons, and the deployment of Russian military police and Syrian police into towns retaken by government forces, he said.
The regime has more than doubled the amount of territory it held in Daraa since escalating its military pressure.
On Saturday the regime retook eight towns under Russia-mediated deals.
State news agency SANA said Sunday the national flag had been hoisted in one of these towns, Dael, while Syrian state television showed images of people celebrating.
Regime forces have retaken large parts of the country lost to rebels since Russia intervened on its behalf in 2015.
The conflict has killed more than 350,000 people and displaced millions since it started in 2011.
Featured Photo: SANA/AFP / – A handout picture released by the official Syrian Arab News Agency (SANA) on June 30, 2018, shows Syrian government soldiers in the town of Western Ghariyah, about 15 kilometres (9 miles) east of Daraa city.