Morek (Syria) (AFP) – More rebel fighters with their families boarded buses to leave southern Syria on Saturday under deals with the regime, a war monitor said, after hundreds reached opposition territory in the north.
On Saturday evening, a second bus convoy prepared to leave Quneitra province, the Britain-based Syrian Observatory for Human Rights said.
State news agency SANA published images of white buses it said were leaving Quneitra's Umm Batna area on the ceasefire line, watched by men in military uniform.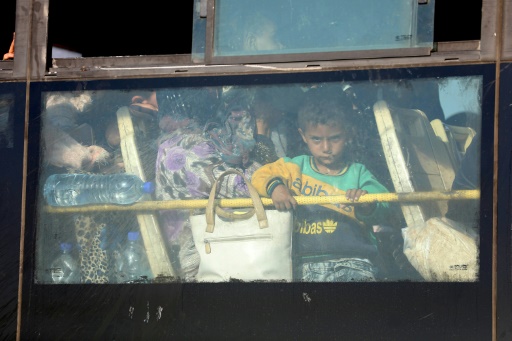 AFP / OMAR HAJ KADOUR. A Syrian child looks through the windows of a bus carrying rebels and their families from the southern province of Quneitra to northern Syria on on July 21, 2018.
In neighbouring Daraa province, 19 buses carrying rebels and civilians hit the road north, more than half from the town of Nawa, the Observatory said.
Earlier in the day, an AFP correspondent said around 50 buses carrying opposition fighters and civilians from Quneitra reached the Morek crossing on the edge of northwestern rebel-held Idlib province.
Just over a month into a Russia-backed regime campaign to retake Daraa and Quneitra from rebels, Moscow-brokered surrender deals are paving the way for government institutions to return to nearly all parts of these provinces.
The deals provide for rebels who do not agree to a government takeover to board buses with their families to join other opposition fighters in the north of the country.
Damascus has been determined to retake Daraa and Quneitra, which borders the Israeli-occupied Golan Heights, with Daraa seen as the cradle of Syria's seven-year uprising.
– 'Six dead' in air strikes –
But the surrender agreements do not include jihadists, and Russian air strikes on Saturday killed six civilians in an Islamic State group holdout in Daraa province, the Observatory said.
The deadly raids came just a day after strikes in the same area took the lives of 26 non-combatants including 11 children.
On Saturday, clashes between loyalists and jihadists in the area also killed 13 regime fighters, including eight in a car bombing.
The first bus convoy on Saturday carried around 2,800 people, more than half women and children, and has reached rebel held territory, according to the monitor.
Near the parked buses in Morek, a woman and five children waited by a cluster of small suitcases, the eldest among them carrying bottles of water and a blanket.
Men with light weapons slung on their backs shared a bite to eat and some water as they stood around waiting. Several wore scarves wrapped around their faces.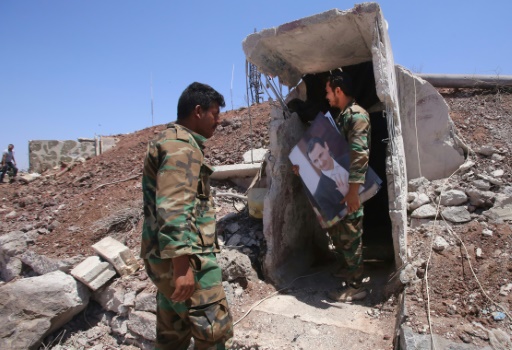 AFP / Youssef KARWASHAN. Syrian government soldiers hold portraits of Syrian President Bashar al-Assad in the city of Quneitra on July 19, 2018.
Syrian forces launched their southern offensive on June 19, targeting the province of Daraa that borders Jordan to the south, then turning their attention to neighbouring Quneitra.
With a mix of military power and negotiated surrenders, President Bashar al-Assad's troops this month captured more than 90 percent of Daraa, where protests against him first erupted in 2011.
Syria's conflict has killed more than 350,000 people and displaced millions since it began in 2011 with a brutal government crackdown on protesters.
Featured Photo: AFP / Youssef KARWASHAN. Syrian government soldiers wave national flags after retaking control of the city of Quneitra from rebels, on July 19, 2018.