Sanaa (AFP) – A Saudi-led coalition launched military operations in Yemen in 2015, helping the government to push back against rebels who had taken control of the capital and seized several provinces.
The conflict has killed nearly 10,000 people, the vast majority of them civilians, and injured more than 55,000, according to the World Health Organization.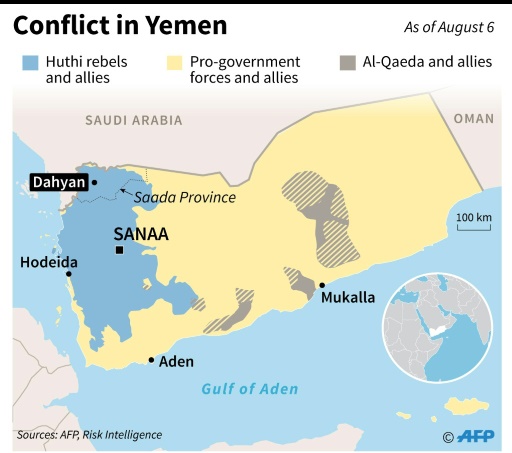 AFP/File / Valentina Breschi. The conflict in Yemen has killed nearly 10,000 people, the vast majority of them civilians, and injured more than 55,000 in what the UN has described as the world's worst humanitarian crisis.
More than 2,200 others have died of cholera and the conflict has triggered what the United Nations has described as the world's worst humanitarian crisis.
– Saudi air strikes –
The Saudi-led coalition launches air strikes on Shiite Huthi rebels in March 2015, who had taken Sanaa six months earlier and now controlled large swathes of Yemen.
The coalition aims to restore to power the internationally-recognised government of President Abedrabbo Mansour Hadi.
In July, Hadi's embattled administration announces its forces have retaken the southern province of Aden in their first success since the coalition stepped in.
Having lost Sanaa, Hadi makes Aden the country's de facto capital.
By mid-August 2015, loyalist forces have retaken five southern provinces.
In October, government forces reclaim control of the Bab al-Mandab Strait, one of the world's busiest and most strategically sensitive shipping routes.
– Rebels kill ex-president –
Splits emerge in the rebel camp in 2017, resulting in the assassination of Hadi's predecessor and former Huthi ally, Ali Abdullah Saleh, by Huthi fighters in December.
The rebels strengthen their grip on the capital.
Splits also emerge in the government camp, with fierce clashes erupting in Aden in January 2018 between southern separatists and fighters loyal to Hadi.
– Missiles on Saudi Arabia –
From November 2017, the rebels intensify missile attacks on neighbouring Saudi Arabia, which accuses its arch-foe Iran of supplying them with weapons. Iran denies the charge.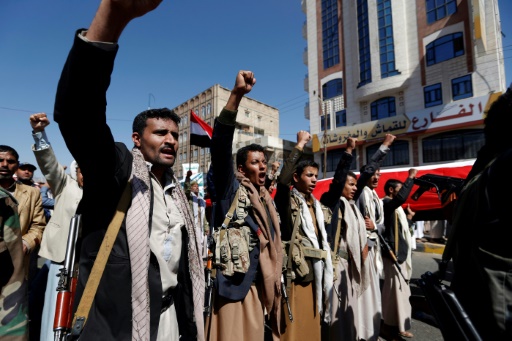 AFP/File / MOHAMMED HUWAIS. Yemenis take part in a demonstration in November 2017 calling to lift the Saudi-led coalition's blockade after the coalition shut down Yemen's borders in response to a missile attack by Huthi rebels that was intercepted near Riyadh airport.
Seven missiles are fired into the kingdom on March 25, 2018 alone, including three at Riyadh.
On June 9, three civilians are killed in the kingdom's southern province of Jizan by a rebel missile.
According to the coalition, in which the United Arab Emirates (UAE) also plays a key role, the rebels have fired 165 ballistic missiles.
– Advance on aid port –
In December 2017, government forces make a breakthrough in efforts to reconquer the key port of Hodeida when they drive Huthi fighters out of a town en route called Khokha.
Hodeida — a vital entry point for the bulk of the country's food and aid — has been in rebel hands since October 2014, taken without opposition from government forces soon after rebels captured Sanaa.
Government forces press their advance and in April the insurgents' second-in-command, Saleh al-Sammad, is killed in a coalition air raid in the province.
On June 13, government fighters, backed by Saudi and Emirati forces, launch an offensive on Hodeida city.
On June 20, they say that they have taken control of Hodeida airport on the southern outskirts.
– Heavy civilian toll –
Civilians, in particular children, pay a heavy price during the conflict.
Several raids blamed on the coalition have left civilian victims, including on a wedding hall in the town of Mokha in September 2015, killing 131 people. The alliance denies responsibility.
In October 2016, a coalition air strike at a funeral in Sanaa kills 140 people.
The coalition has admitted responsibility for certain raids, but accuses the rebels of using civilians as human shields.
In July, Amnesty International says human rights violations in a string of Yemeni prisons run by the UAE could amount to war crimes, in a report rejected by Abu Dhabi.
On August 9, 51 people, including 40 children, are killed in an attack on a bus in rebel-held northern Yemen, the Red Cross says.
The coalition opens an investigation into that incident.
On August 23, at least 22 children and four women are killed by a coalition air strike while fleeing fighting in the Al-Durayhimi district south of rebel-held Hodeida city, the UN says.
That same day, another four children are killed in a separate air strike on the same district.
Featured Photo: AFP/File / STRINGER. Yemenis gather next to the destroyed bus, pictured August 10, 2018 at the site of a Saudi-led coalition air strike on August 9, 2018, which killed 51 people, including 40 children.