Jerusalem (AFP) – Israel's coordination with Russia on its attacks in Syria remains unchanged despite the deadly downing of a Russian plane, and the Jewish state retains its right to decide on military actions, an Israeli official said Friday.
Syrian air defences mistakenly shot down the military plane following an Israeli raid on Monday night, killing 15 Russians and fuelling speculation Moscow would seek to curb Israeli actions in Syria.
Israel, which carries out regular strikes against pro-government forces in war-torn Syria, has a de-confliction agreement with key regime backer Russia to avoid clashes between their respective air forces.
An Israeli military official, speaking to journalists on condition of anonymity, said Friday that the deal remained in place.
"There have been no changes to the de confliction mechanism as a result of this unfortunate event," the official said.
He said the two sides had committed to the "very effective" mechanism but stressed that Israel's "freedom of movement is paramount".
Israel and Russia created the mechanism in 2015, when Russian forces intervened in Syria's civil war to support its ally President Bashar al-Assad.
Israel regularly carries out strikes in Syria against the Syrian government, its Lebanese ally Hezbollah and Iranian targets.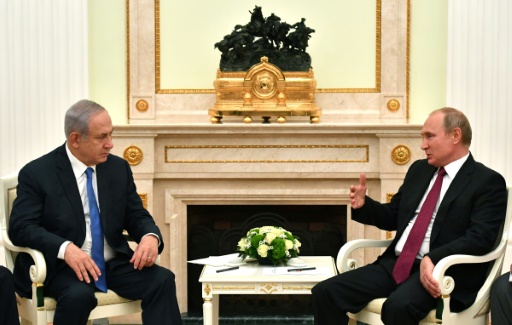 POOL/AFP / Yuri KADOBNOV. Russian President Vladimir Putin (R) speaks with Israeli Prime Minister Benjamin Netanyahu at the Kremlin on July 11, 2018.
Despite the mechanism, Syrian air defences on Monday night mistakenly struck a Russian Il-20 military plane after an Israeli raid on a Syrian army facility, killing all the crew members.
The Russian military accused Israeli pilots of using "the Russian plane as a cover, exposing it to fire from Syrian air defences", saying they reserved the right to respond.
But Russian President Vladimir Putin later adopted a more conciliatory tone, saying the incident was the result of "tragic accidental circumstances".
An Israeli military delegation travelled to Moscow on Thursday to express sorrow over the deaths and to share information on the incident with their Russian counterparts.
– 'Irresponsible' –
The Israelis "provided proof" to the Russians that their plane had been shot down because the Syrian batteries had "fired recklessly, irresponsibly and unprofessionally, long after our planes were no longer there," the official said.
The Syrians fired for a total of 20 missiles, he said.
Israeli planes were "not anywhere near the Russian plane," he added.
He also disputed initial claims by the Russians that the Israelis had only warned them of their planned attack a minute before, and had used the Russian plane as a cover.
"We definitely gave a warning time much longer than one minute, we acted in accordance with the standard operating procedures that are in place with the Russian military, this time as we have done before."
He denied reports that Russian officials had rejected the Israeli conclusions, adding that Israel would continue to constantly review the existing protocols with Moscow.
"There might be improvement, mutual improvement. But it's still unclear. The mechanism continues to work, it continues to operate, it continues to de-conflict," he said.
Israel has struck multiple times inside Syria in recent months and says it will continue to operate to stop weapons reaching Hezbollah, a Lebanon-based movement backed by the Jewish state's arch-rival Iran.
Featured Photo: AFP / Nikita SHCHYUKIN. A Russian IL-20M plane similar to the one shot down on Monday lands at an unknown location on July 23, 2006.