By Charlotte PLANTIVE | –
Washington (AFP) – The dramatic Senate testimony of university professor Christine Blasey Ford, who accused Supreme Court nominee Brett Kavanaugh of sexually assaulting her, has sparked a surge in calls to abuse hotlines — and a moment of reckoning for women confronting their own painful memories.
The Rape, Abuse & Incest National Network (RAINN) said there was a 201 percent increase in calls to the National Sexual Assault Hotline on Thursday, when Blasey Ford appeared before the Senate Judiciary Committee.
"We often see an uptick when sexual assault is in the news," RAINN said.
"Since Dr Ford has come forward with her allegations, we have seen a 45.6 percent uptick (in calls) compared to the same time period in 2017," the organization said.

POOL/AFP/File / JIM BOURG. A sexual assault hotline is reporting a surge in calls following the Senate testimony of Christine Blasey Ford, who accused Supreme Court nominee Brett Kavanaugh of sexually assaulting her decades ago.
"Hearing about sexual violence in the media and online can be very difficult for survivors and their loved ones," the group added in a tweet. "Remember to take care of yourself during these times."
Like millions of Americans, 76-year-old Brenda followed Thursday's emotional testimony from Blasey Ford, who said she believed she was going to be raped during the alleged assault by Kavanaugh at a party 36 years ago.
During the marathon hearing, Brenda was one of many who called public affairs network C-SPAN to share their personal stories of assault.
"I thought I was over this. I have not brought this up for years," Brenda said. "I heard this testimony, and it is just breaking my heart."
Jessica, now 26, said she was sexually assaulted at age 19 when she was at university. Michelle, 53, explained that she was attacked at age 12.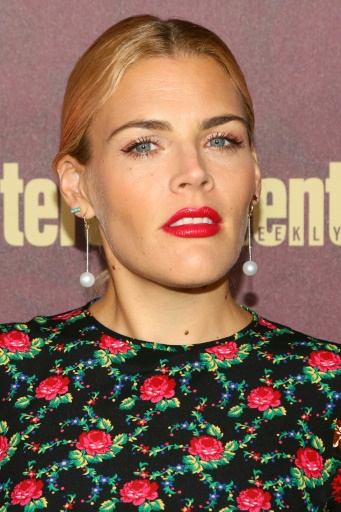 GETTY IMAGES NORTH AMERICA/AFP/File / Gabriel Olsen. Actress Busy Phillips revealed she was raped at age 14 during Christine Blasey Ford's testimony on Capitol Hill.
In Hollywood, a few more boldface names came forward with stories of rape and abuse.
Actress Busy Philipps posted a picture of herself as a teenager during the hearing with the message: "This is me at 14. The age I was raped. (…) Today is the day we are silent no more. All of us." It was her first comment on the incident.
She added: "I can't imagine what Dr Ford is feeling right now."
"Modern Family" actress Sarah Hyland also revealed Thursday she was a victim of sexual assault while in high school.
"I hoped it was a dream but my ripped tights in the morning proved otherwise," she said on Twitter.
– Compelling testimony –
Sexual assault hotlines have experienced similar surges in calls in the past during other high-profile events such as the revelations of sexual abuse by Hollywood producer Harvey Weinstein, which helped launch the #MeToo movement.
Blasey Ford's testimony on Thursday struck a particular nerve.
The California professor said she managed to escape when another boy who was in the room jumped on the bed where she was allegedly being held down and groped by Kavanaugh.
Kavanaugh vehemently denied the allegations and the Senate Judiciary Committee backed his nomination to the nation's highest court — but that same committee said it would ask for a new FBI background check before a final vote.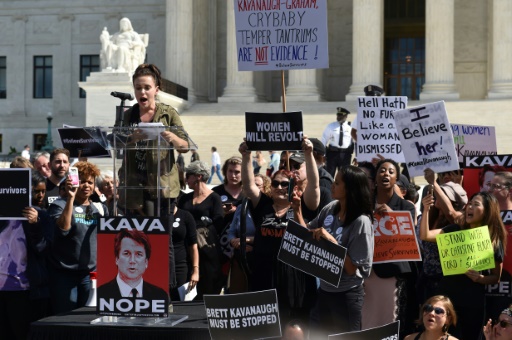 AFP / Eric BARADAT. Actress Alyssa Milano speaks outside the Supreme Court against Brett Kavanaugh's nomination.
Actress Alyssa Milano, a victim of assault who attended Thursday's hearing and protested Kavanaugh's nomination in front of the Supreme Court on Friday, told AFP she was thrilled to stand in solidarity with other victims.
"I think the most beautiful thing that's come out of the last two years is really understanding that women are here for each other. To be part of that is very special," Milano said.