By Sebastian Smith | –
Washington (AFP) – The woman whose sexual assault allegation threatens to bring down Donald Trump's Supreme Court nominee rejected an ultimatum Friday for testifying in the Senate after the US president turned against her, claiming her accusation could not be true.
The increasingly ugly fight over the fate of Trump's bid to put conservative judge Brett Kavanaugh into the lifetime position on the Supreme Court appeared to be nearing its end game, though still with no clarity on whether the woman at the center of the row will testify.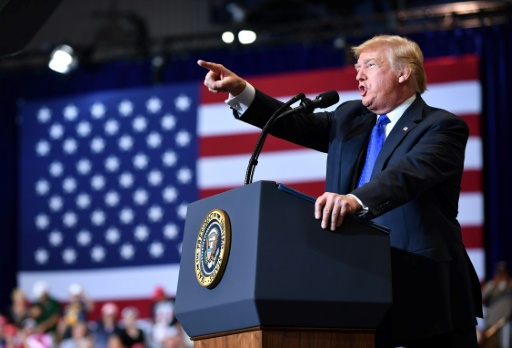 AFP/File / MANDEL NGAN. In comments that tore up days of a relatively cautious approach, Donald Trump rejected the credibility of the university professor who claims she was sexually assaulted by a drunken Brett Kavanaugh in the 1980s.
Christine Blasey Ford, a California professor who says Kavanaugh carried out a violent sexual assault against her when he was 17 and she was 15, insists she is ready to testify under oath before the Senate Judiciary Committee.
However, she rejected a deadline of late Friday imposed by the committee's Republican leader to agree to his terms for the hearing, which he said should take place next Wednesday.
If she didn't agree, committee chairman Charles Grassley said, he would go ahead and schedule a vote on confirming Kavanaugh on Monday, but without her testimony.
A statement by Ford's lawyers carried by CNN asked for one more day to respond, calling the deadline "arbitrary."
"Its sole purpose is to bully Dr. Ford and deprive her of the ability to make a considered decision…. Our modest request is that she be given an additional day to make her decision."
Ford has said she wants to testify Thursday at the earliest and to be able to call as a witness a man who she says was present during the assault, when they were all teenagers attending private schools near Washington, DC.
The committee's Republican leadership has turned down those demands. But there was no immediate response from the Republicans to Ford's latest message asking for extra time.
– Presidential pressure –
After several days of maintaining a relatively neutral posture, Trump took off the gloves Friday to declare that Ford could not be believed.
The aggressive posture reflected Trump's fear that time is running out to get his hand-picked judge confirmed — thereby tilting the Supreme Court firmly to the right for years to come — before November elections when Republicans risk losing control of Congress.
"TAKE THE VOTE!" Trump tweeted, blaming "radical left wing politicians" for the controversy.
Trump rejected the credibility of Ford's claim that a drunken Kavanaugh tried to pin her down and remove her clothes, muffling her cries, in the early 1980s.
According to Trump, the fact that Ford remained silent until now shows the incident probably never happened — even if this runs counter to what experts say is the typical reaction of sexual assault victims afraid or embarrassed to report.
"I have no doubt that, if the attack on Dr Ford was as bad as she says," Trump wrote, "charges would have been immediately filed with local Law Enforcement Authorities by either her or her loving parents."
"Why didn't someone call the FBI 36 years ago?"
The senior Democrat in the Senate, Chuck Schumer, called Trump's logic "a highly offensive misunderstanding of surviving trauma."
More concerning for Trump might have been the angry reaction of one of his own Republican senators, Susan Collins, who sits on the Judiciary Committee.
"I was appalled by the president's tweet," she told US media.
"We know that allegations of sexual assault are some of the most under-reported crimes that exist. So I thought that the president's tweet was completely inappropriate and wrong."
Trump's outburst saw a new #MeToo era hashtag storm the internet, with #WhyIDidntReport the top trending conversation starter on US Twitter, as people — mostly women — vented outrage over past transgressions and voiced solidarity with Ford.
– High stakes –
Republicans are frustrated over what they say was the deliberate timing of the last-minute revelation of Ford's allegation, accusing Democrats of seeking to prevent the process from finishing before the November midterm elections.
Democrats hope to recapture at least one chamber of Congress in the vote.
For their part, Democrats say Republicans are mounting an unseemly rush to get Kavanaugh into the nine-member Supreme Court while they still control the legislature.
Kavanaugh has repeatedly agreed to testify before the Republican-led Senate Judiciary Committee, saying he wants to clear his name.
A distinguished judge seen as favoring conservative interpretations of the constitution, he has not been accused in other sexual misconduct related cases and no further witness has come forward to corroborate Ford's claims.
While Kavanaugh has seen his near coronation transformed into a fight for his basic reputation, Ford has found herself thrown into the harsh light of an all-out Washington political fight.
Her lawyers say the professor's life has been turned upside down, having received death threats and been forced out of her home.
Featured Photo: AFP/File / Brendan SMIALOWSKI. Kavanaugh has repeatedly agreed to testify before the Senate Judiciary Committee, saying he wants to clear his name of sexual assault allegations.