Daleh (Yemen) (AFP) – At Nasr Hospital's emergency room in the Yemeni city of Daleh, a little boy struggles to breathe. He is too tired, or too hungry, to cry.
Born with a degenerative neurological disease, his muscles have atrophied to nothing, his tiny joints visible through his pale skin, his stomach distended.
The child's body cannot retain even water, so nurses have resorted to putting him in diapers.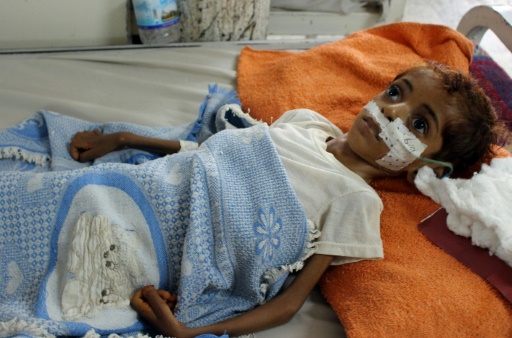 AFP/File. A Yemeni child suffering from malnutrition receives treatment at a hospital in the northern district of Abs, in Yemen's Hajjah province.
And doctors say there is nothing they can do.
The boy is one of an estimated five million Yemeni children who may not see their next birthday in a war the UN children's fund has described as a "living hell" for minors.
The UN has warned that international aid agencies are losing the fight against famine in Yemen, where 3.5 million people may soon be added to the eight million Yemenis already facing starvation — more than half of them children.
Mahmud Ali Hassan, director of Nasr Hospital, does not mince words. Life for his patients, he says, is "pure misery".
"We need help. We need real help."
South of rebel-held Sanaa and north of the government bastion of Aden, Daleh is, in the words of its residents, a forgotten city.
– 'Desperate need' –
The war between Yemen's government, backed by a Saudi-led regional military coalition, and Huthi rebels linked to Iran has left an estimated 10,000 dead since 2015 and triggered what the UN calls the world's worst humanitarian crisis.
Another 2,200 have died of cholera, according to the World Health Organization, nearly one-third of them under the age of five.
In government-held Daleh, medics at Nasr Hospital are desperately looking for ways to treat patients — most of whom have not yet learned to read, tie their shoelaces or even walk — as supplies dwindle and hunger spreads.
A sign outside Nasr Hospital reads "funded by the World Health Organization". The hospital is a lifeline for three provinces with a combined population of more than 1.5 million.
"We take cases from Daleh as well as Ibb and Lahaj," said Hassan.
"Most cases we receive are malnourished children. We get three to four cases a day. The ward is always full. It's full right now."
In a lime green onesie, another malnourished baby wails as doctors hook him up to a nasal cannula — the tube used to deliver oxygen to patients in respiratory distress.
His diaper is multiple sizes too big.
"We are in desperate need of medical supplies," Hassan told AFP.
"We need orthopaedic equipment, and everyone says they're trying — the government coalition and other sides — and yet we haven't gotten supplies yet."
– 'Nowhere to be seen' –
Dr. Ayman Shayef, head of the emergency room at Nasr, says three to four children die under his watch every week of preventable causes, mainly linked to neo-natal care.
"We have serious issues with the total absence of pre-natal care and the inability to open an obstetrics department," Shayef said.
"We've also seen a rapid rise in malnutrition cases.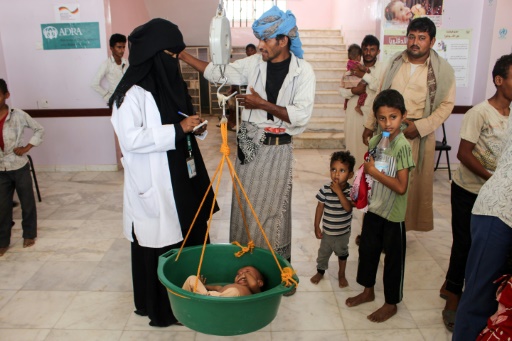 AFP/File. A Yemeni child suffering from malnutrition is weighed at a hospital in the northern district of Abs in the northwestern Hajjah province.
"Daleh is an orphaned province. We need help. We need support for pre-natal care, malnutrition "
In addition to the war, the rising cost of living in Yemen — long the most impoverished country in the Arab world — the depreciation of the local currency and blockades have left millions unable to feed themselves and their children.
Katba Ahmed made the trip to Nasr to help a close friend care for her sick child.
"A bag of flour is 18,000 riyals ($72). And with four people at home, how long do you think that's going to last, with breakfast, lunch and dinner?" Katba said.
And the food baskets sent in by international organisations, Katba says, are nowhere to be seen in her neighbourhood in Hajja province.
"Where do they go? Why don't we get any baskets?" she says. "Why should we be deprived? Why should we be humiliated?"
Featured Photo: AFP/File. A hospital staffer stands next to a Yemeni child suffering from malnutrition while lying on a bed at a hospital in the northern district of Abs in the northwestern Hajjah province.