Doha (AFP) – Global diplomatic fallout from the murder of journalist Jamal Khashoggi in Saudi Arabia's Istanbul consulate may help Qatar in its political stand-off with the kingdom, experts said.
The backlash may force Riyadh to ease sweeping sanctions imposed on Doha since the dispute erupted between the former Gulf allies in June 2017.
The killing of Khashoggi — who was critical of the Saudi government and its blockade of Qatar — may convince sceptics that Doha's claims of Saudi "aggression" were justified, according to analysts.
"I wouldn't be surprised if the Qataris could indirectly benefit from what's happening right now," said Dr. Andreas Krieg, of King's College London and former adviser to Qatar's military.
"The Saudis have to make concessions."
For the past 16 months, regional heavyweight Saudi Arabia — the only country that shares a land border with Qatar — has led Arab allies in isolating the small, gas-rich emirate.
Saudi Arabia, the United Arab Emirates, Bahrain and Egypt froze all diplomatic ties with Doha, accusing it of cosying up to Riyadh's regional rival Tehran and supporting radical Islamist groups, including the Muslim Brotherhood.
Economic activity between the former allies has practically seized, while Qatari planes have been banned from using Saudi airspace and that of other countries.
Saudi Arabia, the UAE and Bahrain also banned their citizens from travelling to Qatar as part of the boycott.
Doha, which denies the allegations of supporting militant groups and being too close to Iran, accuses its former allies of seeking regime change.
– 'US can exert leverage' –
Qatar claims the boycotting nations have split families in the region and says its citizens have been prevented from undertaking the Muslim hajj pilgrimage in Saudi Arabia.
"I think if the US government wants to end the Qatar crisis it can exert leverage over the Saudis as a bargaining chip in relation to Khashoggi's death," Kristian Ulrichsen, a fellow at Rice University's Baker Institute, told AFP.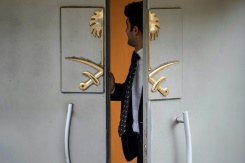 AFP / Yasin AKGUL. An official stands at the door of Saudi Arabia's consulate in Istanbul, on October 23, 2018, during ongoing investigations into the killing of Saudi journalist Jamal Khashoggi.
Others remain sceptical.
"It is too early to tell," said Noha Aboueldahab, a visiting fellow at the Brookings Doha Center.
"The Khashoggi case has damaged Saudi Arabia's reputation, particularly its so-called 'counter-terrorism' narrative", she said.
But "at this point, the Qatar/Saudi stand-off remains quite low on the priorities list".
Key Gulf allies of Saudi Arabia backed the kingdom after Khashoggi disappeared on October 2, while Qatar initially maintained a silence that Aboueldahab called "prudent".
Doha only made its first comments three weeks into the affair, calling it "a wake-up call".
Qatar's public line came shortly after Saudi Arabia admitted the journalist died inside the consulate after a "brawl and a fistfight", an account that Britain, France and Germany say must be backed by "credible" facts.
Doha was anxious not to be drawn into the crisis, especially as some had speculated that Qatar had a hand in events.
Before Riyadh admitted Khashoggi died at the hands of Saudis, social media was aflame with claims Qatar planned the incident, especially as it occurred in Turkey, Doha's staunch ally.
There has also been anger among Saudis over Qatar-based broadcaster Al Jazeera's extensive coverage of the murder, with some claiming it is seeking to inflict maximum embarrassment on the kingdom.
Well before the Khashoggi affair, Riyadh demanded Al Jazeera be closed, as one of its key conditions for terminating the blockade on Qatar.
"I think the world is now seeing what people in the Middle East have seen", said Ulrichsen. "This is a very different Saudi Arabia they are living with" since Crown Prince Mohammed bin Salman rose to ascendancy.
The young and ambitious Prince Mohammed was named successor to the throne by his father King Salman in June 2017 and has since sidelined all his rivals.
– Rumoured talks –
But with Riyadh on the back foot over Khashoggi's murder, there are whispers of a rapprochement with Qatar.
There are rumours that Qatar's Emir Sheikh Tamim bin Hamad al-Thani has recently held talks with Saudi Foreign Minister Adel al-Jubeir.
"I wouldn't be surprised that if behind closed doors people are talking," said Krieg.
If so, it would represent a major development since the last known formal Saudi contact with the Qatari leader was in a phone call with Prince Mohammed in September 2017.
And on Wednesday, Prince Mohammed acknowledged at the Future Investment Initiative in Saudi Arabia that Qatar "has a strong economy", despite "our differences".
Krieg speculated concessions could ultimately mean a deal on airspace, hajj or family reunifications.
"That's solving the crisis for people," he said.
But possible concessions would not herald an end to the Qatar crisis or a return to pre-June 2017 diplomatic relations, analysts said.
Any deal would also have to involve the UAE, but the enmity between it and Qatar seems particularly entrenched.
Featured Photo: Saudi Royal Palace/AFP/File / BANDAR AL-JALOUD. Saudi King Salman (L) meets the Emir of Qatar Sheikh Tamim bin Hamad al-Thani in Doha in 2016, six months before diplomatic ties between the two nations ruptured.