Albuquerque (United States) (AFP) – Deb Haaland is a survivor: she is a single mother who struggled with alcoholism and once had to apply for food stamps to put meals on the table.
She says she is ready for the rough-and-tumble atmosphere of the US House of Representatives, where she hopes to be working come January.
Haaland, 57, is one of three native American women hoping to be the first to serve in Congress. But the New Mexico Democrat has perhaps the best shot at victory.
So far, she is polling ahead of a Republican woman opponent in a traditionally blue district that includes the state's biggest city, Albuquerque.
"We need real people who are talking about our issues and know what it feels like," Haaland told AFP in an interview at her campaign headquarters.
"We have people in Congress right now who… don't know what it's like" to be without food or proper health care, she says.
Haaland, a member of the Laguna Pueblo tribe, knows what it's like.
"I'm 30 years sober," she tells a picnic for supporters in a city park. "I felt that that's something that is big in my life the public needs to know."
– Military family –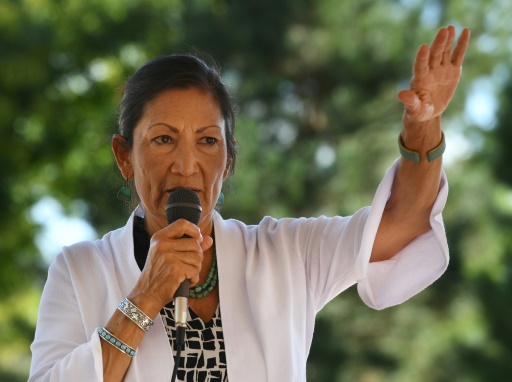 AFP / Mark RALSTON. Deb Haaland is running for Congress in New Mexico's 1st congressional district against a Republican woman, Janice Arnold-Jones.
Haaland was born in Winslow, Arizona, where her grandfather worked on the railroad — as part of a federal government policy of "cultural assimilation" for native Americans.
She comes from a military family: father JD "Dutch" Haaland was a decorated Marine and her mother Mary served in the Navy.
The family moved a lot, as many American military families do. Haaland says she attended 13 different schools.
But the customs and traditions of the Laguna Pueblo provided stability in her youth.
Haaland recalls how she spent summers with her grandparents, first in Winslow and later in New Mexico, where she helped them water the fields and bake bread.
She remained active in her tribe, which is supporting her in her run for Congress.
At one time, she served as the chairwoman of the Laguna Development Corporation Board of Directors, responsible for its three casinos on the reservation, which AFP was not authorized to visit.
She also worked as a cake decorator and started a salsa company so she could spend more time with her daughter while in law school. She made ends meet with the help of student loans and food stamps.
After failing the bar exam by a hair, Haaland decided to launch herself into politics, working her way up in the local Democratic Party.
– Progressive –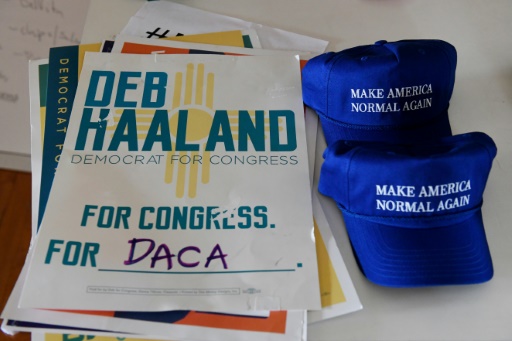 AFP / Mark RALSTON. Haaland's campaign baseball caps are a play on words from President Donald Trump's signature "Make America Great Again" hats.
She started in the trenches as a volunteer for John Kerry's presidential campaign in 2004 — making endless cold calls to rally native Americans to vote.
Since then, she has not stopped campaigning: she worked full-time for Barack Obama, and on dozens of local and state campaigns. She ran for lieutenant governor and served one term as the state party chair.
Her daughter Somah, now 24, was often at her side.
That indefatigable spirit remains intact.
"Deb never takes a break," says one member of her campaign team.
On the day of the picnic event in Albuquerque, Haaland was in a rush — she was three hours late because she was making calls to potential donors.
"I'm sorry!" she said on arriving.
But she quickly shifted gears to the issues, as supporters enjoyed the tacos and desserts set up on a table adorned with some patriotic decor.
She detailed her progressive agenda for about 30 attendees, including the use of clean energy, health care for all and immigration reform.
– 'Perspective' –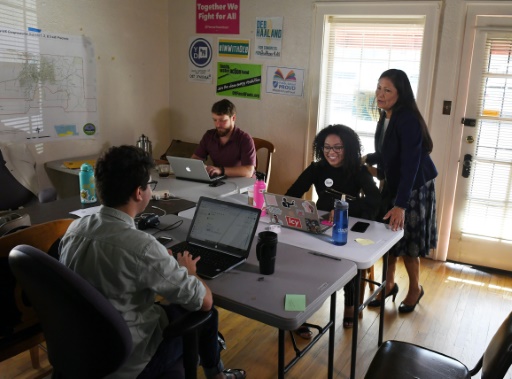 AFP / Mark RALSTON. Deb Haaland (R) — seen at her campaign office in Albuquerque — says she can still be a "strong voice" for native Americans, minorities and the poor.
In her interview with AFP, Haaland says while her disdain for Trump was a motivating factor, it was not the only reason she decided to run.
The district she hopes to represent is mainly white and Latino, and does not include any indigenous territories. But Haaland says she can still be a "strong voice" for native Americans, minorities and the poor.
"My ancestors have sacrificed a tremendous amount to keep my customs and traditions for me," she said.
"So I want to make sure that I am bringing that perspective to the table in anything I do."
Featured Photo: Mark Ralston, AFP: Deb Haaland — shown surrounded by campaign staff at her office in Albuqurque, New Mexico — is vying to be the first native American woman elected to Congress.