by Ian Geoffrey TIMBERLAKE | – –
Washington (AFP) – A suspect identified by Turkey in the disappearance of Saudi journalist Jamal Khashoggi was a frequent companion of the kingdom's powerful Crown Prince Mohammed bin Salman, The New York Times reported Tuesday.
Three other suspects are linked to Prince Mohammed's security detail and a fifth is a high-level forensic doctor, the Times said.
The account, and a similar report in The Washington Post, could raise doubts about US President Donald Trump's claim that "rogue killers" might have been responsible for Khashoggi's disappearance.
Trump made the comment after he said Saudi King Salman strongly denied to him any knowledge of what happened.
Khashoggi, a Saudi national who contributed to The Post and criticized policies of Salman's son Crown Prince Mohammed, has not been seen since October 2, when he went to the Saudi consulate in Istanbul to obtain official documents for his upcoming marriage.
Turkish government sources have said police believe the journalist was killed by a special team of 15 Saudi officials sent to Istanbul especially for the task.
Riyadh insists that he left the consulate safely.
The Times said it confirmed that at least nine of the 15 worked for the Saudi security services, military or other government ministries.
The newspaper said it gathered more information about the suspects through facial recognition software, a database of Saudi cellphone numbers, leaked Saudi government documents, witnesses and media.
– An autopsy expert –

Sabah Newspaper/AFP / – Police CCTV video allegedly shows members of a group of Saudi citizens that Turkish police suspect of being involved in Khashoggi's disappearance.
One suspect, Maher Abdulaziz Mutreb, was a diplomat assigned to the Saudi embassy in London in 2007, it said, citing a British diplomatic roster.
Mutreb, perhaps a bodyguard, has been photographed emerging from planes with Prince Mohammed on recent trips to Madrid and Paris, the newspaper reported.
It added that Mutreb was also photographed standing guard during Prince Mohammed's visits in the United States to Houston, Boston and the United Nations.
The Times said three other suspects are Abdulaziz Mohammed al-Hawsawi — a member of the security team that travels with Prince Mohammed — Thaar Ghaleb al-Harbi, and Muhammed Saad Alzahrani.
Al-Harbi and Alzahrani have the same names as two people who have been identified as members of the Saudi Royal Guard, the Times said.
The fifth suspect is an autopsy expert, Salah al-Tubaigy, who the Times said identified himself on his Twitter account as the head of the Saudi Scientific Council of Forensics.
He also held high positions in the Interior Ministry and the kingdom's top medical school, the report said.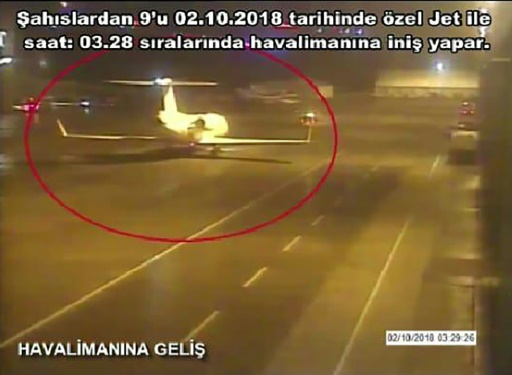 Sabah Newspaper/AFP / – Police CCTV video allegedly shows a private jet at Istanbul's Ataturk airport said to have ferried in a group of Saudi men suspected of being involved in Khashoggi's disappearance.
In its separate report late Tuesday, the Post said 11 of the 15 people which Turkey alleged were involved in Khashoggi's killing have ties to the Saudi security services, including some who claim to be with the Royal Guard.
The Post cited posts on social media, emails, local media and other sources.
On Monday, CNN cited two sources as saying the Saudis are preparing a report that Khashoggi's death resulted from a botched interrogation, while The Wall Street Journal said the kingdom was weighing whether to say that rogue operatives killed Khashoggi by mistake.
Sabah Newspaper/AFP / – Police CCTV video made available through Turkish newspaper Sabah allegedly shows suspects in the case of missing Saudi journalist Jamal Khashoggi at Istanbul's Ataturk airport on October 2, 2018.